The NFL landscape has changed a lot heading into the 2014 NFL season with some big names changing teams such as Chiefs LT Branden Albert moving on to the Dolphins, Cowboys DE DeMarcus Ware finds himself in Denver, and the Patriots snagged shutdown corner Darelle Revis. We know the expectations those franchises have for those players, but there are less talked about moves that will be pivotal to their teams success; let's take a look at five of them: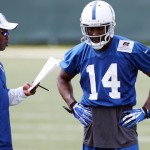 5. Indianapolis Colts WR Hakeem Nicks – Nicks comes over from his time with the New York Giants where he had back to back 1,000+ yard seasons in 2010 and 2011. After an injury plagued 2012 he came back and played 15 games in 2013, but with the running game and quarterback Eli Manning struggling mightily he didn't have the standout season others were expecting. The Indianapolis Colts have a rising star at WR in T.Y. Hilton and all-pro WR Reggie Wayne coming off an ACL injury. Hakeem gets to go in and learn from one of the best WR's to ever lace them up and play with another outstanding quarterback in Andrew Luck. Nicks won't have defenses keying on him either as he goes to one of the main targets in the Giants offense to a number three target at best in the Colts offense. While defenses spend their time plotting to take away Hilton and Wayne; Nicks should be able to revitalize his career as sees more open looks from a quarterback who is having more success than Eli as of late.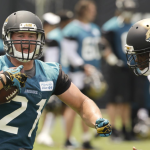 4. Jacksonville Jaguars RB Toby Gerhart – Longtime Jaguars RB Maurice Jones-Drew "Pocket Hercules" packed his bags and headed to Oakland leaving the door open for "All Day" Adrian Peterson's backup in Minnesota, Toby Gerhart, to find his first starting role. In 2011, Adrian Peterson's season was ended with five games left to go so Toby took over and received the most carries he's had in the NFL. Toby ran the ball 109 times for 531 yards which gave him an impressive 4.9 yards per carry for the 2011 season. Now that Toby will be the full-time bell-cow running back for this franchise he will call upon past experience and working with one of the all-time greats in Adrian Peterson.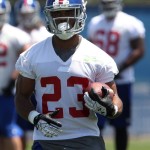 3. New York Giants RB Rashad Jennings – The New York Giants as a team rushed for 1,332 yards last season and not one of their running backs had over a 4.1 yards per carry average. Rashad spent his 2013 season with the Oakland Raiders where you always know that your number will it called when Darren McFadden inevitably goes down writhing in pain. In 2013, Rashad rushed the ball 163 times for 733 yards and averaged 4.5 yards a carry which was better than any Giants running back did last season. The Giants had to bolster their running attack and if Rashad can bring consistency to the group then Eli Manning should be able to bounce back from what was a disappointing season.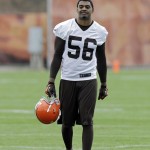 2. Cleveland Browns LB Karlos Dansby – The Cleveland Browns were going to be a big surprise team in the NFL this season had they not lost WR Josh Gordon for the entirety of the 2014 season. One of the main reasons they were going to surprise was the addition of linebacker Karlos Dansby who spent last season with the Arizona Cardinals. Karlos is quite simply a playmaker and last season was one of his best seasons in his 10 year career. Last season Karlos might have been the biggest Pro Bowl snub as he had 122 tackles, 6.5 sacks, 4 ints, and 2 TD's. The Browns already have a stellar defense and adding this play-making machine will only make them that more formidable, but they're going to have to be special since their offense will likely take a step back.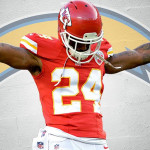 1. San Diego Chargers CB Brandon Flowers – The Kansas City Chiefs are wanting to sign QB Alex Smith to a big extension and LB Justin Houston is seeking a new deal as well so Pro Bowl CB Brandon Flowers was released as a cap casualty. Chiefs General Manager John Dorsey is also known for wanting bigger more physical corners and Brandon doesn't fit that bill. Brandon wasn't happy about being cut so late which limited his team options and how much money he could make on the free agent market. That was one of the main reasons Brandon chose to sign a one year deal with the San Diego Chargers. The Chargers drafted TCU CB Jason Verrett in the 1st round of the 2014 NFL draft, but adding a Pro Bowl CB from a division rival is a huge step for a secondary that struggled mightily last season.