1. Team USA – Miracle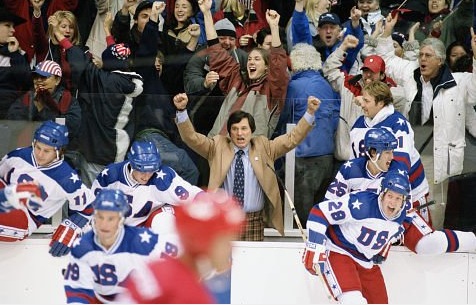 You cant go against a team that knew they were a long shot for a medal, but didn't want to get embarrassed either in the words of a USA Hockey executive. This team tied the Norwegian National team just weeks before scoring the biggest upset in sports history. They were a group of young adult strangers, enemies even that were able to put their differences aside to become thei rallying cry of a nation in one of the most trying times in our history.
2. T.C. Williams Titans – Remember the Titans
Speaking of trying times in United States history, the Titans come in a close second on this list. Brought together by an at the time controversial court ruling these entirely different groups of teenagers were forced upon each other. From the coaching staff to the lowly underclassmen this team had to truly fight through more adversity from both within the team and by the outside world to come to gather on hallowed ground.
3. Hickory Huskers – Hoosiers
Also inspired by a true story, the Hickory Huskers led by coach Norman Dale, overcome several obstacles and meddling fathers on their way to an improbable Indiana High School State Championship. What makes this story even more amazing small-town Hickory won the title before there were high school classes so they were consistently tested by powerhouses every game. "And David put his hand in the bag and took out a stone and slung it. And it struck the Philistine on the head and he fell to the ground. Amen. "
4. The Ducks (Team USA) – Mighty Ducks II Former hometown hero, Gordon Bombay, keyed the ragtag group of individuals who could barely skate. Most viewers see the Minnesota Miracle Man as a true x's and o's coach who was able to get the most out of his players who were average at best. How about his recruiting skills though? He landed cornerstones of the team in Fulton Reed and Adam Banks in the first movie and is then able to find pieces that fit well with the team on Team USA. It seemed one players' weakness was another's strengths.
5. Permian High School – Friday Night Lights
Boobie Miles. Mike Winchell. Don Billingsly. Ivory Christian. Chris Comer. Brian Chavez. This roster is enough to win titles almost any given year in any given state. Even after suffering a devastating injury to All-World running back, Boobie Miles, coach Gaines was able to reconfigure his strategy and lead his team to the Astrodome. If it had not been for a full roster of ineligible/five star athletes on the Dallas Carter sideline this team would easily move into the top three.
6. Cleveland Indians – Major League
"Ricky Vaughn, Willie Hays, Pedro Cerano? Who are these guys?" Just a few questions asked by the citizens of Cleveland prior to the start of what appeared as another awful sports season in the city of Cleveland, but by August Cleveland Municipal Stadium was rocking and the melody of Wild Thing could be heard in Canton. Hayes, Cerrano and Vaughn provided a great, young nucleus to mix with key veterans Jake Taylor, Roger Dorn and Eddie Harris. The movie ends with the team winning the ALDS, but falling in the ALCS.
7. The Sandlot
This team had a perfect winning percentage of 1.000. It is tough to argue with those results. While they may have just been 1-0 the team was fundamentally sound with talented youngsters and one superstar. They could have competed in Williamsport if given the opportunity.
8. Texas Western – Glory Road
Back to an overcoming adversity true story. From moving a group of leftover African-American high school basketball groups way from their homes in the north to the not-so-hospitable southern town of El Paso this team learned how to gel rather quickly after a former girls high school basketball coach lays down no nonsense rules that were set to fail from the begging with a group of college athletes. The Miners were able to make one of the most remarkable runs in NCAA Tournament history after a fantastic regular season. The team only lost the regular season game at Seattle (74-72), finishing 23-1. In the tournament they eliminated perennial power and fourth ranked Kansas 81-80 in double overtime in the quarterfinals before becoming the first team to start five African-Americans in an NCAA basketball national championship. Texas Western defeated Pat Reilly's Kentucky team to claim the national title.
9. Ty Webb and Danny Noonan – Caddyshack
Is there a better scramble team at your country club? Not mine. Ty Webb's even keel and ability to truly remain calm under pressure was able to be passed on young Danny Noonan who risked his scholarship if he played against the Judge. Perhaps even more impressive was the assistance the duo got from Carl the greens keeper and that darn gopher.
10. Richmond High School – Coach Carter
Coach Carter, a sporting goods owner by trade, returns to his alma mater to lead the Richmond High School basketball team. What appears to be a lackluster group of individuals in the beginning becomes one of the most dominant forces in the state of California. After his son Damien transfers to the team from a neighboring prep school the roster is complete. With a backcourt trio of Damian, Worm and sharpshooting Timo Cruz the interior presence of Jason Lyle and highly recruited Junior Battle is a starting five appearing on ESPNU nowadays. We all know the story of how they skipped class, had bad grades and partied, but hey BALL IS LIFE.
Honorable Mention: Dillon Panthers – Friday Night Lights – Season 1
The Panthers are almost unfair in their dominance so I give them the honorable mention spot. There are way too many stars and firepower, especially if you count Street as healthy. It would be the equivalent of playing Madden with the 2007 Patriots against the 2008 Lions. Just imagine: Street, Riggins and Smash in the backfield? The Texas High School record books would never be the same.