"There are no moral victories." That's the saying when it comes to high-level athletics. While Mizzou were unable to complete the biggest upset of the college football season on Saturday, there is certainly positive momentum that can be taken from the 26-22 loss.
While coach Drinkwitz and many players praised the crowd and atmosphere Saturday night, many Tiger fans are still feeling the sting of the magic moment that wasn't. The Missouri program, desperately in need of something, anything to stand up and cheer about did so on Saturday, even in another in a long line of painful losses.
Even in (another) defeat, the Tiger defense showed its stripes with nine tackles-for-loss, forced three Bulldog turnovers and were a constant nemesis to the defending champions.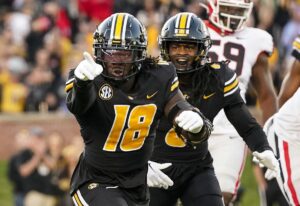 Next up for Mizzou
So how can Mizzou salvage this season? The 2-3 Tigers next travel to Gainesville as a 10-point underdog to take on the 3-2 Gators in a game that could swing much-needed momentum. A loss at Florida will make a bowl game a complete pipe dream which creates a diminishing return.
While Missouri has struggled on the road in the Drinkwitz era (only two wins since 2020), the Gators are beatable in the Swamp much in the way Auburn was beatable on the plains two weeks ago. With South Carolina, New Mexico State and Vanderbilt left on the schedule, another Armed Forces or Independence Bowl birth would be back in play. It's not where the program wants to be but it's where things currently sit.