Entering the contest at 2-3 Kansas City desperately needed a division win against San Diego to keep this 2014 season from being a lost one. Before Sunday's game Charger's QB Philip Rivers was the headline of MVP conversations, having led his team to a 5-1 record with a 15:2 TD:INT ratio.
This was a tight game, one in which San Diego led for the majority of the time. In the 4th quarter San Diego made a field goal to tie it up, 20-20 with 2 minutes remaining. Kansas City went 62 yards down the field in 1:36 to successfully attempt a 48-yard field goal with kicker Cairo Santos, his career high beforehand was 41. Dominating time of possession by holding onto the ball for 39 minutes to the Charger's 21 was a major factor in the Chiefs evening their record to 3-3.
---
Offensive Notes:
-How fitting was it that RB Jamaal Charles became the franchise rushing record holder on a run met in the end zone with a huge collision by former teammate Brandon Flowers.
– Left side of the line, namely LT Eric Fisher & LG Mike McGlynn, gave up the majority of the pressure that got to QB Alex Smith.
-C Rodney Hudson had a great game in every aspect. He was actively making calls for his line to adjust to the Charger's defense. Hudson showed his versatility in space on a number of plays, all while scoring positively in run and pass blocking according to Pro Football Focus.
-WR Dwayne Bowe will make you curse his name and then cheer for it, sometimes in the same drive. Unbelievable that someone this inconsistent is getting $11 million this year. I would be surprised if Bowe doesn't get cut/traded or asked to take a major pay-cut in the offseason.
-RB De'Anthony Thomas continues to provide memorable plays for Kansas City on offense. Thomas has adapted quickly and responded favorably when his number has been called upon. Only time will tell if he can carve out a bigger role on offense or if his potential peaks at gadget player at this level.
-Through 6 games this year NO Kansas City WR has scored a touchdown.
-After an injury to WR Junior Hemingway allowed the Chiefs to see what their younger players at the position were capable of. The result? Nobody was blown away. WR's A.J. Jenkins and Albert Wilson look like they might deserve some more snaps but it seems as though these are all role-player caliber type of guys. A small-time trade before the deadline for another WR wouldn't surprise me, but do not look for anyone carrying any significant salary cap hit. Chiefs GM John Dorsey is going to be pinching his pennies to try to keep Justin Houston in town.
– FB Anthony Sherman showed everyone why he is a locker-room favorite with his touchdown run that showcased his pure EFFORT.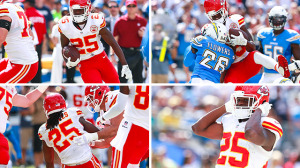 -There were a few times during the game that Alex Smith could have pulled the trigger for a big gain but instead decided to get rid of the ball or eat the sack on 3rd down. I love the efficiency factor from Alex Smith but eventually he has to attempt that pass.
-Eric Fisher had a false start penalty in the 4th quarter that was the WORST timing. If Dwayne Bowe hadn't converted on 3rd & 17 the next play the drive's stalling would be very much to blame on Fisher.
-Second year TE Travis Kelce had two plays on the final drive where he single-handedly took over. In those two plays Kelce broke numerous tackles and got the most yards possible. It's a shame he still doesn't see playing time that his unique ability deserves. Kelce only saw 40 snaps to fellow TE Anthony Fasano's 56.
-This offense has taken advantage of their tough schedule and grown with every game, just as the coaching staff has grown in their ability to correctly utilize this team's talents. If Andy Reid continues to run the ball a healthy amount and the WR's, who have dropped 9.6% of Alex Smith's passes, can improve or have a standout emerge this will be a team to be reckoned with come December.
---
Defensive Notes:
-With 45 seconds left in the first half the Kansas City secondary made an excellent heads-up play on Charger's WR Keenan Allen. Allen caught the ball and headed for the sideline but was forced to stay in bounds by a host of Chiefs.
-Rookie 3rd round selection CB Phillip Gaines had an EXCELLENT season debut. Gaines played nickel CB in place of injured CB Chris Owens. The rookie made a great play on Charger's WR Eddie Royal on the Charger's final drive of the first half, making a great adjustment to get his hands on the ball and away from Royal. NT Dontari Poe was pressuring Rivers on the play, forcing the early throw.
-CB Sean Smith has turned into quite the impressive mainstay in the secondary for Kansas City. He has reliably done everything Chief's defensive coordinator Bob Sutton has asked of him. With CB Marcus Cooper being benched due to poor play in the first 5 games the solid play of Sean Smith has held things together.
-Kansas City's defense has still not allowed another team to score a rushing touchdown on them, something only one other team in the league can claim.
-Phillip Gaines deserves another spot. He was the only corner in the league in week 7 to give up 0 catches when targeted more than once. He was targeted 5 times and got his hands on the ball EVERY time, including the 3rd down play in the 4th quarter when he deflected it in the end zone to force a game tying field goal. In one of the game's biggest moments away from home he proved that the moment wasn't too big.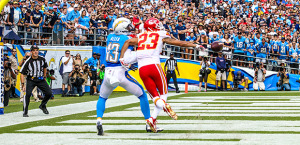 -CB Jamell Fleming, who started in place of Marcus Cooper, was penalized on the Charger's final field goal drive for pass interference when he did absolutely nothing of the sorts. I rarely disagree this wholly with the refs but this was one of a few inexcusable blunders by the referee crew on hand.
-S Husain Abdullah is far outperforming anything Kendrick Lewis ever did for this squad last year. Sutton has asked quite a lot of Abdullah in S Eric Berry's absence. Abdullah has been up for the task and shown off much versatility, often playing multiple hybrid positions each series. Once Berry and Abdullah are paired together Bob Sutton will have a lot more options to confuse and mismatch opposing teams.
-LB Josh Mauga deserves credit for a great day stopping the run. This team has more depth than many realized.
-OLBs Tamba Hali and Justin Houston wreaked havoc on Philip Rivers all day, Hali chipping in with a sack and a forced fumble and Houston had a sack as well. Tamba Hali has continued to play well enough to quiet talk of his being on his way out the door after the season, with rookie OLB Dee Ford waiting in the wings.
---
Special Teams Notes:

-WR Albert Wilson had a noteworthy hit on a KC kickoff.
-De'Anthony Thomas is a special returner already. It will be fun to watch his career if he remains healthy.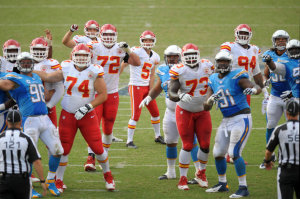 -On the ensuing kickoff after Chiefs FB Anthony Sherman's TD Sherman made the tackle. Pretty high effort plays back-to-back.
-The narrative on K Cairo Santos has changed a bit since he's gone 6-for-6 on FGs after starting the season out 2-for-4. Santos kicked field goals of 28 and 41 yards in the 2nd and 3rd quarters respectively, but it was his final one that held all of the drama. With under thirty seconds on the clock Santos made a career-long 48 yarder to win the game and to exit the fan's collective doghouse.