Patrick Mahomes has become one of the most recognizable and popular athletes in the world. The 27-year-old has already won two NFL MVP's, two Super Bowl titles and has played in three Super Bowls total. Mahomes has become the gold-standard for quarterbacks in the new era of the NFL but he certainly came from humble beginnings. Believe it or not, Mahomes was not a highly sought-after quarterback coming out of Whitehouse High School in 2014.
Despite being the AP Player of the Year in the state of Texas, Mahomes had only one power 5 football offer which was Texas Tech. His commitment to playing baseball and basketball are said to be contributing factors as to why interest in Mahomes was so low coming out of high school.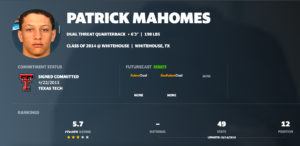 WATCH: Patrick Mahomes' high school story
Mahomes was labeled as a 3-star recruit out of high school and had interested from Texas Tech, Rice and Houston. It's safe to say that things turned out pretty well for Mahomes, who defied the odds to become a future first round NFL draft pick and, perhaps, one of the greatest quarterbacks of all time when all is said and done.
---