Never one to pull any punches with his feelings, Chiefs safety Tyrann Mathieu took to Twitter after Kansas City roared past the Washington Football Team 31-13 on Sunday. As many have seen lately, Mathieu has been seen looking frustrated on the field and sidelines while the defense has been getting shredded of late.
Following a near-sack late in the game Sunday, Kansas City sports personality Josh Briscoe from Sports Radio 810 couldn't help but throw a little salt on the situation.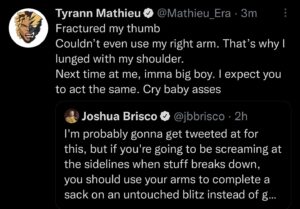 Mathieu claims a factured thumb was to blame for missing the tackle on Washington QB Tyler Heinicke and did not stop there with his frustration with Twitter criticism.
Mathieu Twitter Rampage Continues
Mathieu officially becomes a free agent following the 2021 season and has been vocal about wanting an extension from the Chiefs.