As the struggling 2021 Missouri Tigers (3-3, 0-2) look to pull off the proverbial upset over #21 Texas A&M on Saturday, it's important to look back at Mizzou's recent history against the Aggies.
While Texas A&M comes into Saturday's game in Columbia an 8.5 point favorite, Mizzou will look to salvage a season that has largely been disappointing at the midway point.
But if history tells us anything, it's that Missouri seems to rise to the occasion against the Aggies. No, we're not counting the 73-0 loss back in 1993 but, interestingly, the Tigers own a 7-4 record against Texas A&M since the Big 8 expanded to 12 back in 1996.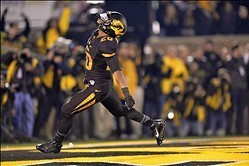 The biggest moment
November 30th, 2013. Texas A&M and defending Heisman winner Johnny Manziel came to Columbia looking to spoil Mizzou's trip to the SEC title game. Mizzou would respond to an early seven-point deficit by taking a 28-21 lead with 3:35 to go on the heels of an electrifying 57-yard Henry Josey touchdown run.
Mizzou fans would rush the field in jubilation following the victory and Josey's touchdown will forever be remembered as one of the great moments in Tiger football history.
---
The first is always the sweetest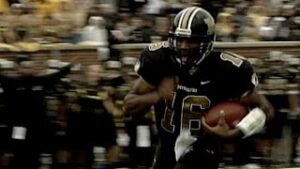 November 16th, 2002. Brad Smith led the Missouri Tigers into College Station with an upset on their minds. Mizzou was able to win just its second Big 12 game of the year 33-27 in overtime in what was Gary Pinkel's second year in Columbia. Smith would account for 265 total yards and three touchdowns while running back Zack Abron rushed for 134 yards and two scores of his own to help Mizzou power past the Aggies.
---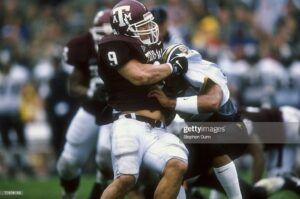 The rain-soaked battle
November 14th, 1998. Oh what could have been for the Missouri Tigers in 1998. This was a battle-tested group that went toe-to-toe with three top 10 teams that year and played them all to within a touchdown. This talented Aggies team would go on to win the Big 12 title in an upset over K-State and the Tigers left no shame in College Station on that rainy November day.
---
Missouri vs. Texas A&M scoreboard (since 1998)
2014: Missouri 34-27
2013: Missouri 28-21
2012: Texas A&M 59-29
2011: Missouri 38-31
2010: Missouri 30-9
2007: Missouri 40-26
2006: Texas A&M 25-19
2003: Missouri 45-23
2002: Missouri 33-27
1999: Texas A&M 51-14
1998: Texas A&M 17-14
Overall series: Texas A&M leads 8-7.