The SEC is well known as a tradition-rich conference with a great history of winning and tremendous fan support. We are now on the verge of a 16-team league and each school brings unique pageantry and fan support to the conference and the stadiums are a major part of that.
The conference is certainly home to some of the more majestic stadiums in all of college football. Having visited all 14 stadiums during the fall of 2018 while producing upcoming SEC football documentary Saturday SuprEmacy, it seemed only natural to rank these venues top to bottom. As it happens, I've also had the fortune of visiting both Texas and Oklahoma when Missouri was a part of the Big 12 so let's see where everyone stacks up.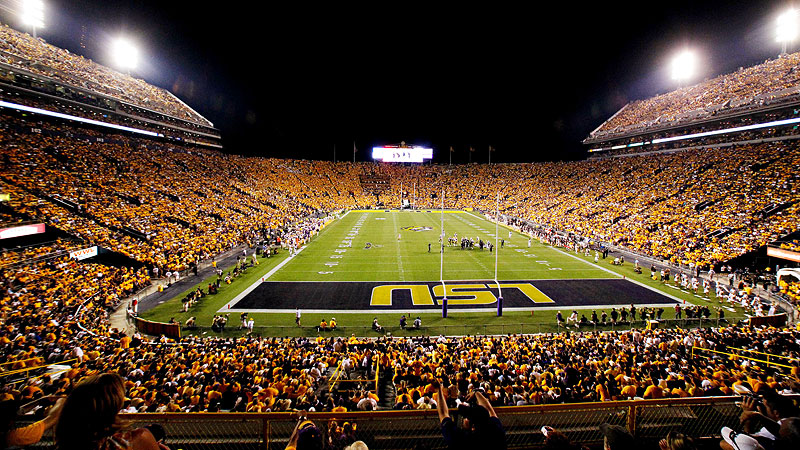 1. Tiger Stadium (LSU). Former LSU player and famed writer John Ed Bradley once said that "Tiger Stadium is haunted and all the ghosts favor the home team." That famous quote sums up LSU's hallowed football grounds perfectly. Affectionately known to college football fans as "Death Valley," LSU's Tiger Stadium is a loud, raucous and generally unpleasant place to be if you are an opposing team (especially at night).
---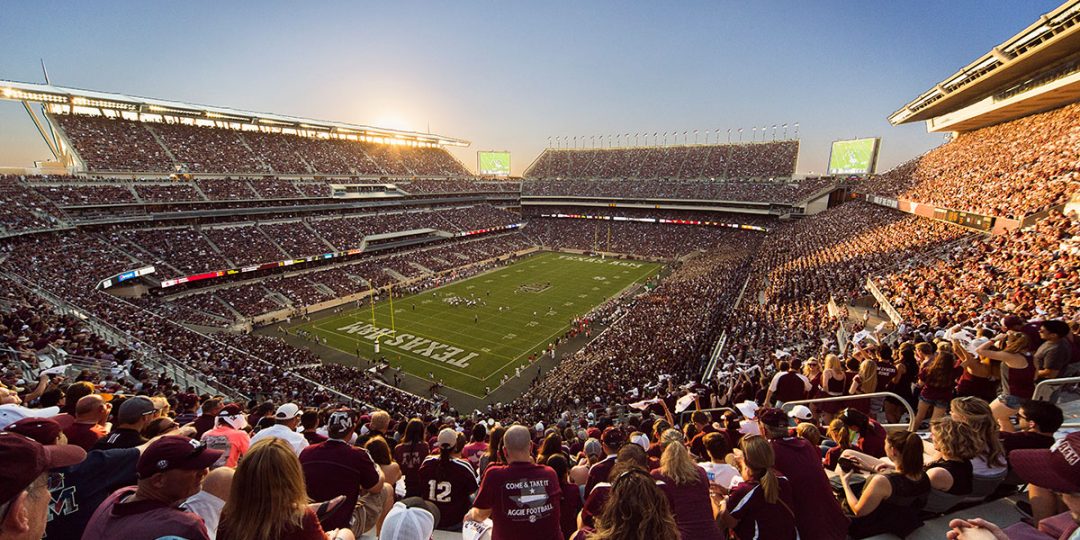 2. Kyle Field (Texas A&M). Boasting some of the best pre-game and game day experiences in America (as well as a recent $450 million dollar renovation) Kyle Field is nothing short of college football heaven and the die-hard fan base will always welcome you to Aggieland with open arms. The 102,000 seat palace now has all the bells and whistles to go along with the proud history and tradition.
---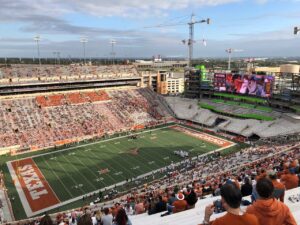 3. Darrel K. Royal- Texas Memorial Stadium (Texas). For those wondering how Texas will stack up in the SEC, be assured that Darrel K. Royal Texas Memorial Stadium is an absolute gem located in the heart of culturally-diverse Austin. The recent south endzone expansion makes this stadium a formidable foe against even the likes of Kyle Field.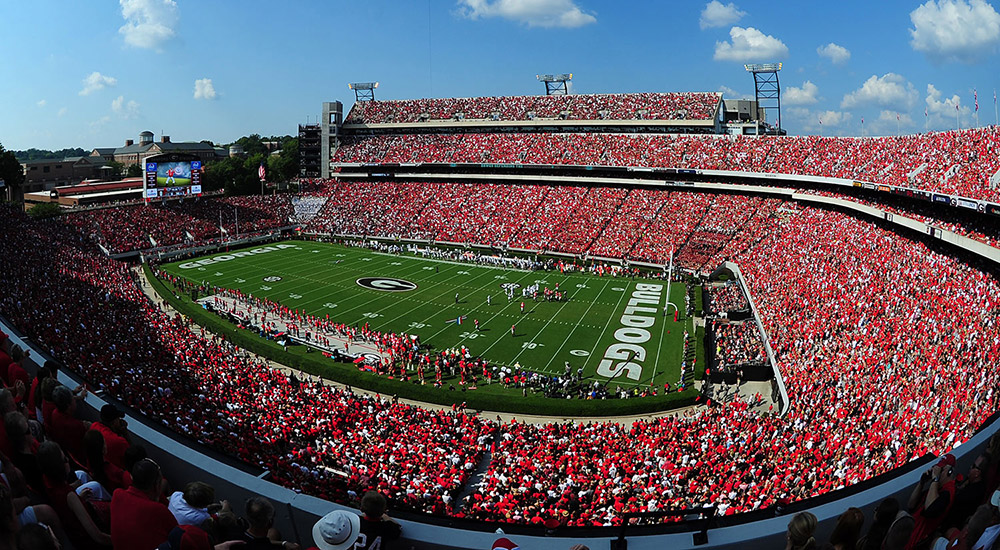 4. Sanford Stadium (Georgia) 92,000 fans pack into Sanford Stadium for each home game in Athens. Georgia is a tradition-rich program and its' beautiful football stadium is the centerpiece of one of the most gorgeous college campus in the country. Sanford is a natural divide between north and south campus and steady renovations over the years have helped make it one of the very best stadiums in the conference. There is nothing quite like being between the hedges on a perfect Autumn afternoon in Athens.
---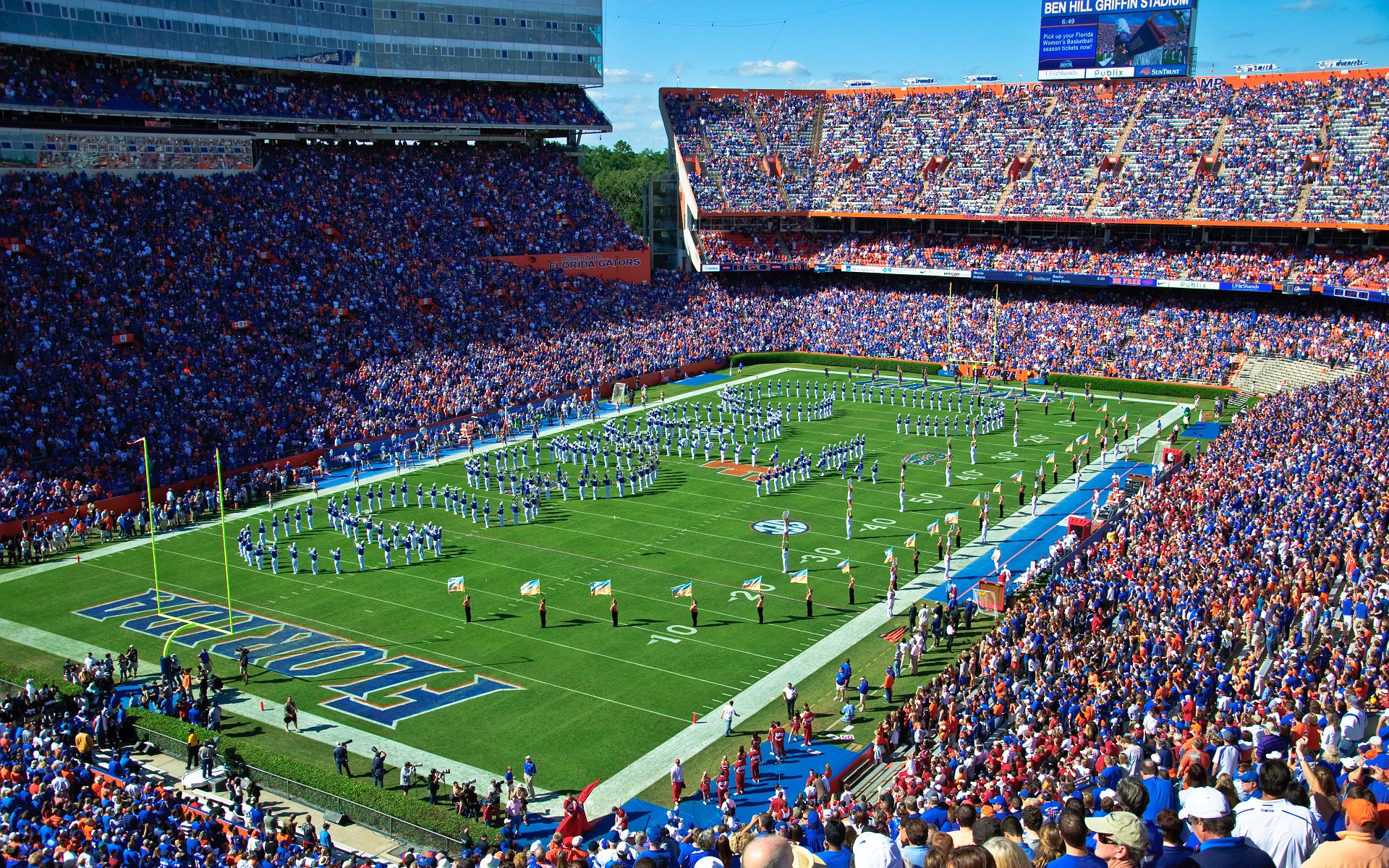 5. Ben Hill Griffin Stadium (Florida). There is no better stadium nickname in America than "The Swamp." And, as the old saying goes: Only Gators get out alive. 87,000 fans routinely make sure that saying holds true on hot Saturdays each fall. The Gators have won over 300 games inside "The Swamp" and boast one of the nation's best winning percentages since 1990. For Ben Hill Griffin Stadium, it's all about character and atmosphere and a sun-drenched Saturday in Gainesville will be an unforgettable experience.
---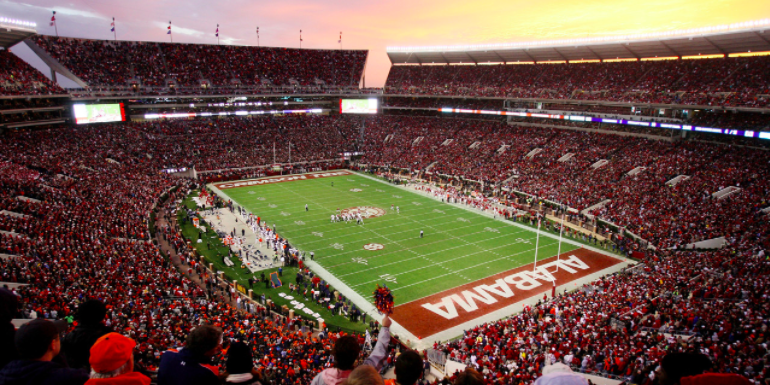 6. Bryant-Denny Stadium (Alabama). With some of the best fan support in all of college football, Bryant-Denny is a true shrine to the game. The stadium now seats over 100,000 which helped make it even more formidable than it already was. The Alabama Crimson Tide are synonymous with college football, and the stadium that houses them is one of the big reasons why.
---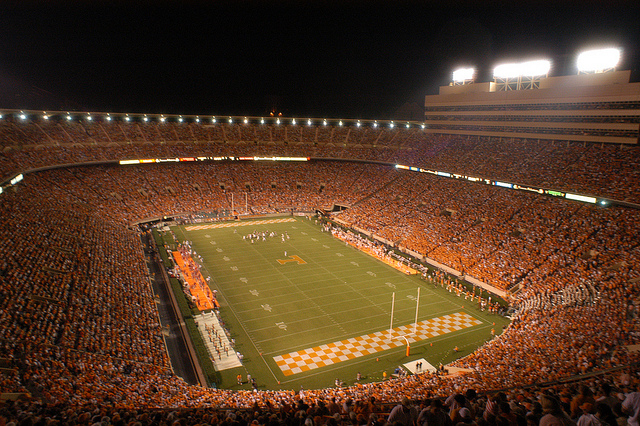 7. Neyland Stadium (Tennessee). Have you ever witnessed over 100,000 people all in the same place wearing bright orange? If doing that happens to be a dream of yours, then Neyland Stadium in Knoxville, TN is the place for you! One of the best stadium atmospheres in all of college football, Neyland should be on any football fans' bucket list although it's becoming exceedingly rare that over 90,000 make their way through the turnstiles on Saturdays in the Fall.
---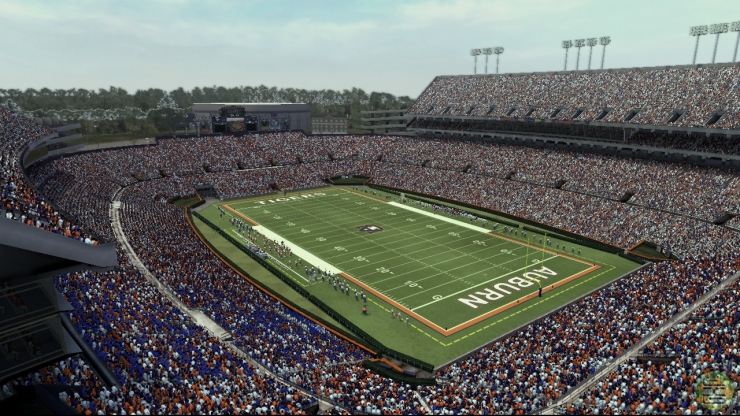 8. Jordan-Hare Stadium (Auburn). When the eagle flies on beautiful Saturday afternoons at Jordan-Hare, there is no doubt you are witnessing one of the most heart-wrenching traditions in sports. Over 87,000 rabid fans help make their stadium one of the most formidable venues in the SEC and memorable plays seem to be a staple. A stadium like this would be right at the top of any other conference.
---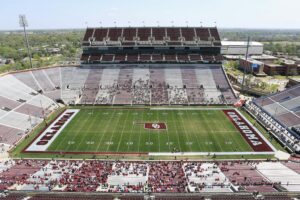 9. Gaylord Family Oklahoma Memorial Stadium (Oklahoma). The second biggest football stadium in the Big 12 currently ranks 9th in the SEC although renovations and expansions will eventually see the capacity raised back to 83,000. This is not a particularly eye-pleasing venue, but $400 million in renovations should help with aesthetics.

10. Kroger Field (Kentucky) A stadium that would have ranked quite a bit further down the list prior to 2015, but a $110 million dollar renovation that included a new press box, loge box seats, club seats, recruiting room, suites, concourses, bathrooms, lights, and exterior facade definitely has done wonders for the program. Mark Stoops seems to have really established some momentum on the field to go along with his shiny new digs and crowd have been very strong for the past few seasons.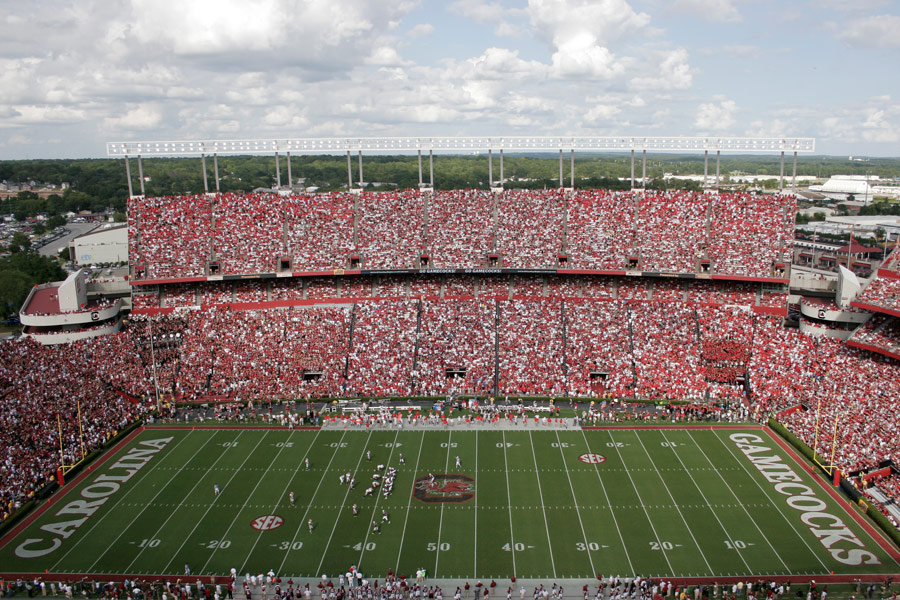 11. Williams Brice Stadium (South Carolina). Also the home of the fictional Eastern State Wolves from the movie "The Program," Williams-Brice Stadium has long been a tremendous college football stadium even when the Gamecocks played in the ACC. As South Carolina continues to churn out winning seasons, Williams-Brice continues to display an outstanding game day atmosphere. The setting is not perfection (lying inside the South Carolina state fairgrounds) but what it lacks in outside visuals it makes up for with an undying fan base and ultra-loud in-game experience.
---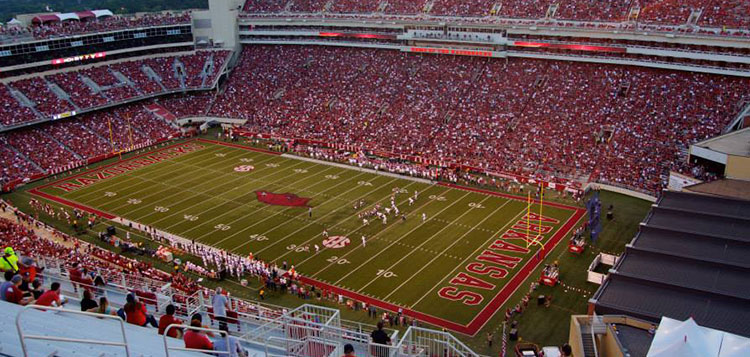 12. Donald W. Reynolds Razorback Stadium (Arkansas). Massive 2001 and 2017 renovations helped make Razorback one of the more underrated venues in college sports. The stadium currently seats 76,000 although recent on-field struggles have hampered attendance. Arkansas has a rabid fan base and have shown that with minimal success, they will file into Razorback Stadium with gusto.
---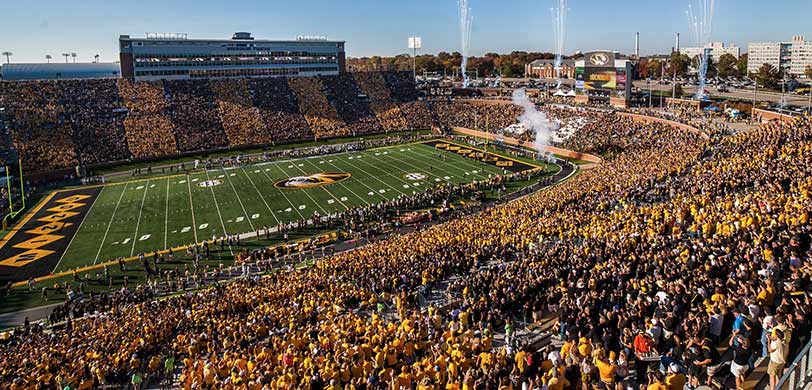 13. Faurot Field (Missouri). Mizzou has done a decent job at trying to keep up in the college football arms race as renovations have been ongoing since 2012 (with the latest being an entire south endzone re-do). The stadium has seen its share of big-time environments during the Gary Pinkel era and Mizzou is hoping to see more of that under Eli Drinkwitz.
---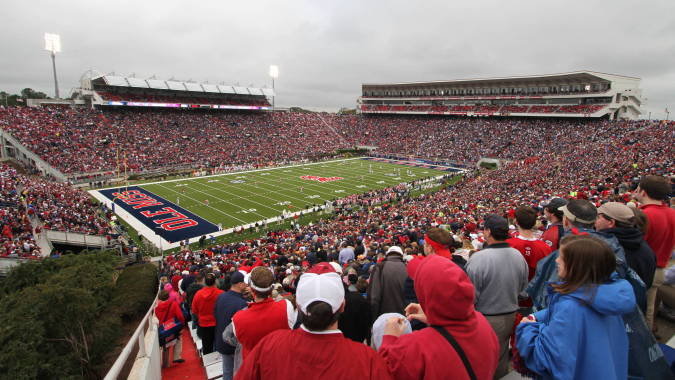 14. Vaught-Hemingway Stadium (Ole Miss). The Grove outside Vaught-Hemmingway is one of the best game day party zones in college football, and as assistant AD Michael Thompson once put it put it "our stadium is perfect for us." Vaught-Hemmingway is enjoyable if not somewhat mediocre, but your experience overall will be a great one. And if you are a fan of an opposing team, there is a good chance you will also walk away from Oxford with a victory.
---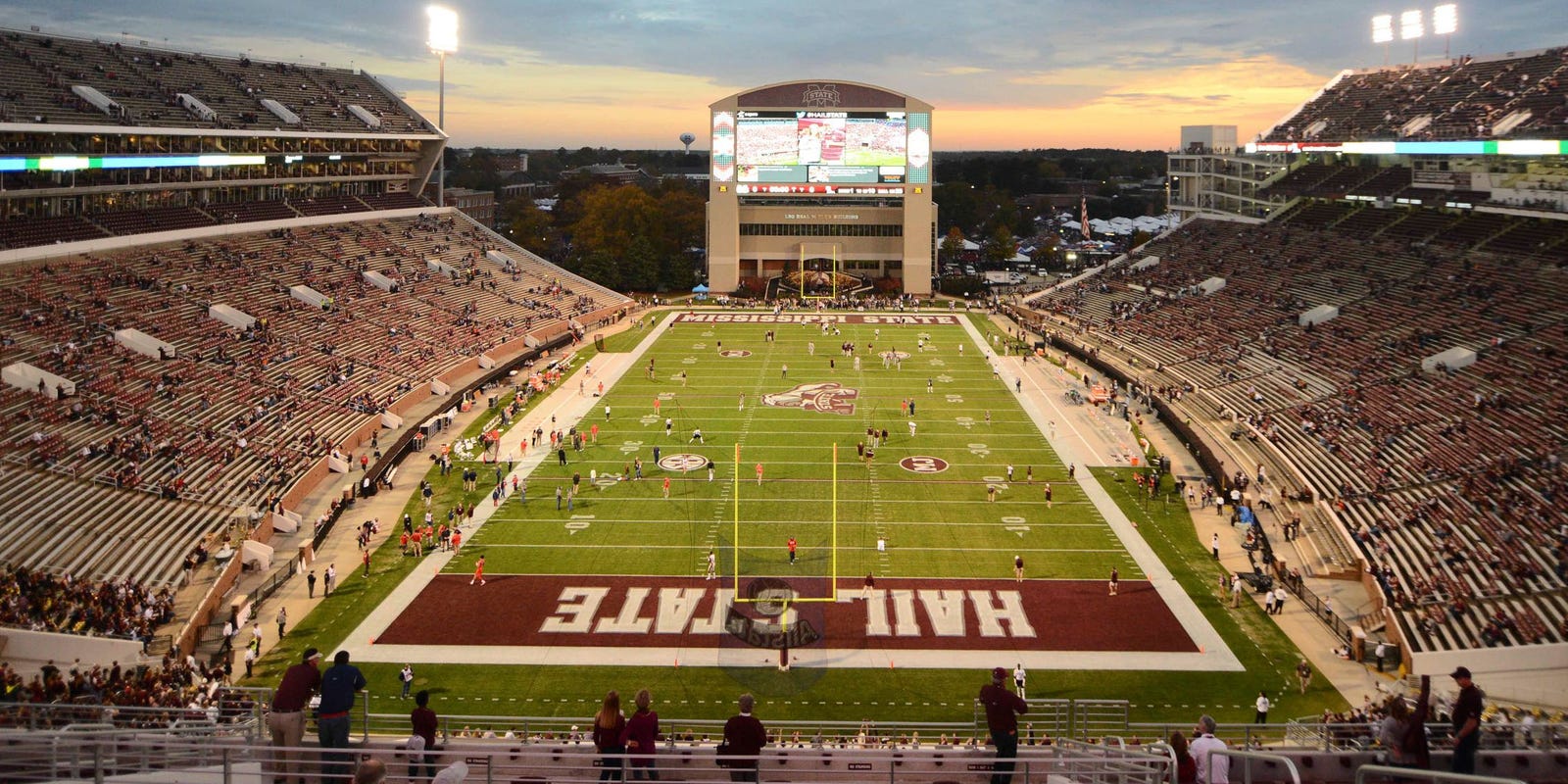 15. Davis Wade Stadium (Miss. State). The north end zone has recently been sealed off, taking capacity to over 61,000. These renovations have helped the perception of Davis Wade Stadium exponentially. Obviously, a trip to Starkville on a college football Saturday will put you within the clutches of thousands of cowbells, which will reverberate in your ears for weeks to come afterwards.
---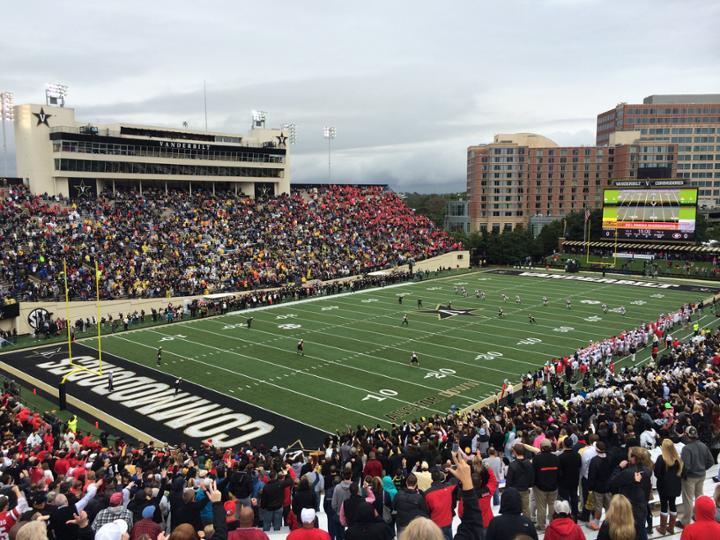 16. Vanderbilt Stadium (Vanderbilt). Most Vanderbilt grads are likely too busy running the country or working on groundbreaking court cases to worry about attending a game in this small venue which seats less than 40,000. The stadium façade is definitely the least impressive in the conference and opposing fan bases continuously make Vanderbilt Stadium their own home field. The upside, however, is that beautiful campus and the Nashville nightlife which surround the area.