Interview With Alice Cooper Guitarist Ryan Roxie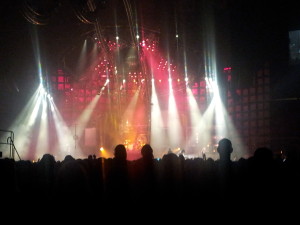 Motley Crue delivered a proper farewell Friday night to over 13,000 boisterous fans inside Des Moines Wells Fargo Arena. Despite rumors of technical glitches that plagued earlier shows on the bands "Final Tour," Friday nights' show seemed to go off without a hitch as Crue plowed through a 90-minute set of hits that highlighted most of their 30 plus year career.
The show's opener, "Saints of Los Angeles" from the 2008 album of the same name, as well as the hard-hitting "Wild Side" helped set the bombastic tone for the rest of the evening. Motley's often criticized front man, Vince Neil did his best to sing most of the words and even hit a pleasant note or two on this night. The sound wasn't perfect, of course, and Motley Crue obviously replaced real backing vocals with tapes and female backup singers. Each song seemed to be accentuated by large amounts of pyro and bombs that, at times, would make you forget some of the bands' shortcomings.
During a nice sentimental moment, bass player Nikki Sixx took to the mic and told the crowd the story of how Motley Crue came to be. It appeared none of the 13,000 fans had seen the Motley Crue "Behind the Music" and cheered loudly as Sixx talked about how he came across each Motley member.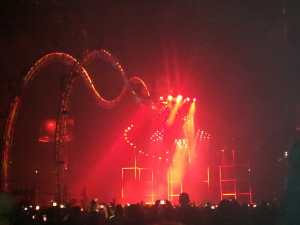 Tommy Lee's much publicized drum solo, which featured Lee strapped in to a roller coaster which protruded out into the large crowd, was well received by the fans despite it taking around 25 minutes to complete. Lee drummed along to various hip-hop songs while traveling in excess of 1 mile per hour during the much-hyped ride. Immediately following, it was guitar player Mick Mars' turn to electrify the crowd and he shredded admirably for a long period of time. Mars is clearly the backbone of this band at this point, and while his guitar playing is far from flawless, his unrelenting tone certainly propelled the band through the show.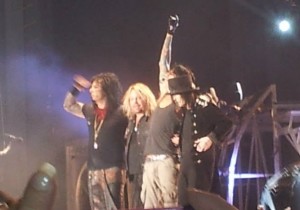 The Crue finished the show with "Kickstart My Heart," and "Home Sweet Home" which was played from a smaller stage in the middle of the floor. And just as self-indulgent as they had arrived in 1981, Motley Crue were gone, exiting through the heart of the crowd to a chorus of cheers and high-fives. Frank Sinatra's "My Way" played them out of the building, which is quite poetic because despite all of Motley's deficiencies, they definitely did do it "their way."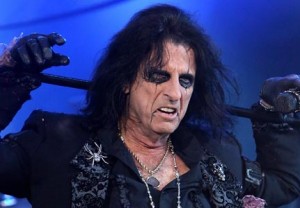 Shock-rocker Alice Cooper, the opening act in name only, administered a tight and theatrical 50-minute set that had the crowd going from the opening chords of the opening song, "Hello Hooray." Before their set, guitarist Ryan Roxie compared Alice's show on this tour to a Mike Tyson Fight; "It's one punch to the body, one punch to the face." Roxie explained. And that seemed to perfectly describe Alice's show on this night. Alice and his band trudged seamlessly through several big hits including "No More Mr. Nice Guy," "Poison," and "Feed My Frankenstein," before closing the set with the crowd-pleasing "Schools Out." Of course, no Alice Cooper show would be complete without a decapitation or two, and Alice's infamous beheading occurred while his band members played and sang along to the satirical "I love the Dead."