For the third time in four tries, The Missouri Tigers escaped prodigious Kyle Field with a victory as the Missouri running game overwhelmed the Texas A&M Aggies on a wet and cold night in College Station. Mizzou's path to a second straight SEC East Championship is now very clear: beat Tenessee and Arkansas and bags will be packed for Atlanta during the first Saturday in December.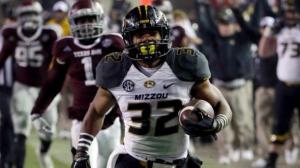 Mizzou (8-2, 5-1 SEC) took advantage of a 28-point fourth quarter and held on for a 34-27 win in front of over 100,000 shivering fans Saturday night. The Missouri offense awoke from a two-month long slumber just in time to shock the Aggies on their home field on the heels of a career high 199 yards rushing from running back Russell Hansbrough, who has been named SEC Offensive Player of the Week.

"It starts with the offensive line," Hansbrough said after the game."I just feel like whatever the offensive line does (the running backs) will capitalize off that. Everything was clicking."
Quarterback Maty Mauk added 252 yards and a touchdown as the oft-criticized passing game made substantial strides in this must-win game for Mizzou. The unit's near-600 yard performance was the best of the 2014 season and could set the tone for the rest of the season.
If the Mizzou offense was good on Saturday then the defense was spectacular, holding the high-powered Aggie passing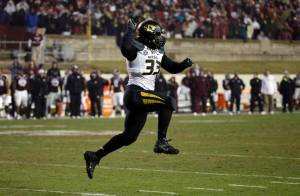 attack to a meager 237 yards, but it was a gigantic 4th-and-2 stop that might be the defining moment of the season.
"As a coach, that's what you want your defense to do in the fourth quarter to win a football game," Head coach Gary Pinkel stated. "I am just so proud of those guys."
With two games to go Missouri's destiny is in its own hands. If they are able to knock off both Tennessee and Arkansas, they will return to Atlanta as champions of the SEC East for the second consecutive year; a feat that would astronomical in terms of the program's respect and visibility in the SEC. There are four schools (Ole Miss, Kentucky, Texas A&M and Vanderbilt) that have never so much as made an appearance in Atlanta, so Mizzou getting to the championship game two out of its first three years in the conference would go a long way to prove many critics wrong. Since the beginning of the 2013 season, Missouri has quietly gone 12-2 in SEC play, a conference record that is second only to Alabama during that stretch of time.