Missouri hosted its annual Spring Game on Saturday in front of around 6,000 fans. Many were eager to catch a glimpse of freshman wide receiver Luther Burden and neither he nor either offense disappointed as each squad put on quite a show.
Mizzou will officially wrap up its spring football schedule this week and expectations seem mixed heading in to Eli Drinkwitz's third season in Columbia. There was a clear emphasis to make the game more fan friendly with even teams and normal scoring.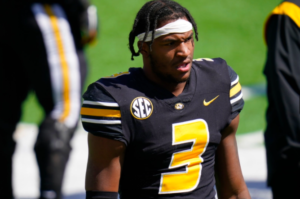 5 Spring Game Takeaways
Mizzou's skilled position players are very good. Fans caught a glimpse of Burden and he lived up to the hype with 81 yards receiving and a touchdown. Aside from that, Dominic Lovett, Chance Luper and Tauskie Dove all made significant contributions. Add in a Mookie Cooper and Mizzou is going to have a plethora of weapons to employ next season. Overall, this has the potential to be the best receiving corps since 2013 (Dorial Green-Beckham, Marcus Lucas, Bud Sasser, LaDamien Washington etc).
Quarterback questions. Brady Cook really stood out in this game throwing for 191 yards and 3 TDs. Tyler Macon struggled a bit early and late bookending his day with picks. If you are specifically going off of this game (which you are not) Brady Cook appears to have the edge in the QB battle.
But the quarterback battle may not be over. Missouri hosted transfer QB J.T. Daniels on Saturday. The former USC/Georgia quarterback is down to Missouri, Oregon State and West Virginia as to where he will play his final collegiate season. The reviews on Daniels are mixed. He's looking to play at his third different school and couldn't beat out Stetson Bennett in Georgia. On the other hand, he entered last season as a Heisman candidate and has shown the ability to be a very effective passer at the highest of levels.
The defense may be a mixed bag. Cornerback Daylan Carnell was the defensive star Saturday accounting for two interceptions and a touchdown. The Tigers are dealing with some injuries in the secondary and it showed with the offensive frequently hitting big plays down field. Up front, both defensive lines dominated up front and allowed very little on the ground. If Missouri gets healthy on the backend (which it should) then you could be looking at an opportunistic defense that is capable of making big plays. We will know more this Fall.
The running game is going to be by committee. While Tyler Badie was Mizzou's main man offensively last season, expect for Drinkwitz to use a lot of running backs in 2022. Stanford transfer Nathaniel Peat, rumbler Michael Cox or Elijah Young, it looks like you will see several players getting carries until Drinkwitz becomes comfortable giving more of the load to one guy.
---