The Miami pitchers had a vice grip on the Orioles bats all night, especially when runners where in scoring position.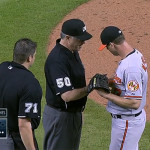 Orioles Rookie Mike Wright pitched 7 shutout innings for the 2nd time in a row, but the Orioles went 1-10 with runners in scoring position. The Orioles bats were silenced in Miami a night after scoring 8 runs. Orioles reliever Brian Matusz was ejected in the 12th for using a foreign substance and he may face a
suspension which will tax the Orioles bullpen even more. Another Orioles Rookie, P Oliver Drake made his major league debut in the 9th inning for Baltimore as he worked 3 scoreless innings. Martin Prado singled home the go ahead run in the bottom of the 13th inning as the Marlins snap an 8 game losing streak. Game 3 is today.
Bal (19-21) Mia (17-27)
WP : Carter Capps (1-0)
LP : T.J. McFarland (0-1)