Kansas City, MO– The golden age of rock n' roll continues to stand the test of time as a capacity crowd inside Kansas City's distinguished Kaufman Center sang along joyfully with Tommy James & The Shondells on Saturday night. The show brought patrons both young and old to pay tribute to James, a true living legend and pioneer of early rock n' roll.
The 90-minute set was tight, clearly well-rehearsed and extremely high-energy for a performer that has been at this for nearly six decades now. From the opening chords of "Dragging the Line" to the final curtain call, Tommy James took us all on a rock n' roll time machine and heroically wove us through some of the biggest hits of the 60's/early 70's. Songs like "Crystal Blue Persuasion" came across just as well as it did when it was originally released in 1968 and Tommy's voice is still as smooth as silk.
James' story is truly extraordinary (and is soon to be turned into a feature film). His relationship with Roulette Records was tumultuous to say the last as the label were actually a front for the infamous Genovese crime family. The crowd was hilariously receptive to hearing this news in a live setting and clearly James continues to have a deprecating sense of humor. "We used to do acid, now we take antacids" he joked during the performance.
"I look out at our concert crowds now and I see three generations of people." Tommy said in a 2017 interview with myself via the On the Road to Rock Podcast. "It's really amazing. When we first started did we think we would still be doing this for 50 years. The fans and the good lord have been very good to us."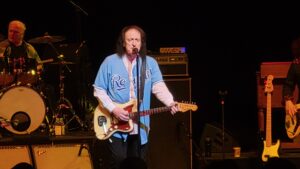 This is an artist whose songs have been covered by everyone from Joan Jett to Billy Idol and it was his 1968 psychedelic smash-hit "Crimson and Clover" that garnished the most attention from the audience. The smooth and memorable refrain sounded just as good as it did on the juke boxes and in the malt shops back in the late 60's and its relevance is immortalized on tv shows like The Wonder Years.
Tommy, who thew out the first pitch of the Royals/Twins game on Saturday afternoon, even wore a Royals jersey to perform an encore of songs including "Sweet Cherry Wine," "Mirage" and "Mony Mony." A perfect ending to a magical night.
Setlist
Draggin' the Line
Crystal Blue Persuasion
Say I am
I Think We're Alone Now (acoustic)
Ball of Fire
Tighter, Tighter
Crimson and Clover
Hanky Panky
I Think We're Alone Now
Do Something To Me
Mony Mony
Sweet Cherry Wine
Mirage/Mony Mony
---