The sights, the sounds, the smells. There's really nothing that compares to a weekend of life, liberty and the pursuit of rock. That is exactly what Rocklahoma has provided its rabid fans since 2007 as it has become to preeminent festival of its kind in the country. Labor Day weekend 2023 provided more of the same as over 60,000 fans made their pilgrimage to Pryor, OK to enjoy a diverse and eclectic blend of bands that make up today's rock music climate.
On Saturday alone, you could find yourself enjoying the musical (and visual) stylings of GWAR or even the epic sound of Mongolian folk metal with The Hu on the Renegade stage. Veteran rock superstars Kix played their third to final show EVER on the Roadhouse stage and 90's heavyweights Bush and Limp Bizkit closed out the action on the main stage.
Each band that we spoke to backstage at the media tent all hailed Rocklahoma and gave praise to the festival promoters and ease as to which everything occurred.
Rocklahoma photo gallery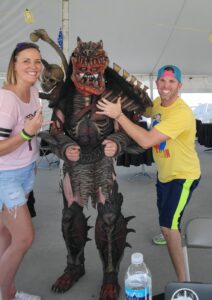 For fans in midwestern states such as Oklahoma, Kansas, Arkansas and Missouri, Rocklahoma provides a one-stop-shop and an affordable way to see all your favorite bands in a single weekend. Many patrons had never seen Pantera, yet had that opportunity as the 90's metal heroes closed out the festival on Sunday night.
Overall, Rocklahoma is the biggest bang for your festival buck. It keeps growing and these promoters stop at nothing to bring in the best possible acts year in and year out. Whether your a Rocklahoma veteran or someone that has yet to take the plunge, make it a priority next year.
Best of Rocklahoma Podcast
On the Road to Rock With Clint Switzer
On the Road to Rock is not just a podcast, it's a true rock n' roll experience, an unabashed celebration of rock's living legends and all the stories that have shaped the fabric of the music business.
Ronnie Romero (MSG, Rainbow)
Famed Chilean singer Ronnie Romero is set to release his latest solo album "Too Many Lies, Too Many Masters" on September 8th and discusses his journey from growing up in South America to singing with legends like Rainbow and Michael Schenker.
Search Results placeholder