While the Kansas City Chiefs have been busy racking up video game offensive numbers over the past three seasons, few people even considered that a time could come where the team could face a pass-catching problem.
When Patrick Mahomes rose to fame during the 2018 season, the Chiefs offense averaged 35 points per game and led the NFL in yards per game. To say the roster was loaded for bear would be an understatement. In addition to electrifying running back Kareem Hunt (who was entering his second season), the Chiefs possessed an elite triumvirate of receivers in Sammy Watkins, Tyreek Hill and Travis Kelce.
Fast-forward to 2021. Long gone is Kareem Hunt and in his place Clyde Edwards-Helaire, a player we believe has potential but likely not the game breaker Hunt is. Gone is also the former post-season hero and often-injured Sammy Watkins who signed a free agent deal with the Ravens back in April.
Kansas City's focus in the offseason was quite clear and Bret Veach wasted no time retooling the offensive line after a dreadful Super Bowl LV performance. Could that strategy wind up being detrimental to the Chiefs' pass-catching situation?
Reasons for hope
The Chiefs' two top receivers in Travis Kelce and Tyreek Hill return and are coming off phenomenal seasons. The duo combined for 2,600 yards and 26 touchdowns in 2020 and expectations are through the roof once again.
Mecole Hardman is both a reason for hope and cause for concern. He will have to step valiantly into that pivotal #2 receiver role but is he ready to do so? Hardman will have to improve his route running and overall commitment to football. Many say his focus has been on point this Summer but preseason results have been mixed so far.
Patrick Mahomes is likely the league's best player and is not yet a finished product. Can he be a player that is able to make up for a lack of elite talent throughout the course of his career? It's very possible.
Late draft picks. Despite little movement in free agency, the Chiefs looked to the late rounds of the NFL draft to add some depth. Cornell Powell (receiver, 5th round) and Noah Gray (TE, 6th round) helped alleviate a few concerns about pass-catching depth although Powell has not really been a factor so far this preseason.
---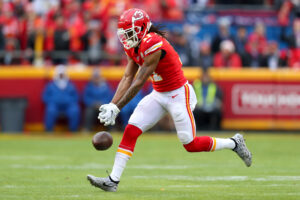 Causes for concern
I mentioned Mecole Hardman above. With Watkins down with a leg injury for much of the ladder part of 2020, Hardman was, at the very least, serviceable. The Chiefs could have had D.K. Metcalf with the pick they used on Hardman back in 2019 and that is an unavoidable shadow for Mecole.
The Pringle/Robinson situation. Both players signed one year deals this offseason and the Chiefs did precious little else in free agency to bolster the roster. Pringle is a fan-favorite and Robinson had two good games back in 2019 but neither player is someone you want to count on to put up big numbers.
The age factor. Travis Kelce has proven time and again to be the best tight end in the league. Kelce is about to turn 32 in October, the same age as Rob Gronkowski, who has once retired after being too beat up. Kelce has shown no signs of slowing down yet but the time is nearing that Travis will be a declining player. It seems funny to think of Tyreek Hill as an "old" player but at 27 and a former running back, his days of being the fastest player in the league are numbered. Thankfully, Hill is a wonderful route runner and excellent at locating the football downfield.
---
Pass-catching production aside from Hill/Kelce *stats from 2020
| | | | |
| --- | --- | --- | --- |
| Mecole Hardman | Catches 41 | Yards 560 | TD 4 |
| Byron Pringle | Catches 13 | Yards 160 | TD 1 |
| Demarcus Robinson | Catches 45 | Yards 466 | TD 3 |
With what should be an improved running game, a bolstered offensive line and Patrick Mahomes at the helm, it seems plausible that the offense (which averaged 28.5 points per game last season) can at least stand pact. Improvement will only occur should someone emerge from the group of receivers listed above or, perhaps, a newcomer like Daurice Fountain/Marcus Kemp can claw their way into the lineup.