Fresh off yet another heralded appearance on the Kiss Kruise, famed guitarist Bruce Kulick decided to take the party to land (specially Count's Vamp'd in Las Vegas) much to the delight of the undying fans of Kulick's much-ballyhooed Kiss era.
Armed with vocalist/guitarist Todd Kerns (Slash, Raiding the Rock Vault), bassist Zack Throne (Corey Taylor) and a surprise appearance from current Kiss drummer Eric Singer (filling in for Brent Fitz, who was out with illness), Kulick and the guys unleashed an unforgettable setlist flush with 80s/90s Kiss classics as well as a few throwbacks to the makeup era (Detroit Rock City, Watchin' You, King of the Nighttime World).
Not only was the packed house treated to 1/2 of the Kiss Revenge-era lineup which includes Kulick's impeccable guitar playing and Singer's powerhouse drumming but the tandem of Kerns and Throne was indeed a major highlight. Throne's Gene Simmons Esq vocals roared on songs like "Unholy" and "I Love it Loud" while Kerns took over on Paul songs. Kerns is a rock star personified both in stature and musical ability and the energy he brought to songs like "Heaven's on Fire" and "I Just Wanna" is worth the price of admission alone.
"We were planning this show pre-Kiss Kruise. We made the decision to move forward to it and the club was available." Kulick stated in a Dec. 27 interview with On the Road to Rock W/ Clint Switzer. "How could a band like mine, playing all the songs Kiss doesn't feel it's important to play, and I respect that, but songs I can do and make the fans happy. It makes a lot of sense."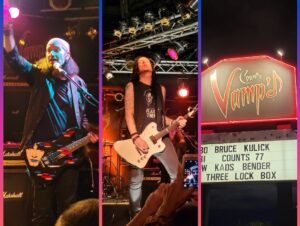 In many ways, those that missed out on Kiss' since-postponed Vegas residency were in for an even bigger treat, especially those died-in-the-wool fans that appreciate the vast legacy of the band. Hearing song's like "Uh! All Night" "Creatures of the Night" and "Crazy Nights" performed in a setting like Count's Vamp'd was epic enough but adding Singer to the mix and hearing the likes of "Spit" and "War Machine" just added a little extra cheese on the whopper that evening.
What really stands out about this show is the camaraderie between band members. Not only did these guys pull off an unforgettable show with just one rehearsal under their belt with Eric, but the guys seem to genuinely get along and, above all, enjoy what they are doing on stage. In an era where cancelations are rampant (including David Lee Roth the very next night) Kulick took a bad situation and turned it into an absolute positive in the face of adversity.
"This band needs to tour the U.S.!" One fan was heard yelling as fans filed out of the club. It's a venture Kulick would surely like to get to although lining up schedules is always the challenge. What we do know is, despite Kiss' questionable future, a voracious appetite exists for this band and this era and shows like these will be welcomed by fans.
"2022 has so many things that could happen. I just have to balance it all." Kulick explained. "I'd like to do it all (including) record with the Kruise band."
Setlist
Creatures of the Night
Unholy
Uh! All Night
Domino
Heaven's on Fire
Watchin' You
Tears Are Falling
I Love it Loud
Detroit Rock City
King of the Night Time World
God Gave Rock and Roll To You
Forever
War Machine
Jungle
Paralyzed
I Just Wanna
Spit
Star Spangled Banner
Crazy Nights
Turn on the Night
On the Road to Rock Interview With Bruce Kulick