We all know that every sports fan base has its share of overzealous, wacky or just down right annoying fans. However there are a few that always seem to stand out above the rest, whether it be constantly over-selling their team, being unable to grasp reality or blindly supporting anything that is put in front of them. Here is our list of top-10 most delusional fan bases in sports: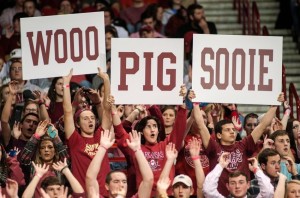 1. Arkansas Razorbacks
Just in case you are a non-believer, kindly head over to the message boards at hogville.net. You can thank us later by the way. Arkansas has a very passionate fan base, but one that is not whatsoever grounded in reality. When there is a coaching vacancy at Arkansas, fans immediately surmise that their next head coach will either be Bill Cowher or Vince Lombardi and after any loss the excuses come raining in like a tidal wave. The football program at Arky is average at best, yet they are treated like the second coming of Notre Dame circa 1949.
---
2. Dallas Cowboys
The Cowboys have been known as "America's team" since 1979 and thank goodness this term didn't immediately go to the heads of millions of overzealous Texans…Oh wait, it most definitely did. The Cowboys were a part of two separate NFL dynasties although have been irrelevant for 20 years now, yet these fans literally believe they are going to the Superbowl each and every season. Worse yet, you can't even go watch your own team play the Cowboys without thousands of moronic, bandwagon fans pouring in to your stadium trying to spread the gospel of Superbowls of the past (and, of course, future).
---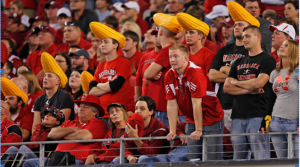 3. Nebraska Cornhuskers
Remember the evil, corn dwelling cult in the Stephen King film Children of the Corn? Well that movie may as well have been a allegory for Husker football in the dismal state of Nebraska. A perfect storm of past success mixed with Nebraska football literally being the only thing to do in the state, has led to this group becoming almost unbearable. Once touted as the "classiest fans in college football," Husker fans now have no choice but to revel in its historical dominance because embracing the present is just to difficult for them to handle. The once classy corn cob hat wearing fans even stooped so low as to present death threats to former receiver Niles Paul who dropped several passes during a loss.
---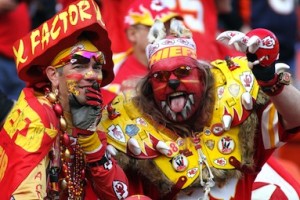 4. Kansas City Chiefs
One of the most passionate fan bases in the NFL, Kansas City Chiefs fans have become so numb to losing and mediocrity that they wind up blindly supporting anything that the team lays out for them. The Chiefs have not won a playoff game since 1994, and have not drafted a quarterback in the first round since 1983, yet these people show up at every game, training camp practice and draft party in full costume wildly cheering cathartic events like Eric Fisher being drafted #1 overall in 2012. These people relish in the opportunity to break outdoor sound records, but if the Chiefs don't win this week, gosh darn it we'll get em next week!
---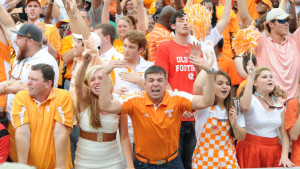 5. Tennessee Volunteers
Outkick the Coverage recently ranked Tennessee fans as the "10th dumbest fan base in America." Not sure we are going to go that far, but when it comes to delusion, Vol fans are second to none. This is a group of fans that are so skittish, they ran off a coach in Phillip Fulmer that won a national championship and compiled a 152-52 record. Since that occurred, the program has been below average and a non-factor in the college football landscape…But don't tell any of their fans that. Visit any of the wondrous Tennessee message boards or speak to one of these orange-clad yokels in a social setting and you will understand just how delusional these people are.
---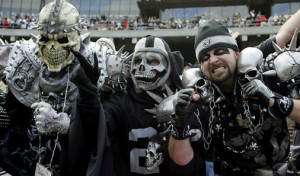 6. Oakland Raiders
The Raiders have not yielded a winning season since 2002 yet there may not be a more proud bunch of miscreants than these 'sons of anarchy.' Raiders fans are brash, violent and often times will try to intimidate you into thinking that their favorite team is actually good at football. The only good news here is that the team may move back to Los Angeles which would be great for the local gang scene. Of course, we all long for the days when "Just Win Baby" actually meant something and the teams' "Commitment to Excellence" was not just a meaningless sign on a wall, but come on guys, life's too short to be predicting wild card playoff appearances in the midst of a decade-long losing streak!
---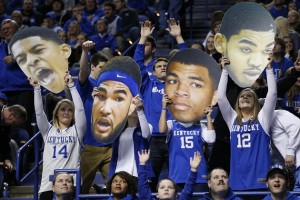 7. Kentucky Basketball Fans
Not to be confused with Kentucky football fans, which are a completely separate bunch who actually attended the school or choose to support both major athletics at the university. Kentucky basketball fans, in many ways, have the right to be cocky, delusional and snobby. They do happen to cheer for the best college basketball program in America, but these people have set the bar so high that any season that does not result in a national championship is considered a failure. It wouldn't be surprising to start hearing rumors of John Calipari's seat beginning to warm up if he does not deliver a title in the next two years or so.
---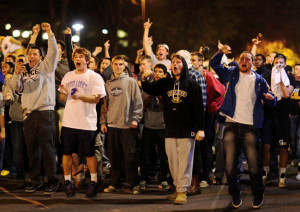 8. Penn State Nittany Lions
Had it not been for the cinematic Esq riots that broke out after the firing of legendary head football coach Joe Paterno, Penn State fans would probably just be known as passionate and vocal. After thousands took to the streets in protest after the school parted ways with Paterno, it showed just how delusional a group of people can become when faced with adversity. The child molestation events that occurred within the Penn State program are not reflective of the school or the fan base whatsoever, but this was a situation where football should not have been in the foreground, yet, Nittany Lion nation made its presence felt in a riotous frenzy.
---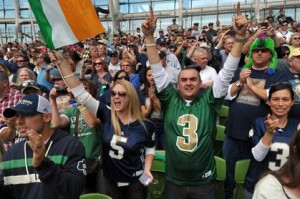 9. Notre Dame Fighting irish
On the subject of fan bases that live in the past and expect everything to be handed to them on a silver platter: I give you the fans of Notre Dame football. One of the great programs in college football historically, Notre Dame has not won a national title since 1988 yet these fans expect their beloved Irish to be in contention every season despite the school's unwillingness to join a conference like (practically) everybody else in America. It's also all the more annoying in that it appears Notre Dame fans and their never ending chest beating actually seems to perpetuate the football team's standing with the national media.
---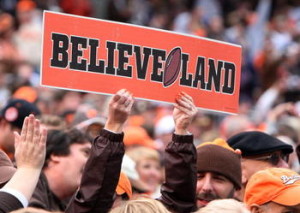 10. Cleveland Sports Fans
Certainly the most down-trodden group of fans on this list, it's hard not to feel sorry for these people as the city itself has not produced a championship of any kind since 1964. By proxy, the fact that any of Cleveland's teams still have fans at all makes it a delusional fan base just due to the fact that none of these people should have any hope remaining in their body's whatsoever. Don't bother mentioning the NBA Finals (which are currently tied at two games a piece) because we all know how this is going to end for the city of Cleveland.
---
Honorable Mentions
Chicago Cubs

Boston Red Sox

Duke Basketball

Toronto Maple Leafs

Philadelphia Eagles

St. Louis Cardinals