Whether it be a historic landmark that immerses you in the innocence of days gone by or state-of-the-art palaces, America boasts a number of top-tier football stadiums.
Americans value football like very few other things in our lives. For many, attending a sporting event is much more than watching your favorite team play. There is truly an experience involved whether you are watching your favorite team at your home stadium or taking a memorable road trip just to enjoy something new.
If you're ever up for an ultimate football stadium wanderlust, you better start checking these venues off your list.
---
10. Notre Dame Stadium (South Bend, IN)
Say what you want about Notre Dame's lack of national titles over the past 30 years, Notre Dame Stadium should be on any football junkie's bucket list. With Touchdown Jesus and the famous Golden Dome as its backdrop, a trip inside this hallowed ground is sure to wake up the echos.
---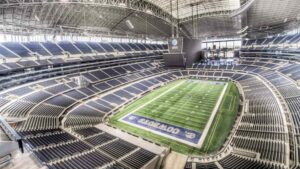 9. AT&T Stadium (Arlington, TX)
It's hard to believe that "Jerryworld" is now 13 years old. This stadium still provides all the state-of-the art perks that the new ones have and has been lauded as a football palace since its opening. AT&T is the personification of the spirit of Texas, big and bold.
---
8. Michigan Stadium (Ann Arbor, MI)
Aptly named "The Big House," Michigan Stadium is the largest stadium in America with a capacity of over 107,000 and is the crown jewel of the proud Wolverine program. It is an intrinsic symbol of the community that helped popularize the game of football in the western part of the U.S.
---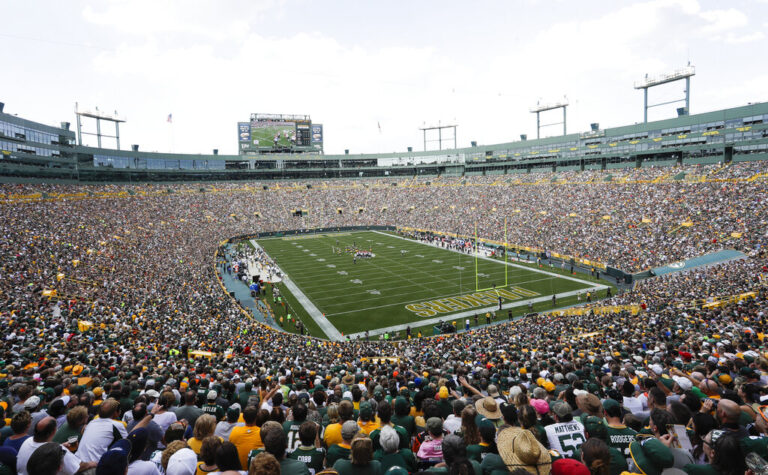 7. Lambeau Field (Green Bay, WI)
The Packers represent the city of Green Bay and while newer stadiums are wonderful, a trip to Lambeau is like stepping in to a time machine. If you want to immerse yourself in the true spirit of what the NFL is all about, then a trip to Lambeau is for you.
---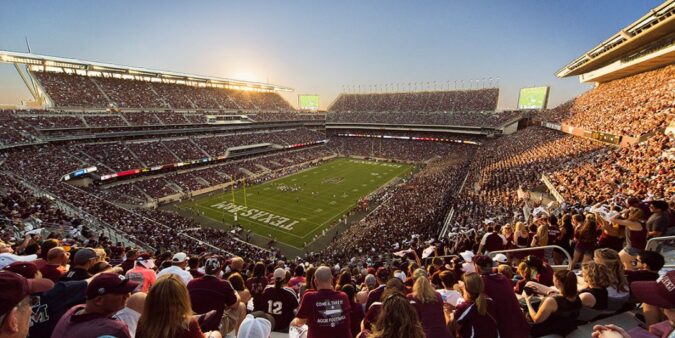 6. Kyle Field (College Station,TX)
Boasting some of the best pre-game and game day experiences in America (as well as a recent $450 million dollar renovation) Kyle Field is nothing short of college football heaven and the die-hard fan base will always welcome you to Aggieland with open arms. The 102,000 seat palace now has all the bells and whistles to go along with the proud history and tradition.
---
5. Beaver Stadium (State College, PA)
The second-largest stadium America, few gameday environments in college football can even come close to comparing. It might sound simple but the spectacle of a big conference game at Beaver Stadium with the entire crowd adorned in white is a sight to behold.
---
4. Tiger Stadium (Baton Rouge, LA)
Former LSU player and famed writer John Ed Bradley once said that "Tiger Stadium is haunted and all the ghosts favor the home team." That famous quote sums up LSU's hallowed football grounds perfectly. Affectionately known to college football fans as "Death Valley," LSU's Tiger Stadium is a loud, raucous and generally unpleasant place to be if you are an opposing team (especially at night).
---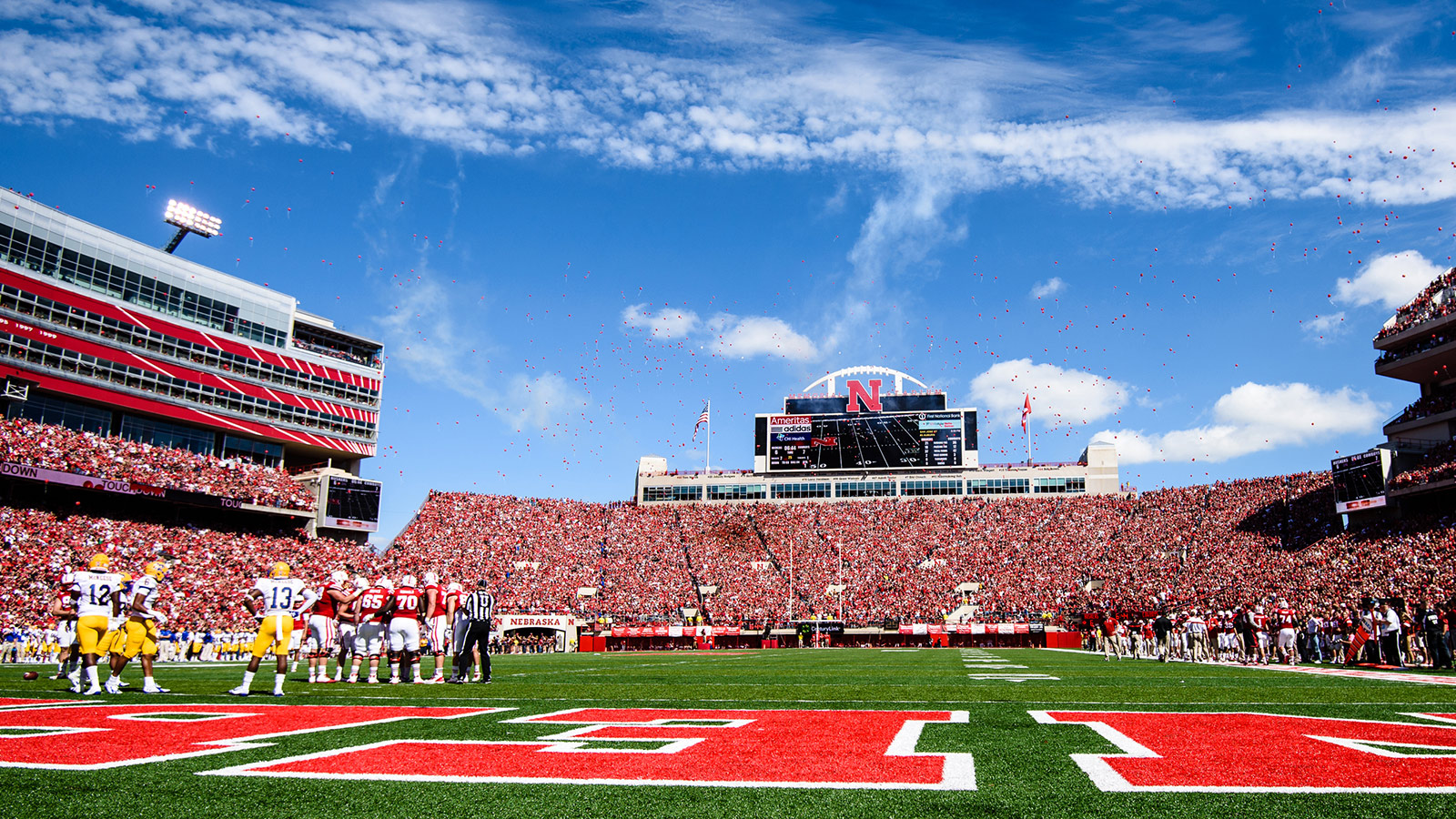 3. Memorial Stadium (Lincoln ,NE)
College football's best fans make up the ominous Sea of Red inside Memorial Stadium. 379 straight sellouts dating back to 1962 make this a must-visit for any football fan that wants to take in a top-notch atmosphere.
---
2. GEHA Field at Arrowhead Stadium (Kansas City, MO)
Forget the annoying new GEHA signage, Arrowhead has stood the test of time since it opened in 1972. The atmosphere is unlike any other in pro sports and the pre-game festivities in the parking lot are legendary. For the sights, the sounds and the smells, Arrowhead is the place to be.
---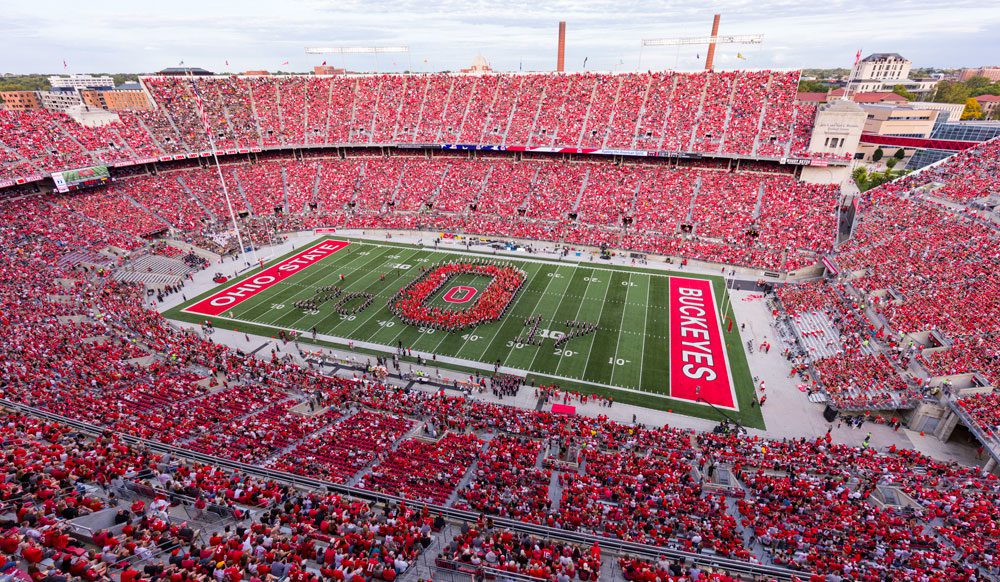 1. Ohio Stadium (Columbus, OH)
Nestled snugly on the banks of the Olentangy River, stately Ohio Stadium is one of the most recognizable landmarks in all of college athletics. This stadium checks all the boxes: atmosphere, history, pageantry and tradition.
---