The state of Missouri is very unique in that it showcases two major cities on both the eastern and western border. Many Missourians like to enjoy live music both in the Summer months and year round.
There are many venues across the state that are have provided endless magical nights of entertainment over the years. Whether you are taking in a show in Kansas City or St. Louis or even in a smaller town like Columbia or Springfield, Missouri has you covered if you are a proponent of live music.
---
10. Knuckleheads Saloon (Kansas City)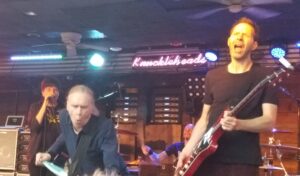 Four stages and an endless array of musical diversity, Knuckleheads keeps its calendar packed during each Summer. Attending a show here is an experience unto itself as some of KC's greatest jam sessions have occurred here since its inception in 1965.
---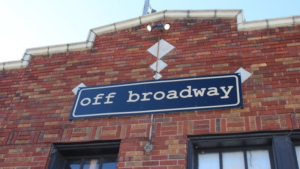 9. Off Broadway (St. Louis, MO)
An old, brick garage-turned-bar plays host to an eclectic blend of live shows by local & national acts. Off Broadway has been a Missouri music destination m for over 30 years and offers a tremendous sound mix and sight lines. The atmosphere itself is top-notch and has helped make this venue an award-winner time and again.
---
8. Ozarks Amphitheater (Camdenton)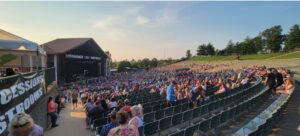 Ozarks Amphitheater, recently named the "Best Live Music Venue in Missouri", is located in the heart of the beautiful Lake of the Ozarks. The amphitheater has recently hosted such well-known headline acts as Alabama, Dwight Yoakam and Jamie Johnson, with more great coming attractions. A concert under the stars at Ozarks Amphitheater is a great addition to a long summer weekend at the lake.
---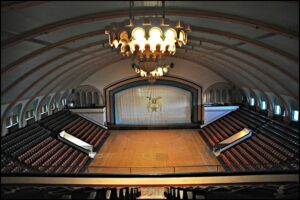 7. Abou Ben Adhem Shrine Mosque (Springfield)
The building, built in 1923 has been host to numerous community events including Circuses, Telethons, War Bond drives, Revivals, and Presidential visits (Truman, Roosevelt, and Reagan)! Additionally the facility has had an eclectic range of performers on the beautiful stage from the Vienna Singers to Elvis Presley (surprisingly a poorly attended concert) to modern performers such as the Blue Comedy Tour and Rob Zombie.
---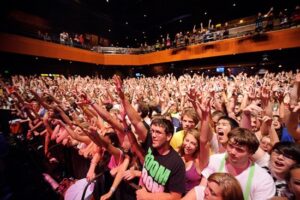 6. The Pageant (St. Louis)
Located in the Delmar Loop at the center of the St. Louis Metropolitan Area, The Pageant has earned a world-wide reputation as an exceptional concert venue over its 20+ year history. Built for live music with a tiered floor plan to optimize sight-lines and outfitted with the latest in professional sound & lights, The Pageant's versatile layout helps create a unique intimacy between performer & audience.
---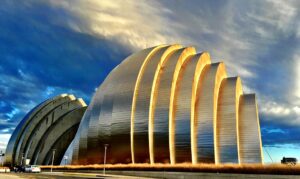 5. Kauffman Center For the Performing Arts (Kansas City)
Boasting stunning, modern architecture and one of the more affable event staff's that you will ever see, the Kauffman Center is a downtown Kansas City jewel. Home to resident organizations the Kansas City Ballet, Lyric Opera, Kansas City Symphony, and other innovative programming, embraces a variety of audiences with different tastes, interests and passions. At the Kauffman Center for the Performing Arts, everyone can have an opportunity to experience excellence.
---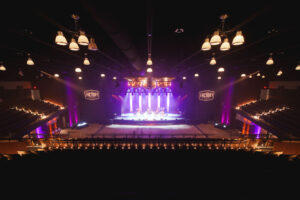 4. The Factory at the District (Chesterfield, MO)
The Factory is a most welcomed addition to St. Louis' vibrant live entertainment scene. surrounded by restaurants, shops and entertainment options, the 3,000 seat Factory offers a wide array of live music options.  The industrial style of The Factory offers a most unique experience takes cues from old factories and manufacturing spaces.
---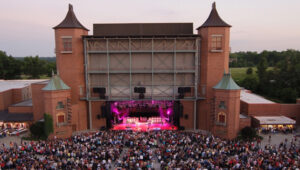 3. Starlight Theater (Kansas City, MO)
One of the two major remaining self-producing outdoor theaters in the U.S., Starlight has nearly cornered the market on outdoor live music in KC. Built in 1950, Starlight has played host to everything from musicals like "Footlose" to hard rock concerts such as Judas Priest and Poison.
---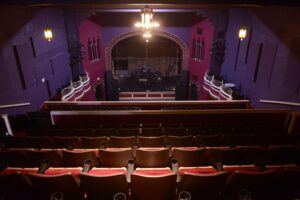 2. The Blue Note (Columbia, MO)
With its perfect downtown Columbia location and vast history, The Blue Note is a venue every music lover should visit at least once. From country and bluegrass to thrash metal, you'll find every type of act imaginable playing The Blue Note.
---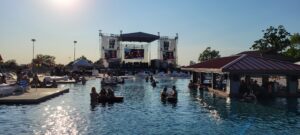 1. The Hippopotamus Swim up Bar at Regalia Hotel (Lake Ozark, MO)
There's nothing quite like catching a show at the Regalia Hotel on a perfect Summer night. Whether you enjoy the show by wading around the largest swim-up bar in the Midwest or want a closer view in front of the stage, you are assured a one-of-a-kind experience.
---