Miami, OK– A sold-out crowd packed The Buffalo Run Casino's Peoria Showplace to pay tribute rock-heroes Night Ranger. It would be one of the more unique concerts in the band's epic career as they would perform as a four piece without incumbent guitarist Brad Gillis who was down with an injury.
Not one to throw in the towel so easy after two years of cancelations, Jake Blades, Kelly Keagy, Kerri Kelli and Eric Levy powered on and turned in a most-memorable night of rock hits.
Most notably on this night would be the performance of Jack Blades who continues to deliver Night Ranger's upbeat, good-times rock n' roll with the youthful exuberance of a 28-year-old. His voice and charisma have taken no hits throughout the 42-year existence of the band.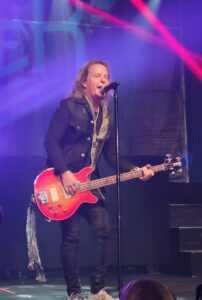 "We're pretty blessed by the fact that so many songs are in the collective consciousness of everybody." Blades said during a recent interview with On the Road to Rock With Clint Switzer. "It's a tribute to America and the longevity of a good song and that's what Night Ranger's always focused on."
The Night Ranger set at the Peoria Showplace leaned heavily on 80's material and the crowd was game for sing-alongs. Hit's like "Sing Me Away" "Four in the Morning" and "The Secret of My Success" went over like bomb pops on a hot Summer night. The sound in the room was near perfection and guitarist Keri Kelli deserves loads of credit for tackling all guitar parts without Gillis.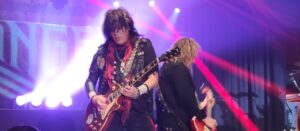 One of the evening's many highlights included a dive into Blades' former late 80's side-project Damn Yankees. "Come Again" "Coming of Age" and the band's highest-charting single "High Enough" help add tremendous diversity to the set.
While it was satisfactory hearing "Breakout" from the band's latest album "ATBPO," another song or two from the album would have been more appropriate. Of course, it's highly possible that setlist issues arose without the services of Gillis which is completely understandable.
The final four-song punch sent the jubilant crowd home happy as "When You Close Your Eyes" "Don't Tell Me You Love Me" "Sister Christian" and "You Can Still Rock In America" brought the 90-minute set to a ceremonious end.
When you attend a Night Ranger show in 2022, you are getting an immersive feel-good, fist-pumping experience. There are no frills and they've never needed any. It's rock n' roll the way it was meant to be showcased. It's escapism at the highest level and Americana in its purest sense.
---
Night Ranger Setlist
---
On the Road to Rock Interview With Jack Blades