As the Kansas City Chiefs welcome rookies to their annual mini camp this weekend, there is one face that stands out a little more than most. That's because Steven Borden, the son of former WCW Heavyweight Champion and wrestling legend Sting, is in Kansas City trying out for the Chiefs.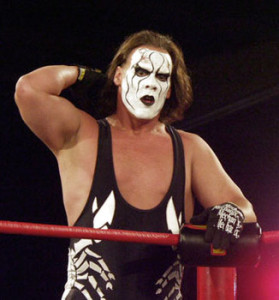 "I know I'm his dad so of course I'm going say it but I believe that he has the ability, the talent, the speed, the strength and toughness to play in the NFL." Sting said recently about his 6'3, 246 pound son who played tight end for the University of Kentucky under head coach Mark Stoops. Sting, who recently wrestled HHH at WWE's biggest show of the year, Wrestlemania, said he never pressured his son to get into the wrestling business and has enjoyed watching Steven play football over the years and claims to have only missed one game of his college career.
Borden only had seven career catches and one touchdown at Kentucky but is a tremendous blocker with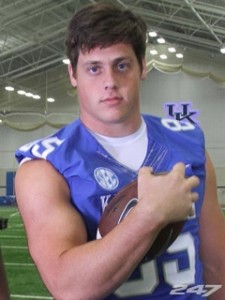 a lot of natural ability which has undoubtedly landed him this tryout opportunity with the Chiefs. KC could certainly use help at the tight end position after losing veteran Anthony Fasano in the offseason.