Nothing says "It Just Means More" than high-profile football players talking about their respective SEC school moments after being selected in the NFL Draft.
Overall, the SEC had 12 players selected in the first round of last Thursday's NFL Draft while the Big 10 came in second with seven. For the second consecutive year, the Big 12 had no players drafted in the first round and the University of Texas ended the weekend without a single player being drafted.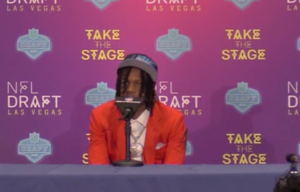 Evan Neal (7th overall to the Giants, Jameson Williams (12th overall to the Lions) and Jordan Davis(13th overall to the Eagles were all on hand in Las Vegas to grace the draft stage upon selection. Moments after each player was selected they met with members of the media. Not surprisingly, each player talked about their respective schools with great reverence.
Williams, Neal and Davis showing love to their respective schools after being drafted
Comments like these showcase the power and respect that the SEC currently possesses. It is not common for a recently drafted player to gush about his college team. These players represent the very best programs in college football and, typically, their talent translates better to the next level than players from almost any other conference.
---