Forty-two year old Raul Ibanez was signed by the Kansas City Royals on June 30, 2014, and played the very next day in right field. He has been with the team for six games, and tonight, he will make is sixth start. I can understand why you sign a forty-two year old RF while Nori Aoki is working his way back from a groin injury, but starting him makes little sense to me, especially considering Dyson was in the middle of a career hot streak.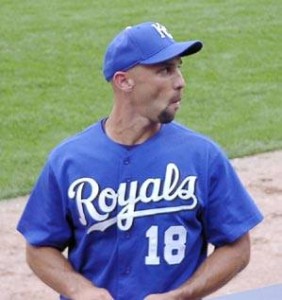 Since Ibanez has been a Royal he is 3 for 19 (.157 BA) with 1 homerun, 5 strike outs, 1 RBI, and 1 colossally stupid mistake attempting to go first to third, which cost the Royals an inning killing out early in the game. His defense has also been horrible, but Ibanez defenders point to a play he made in the outfield where he had to make a circus like catch diving for the ball. He had to make that circus catch because at forty-two years old whatever speed he had is gone. Lorenzo Cain, Jarrod Dyson, or Nori Aoki would have easily made that catch standing up. Ibanez has also missed opportunities on defense to hold runners to a single or a double, but due to his lack of ability, these hits were turned into doubles or triples.
Ibanez defenders will point to the pop of his bat and his ability to hit home runs. In 57 games with the Angels this year he only hit 3 home runs with a batting average of .157, the exact same average he has through six games with the Kansas City Royals. Some will point to previous years, like last year when Ibanez hit twenty-nine home runs for the Seattle Mariners. After the All-Star break Ibanez hit five of his twenty-nine home runs, and he looked just as bad then as he has all of 2014. He continues to show slow bat speed, lack of power, pops up in the infield more than he punches out fly balls to the outfield, and runs the base paths slower than Billy Butler (it's true, we timed him and I laughed far longer than appropriate).
I find it unlikely Ibanez will be with the team when Aoki returns to the club later this month. Ibanez's only real value comes in pinch hitting situations against right handed pitchers. We all loved seeing Ibanez return to the Royals, he was a fantastic player at one time and had a loyal following during his three years in Kansas City, but players get old, lose their ability, and become shells of their former selves.
Ned Yost has several nicknames around baseball, Nervous Ned, National League Ned, Ned "Tinker" Yost… Decisions like this got him fired during the Milwaukee Brewers playoff run in 2008. He can't get out of his own way when it comes to tinkering with a slumping roster, and he is doing it again on a seemingly all-in season. For yourself, for the fans, for the Kansas City Royals, Mr. Ned Yost, please stop starting Raul Ibanez.