The SEC is known for a winning culture, unparallelled fan excitement and some of the greatest game day atmospheres in sports
During the Fall of 2018, a group of documentarians hit the road to film the ultimate SEC football experience: Saturday SuprEmaCy. The film follows two sports fans as they attend a difference SEC football game each week during the 2018 season and showcases all the top-notch game day action, tailgates and nightlife that accompany SEC football Saturdays.
SEC GameDay Atmospheres Ranked
Criteria: Town, tailgating, in-game electricity, traditions and pageantry.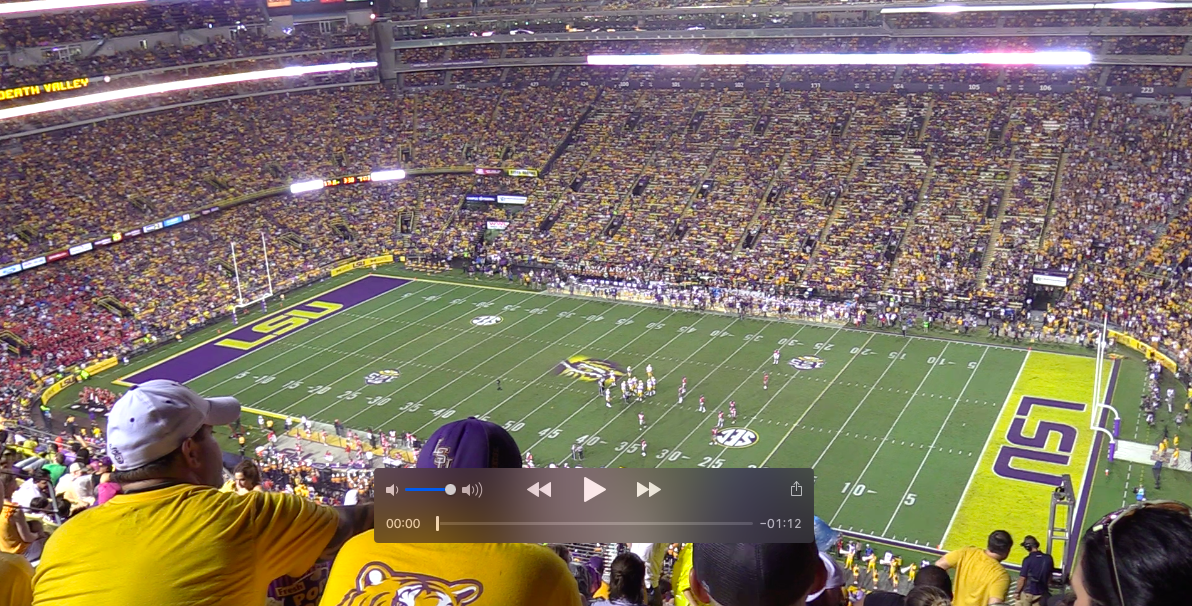 1. LSU
Baton Rouge, Louisiana (9-29-18, LSU vs. Ole Miss)
It's a cliche at this point to reference there being "nothing like a Saturday night at Death Valley" but there literally isn't. Tiger Stadium is nothing short of a college football cathedral, hosting over 100,000 fans for every home game and boasts one of the most intimidating atmospheres in all of sports. The tailgating is nothing short of extraordinary with fans arriving as early as days before the game to pick their spots. The food and comradery is fantastic and the people are equally gracious and eccentric.
The Good
Everything. The jambalaya that was presented at our tailgate was transcendent, cajun spices and all. LSU dismantled Ole Miss from the opening kickoff on this rainy night at Tiger Stadium and after partying with a horde of Bayou Bengals throughout the course of the day, it was clear that we had been involved in a life-changing sports experience.
The Bad
They say the chance of rain is…never. Well not on this night! It rained cats and dogs throughout much of the first half yet the fans stuck it out as they always do. Baton Rouge as a town seems to be one that has outgrown its infrastructure a bit as well. You have 100,000 people trying to get home over a three lane bridge getting on a three lane interstate. It's just not big enough and is a major reason why there are so many wrecks and so much congestion before and after games.
---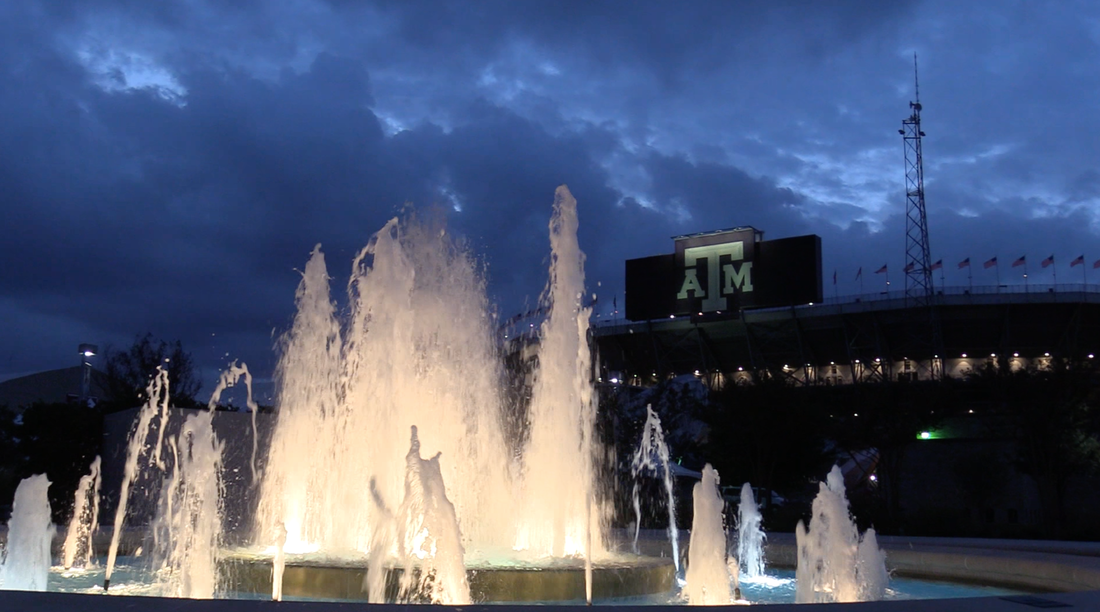 2. Texas A&M
College Station Texas (9-8-18 Texas A&M vs. Clemson)
Aggieland has it all when it comes to passion, pageantry and tradition. From the time we arrived on the Friday before the game, College Station was abuzz with anticipation of hosting the #2 team in the nation. From the alluring Midnight Yell practice the night before to the overwhelming support showcased on ESPN's College Gameday the next afternoon, it was clear that this was one of the best overall atmospheres in college football. Over 100,000 braved the rain to witness a key early contest of the Jimbo Fisher era although the Aggies fell 28-26 to the eventual national champion Clemson Tigers.
The Good
The Dixie Chicken is an absolute must when searching for College Station delicacies. Clemson fans were welcomed with open arms everywhere we turned to the classy greeting of "howdy!" The Midnight Yell practice is truly something to behold as thousands of fans gather the night before the game to practice traditions and cheers. Kyle Field itself is one of the best overall stadiums in college football especially after recent renovations.
The Bad
College Station, like many college towns, has its fair share of problems with traffic and parking and it seemed like an eternity getting through stop lights. Also, despite the fact that this was a really important game, there were several hundred empty seats sprinkled throughout the upper deck. These are very minor complaints, however as it's very difficult to nitpick an unbelievable experience such as this.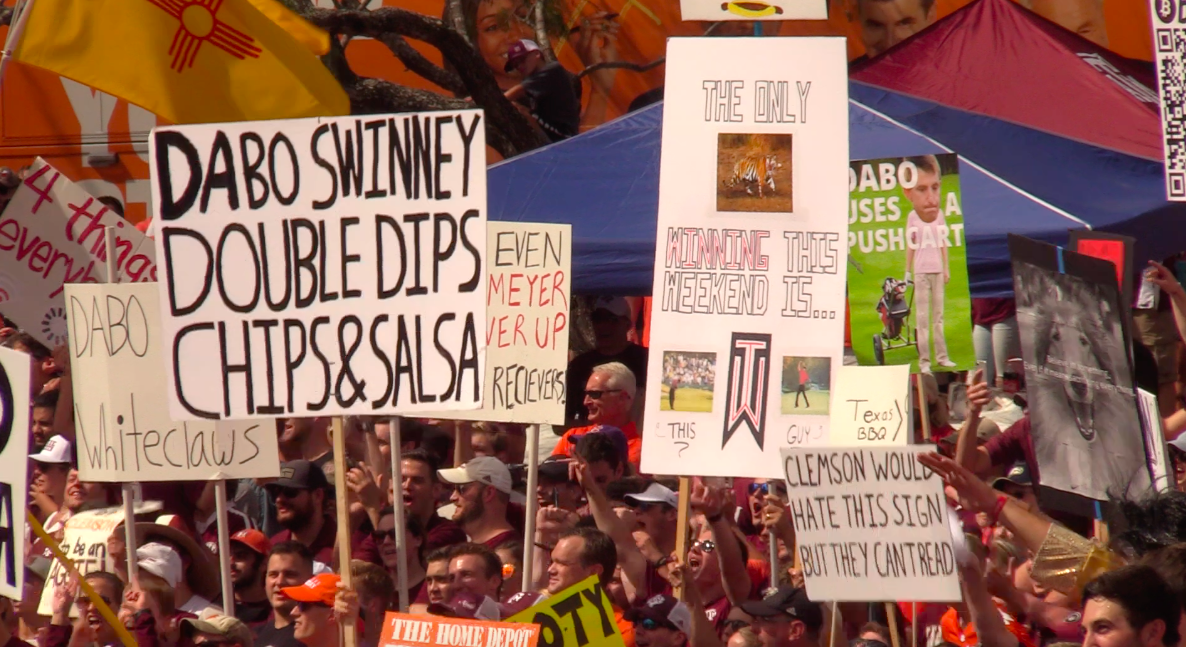 ---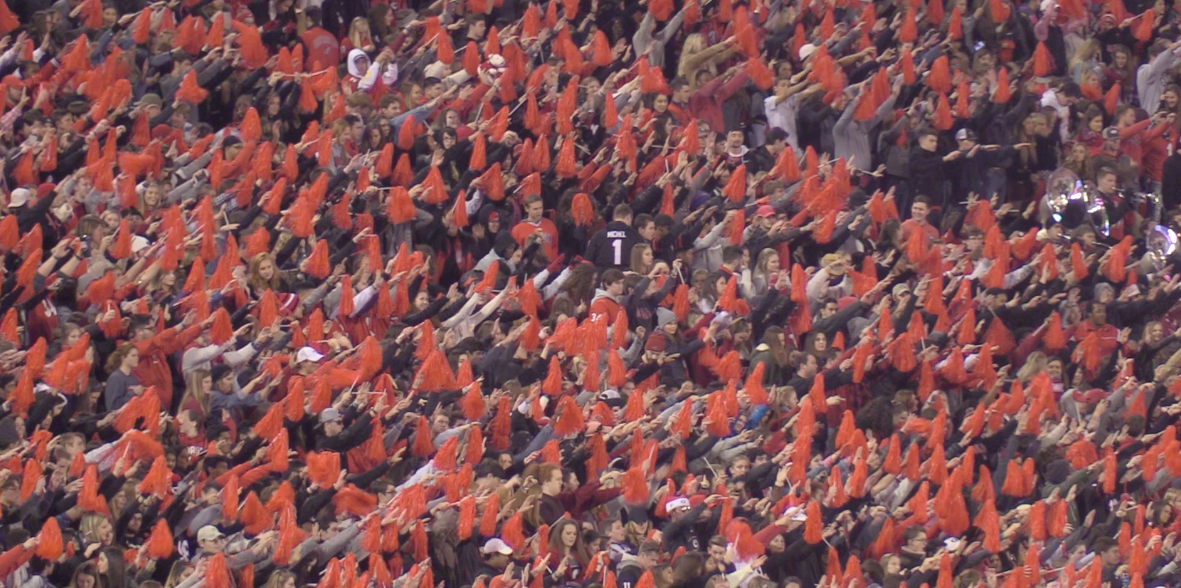 3. Georgia
Athens, Georgia (11-10-18 Georgia vs. Auburn).
The pearl of the Empire State is, undoubtedly, Athens, Georgia. There is a lot of class and sophistication about Athens from its upscale nightlife to the diverse arts and entertainment scene. Sanford Stadium itself provides a unique divide between north and south campus and never fails to be sold-out and raucous. The tailgating is pretty spread out from campus to downtown but these fans are tremendous and accommodating.
The Good
Everything about a college football Saturday in Athens is beyond extraordinary. The people, the food and the town make Georgia a must for any football fan's wonderlust. Five Bar is a tremendous downtown favorite before and after games and you will learn to become endeared to thousands of grownups barking like dogs as the game kicks off. It's fun to even stand up on the Gillis Bridge before games and watch throngs of fans pour into the stadium after downing their final beverage of the night.
The Bad
It's hard to drum up even modest negativity about our time in Athens. The Bulldogs rolled to victory over Auburn during our visit yet the crowd remained in their seats until the end. The go-to complaint for many of these towns will simply be traffic and getting out after the game but that's going to happen anywhere when 90,000 people ascend on a place all at once.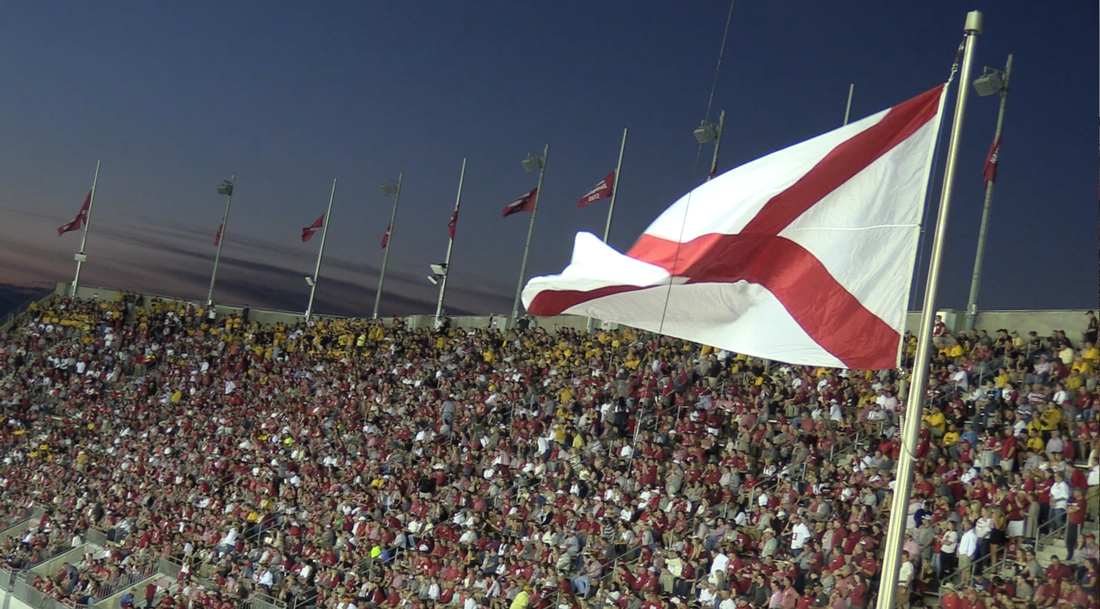 4. Alabama
Tuscaloosa, Alabama (10-13-18 Alabama vs. Missouri).
A visit to, almost inarguably, the home of the premier college football program in the country provides everything a football lover could ask for. The tailgating on the campus Quad prior the game rivals even the famed Grove in Oxford as stunning sights and smells overtake you the minute you galavant into the area. The presentation of the cheerleaders and the infamous "Million Dollar Band" hours before kickoff on the Quad is spectacular and even fans of opposing teams rush to catch a glimpse. Bryant-Denny Stadium was packed on this perfect October night, yet another stadium that has joined the "100,000 club."
The Good
The tailgating is otherworldly and these fans are very passionate and gracious. The stadium itself is a perfect shrine to both past accolades and the current dynasty which has decimated the college football landscape since Nick Saban's arrival.
The Bad
Tuscaloosa as a town in general is nothing really spectacular once you saunter off campus. The atmosphere inside Bryant-Denny is solid, but you are dealing with a fanbase that is used to winning at a high level so the enthusiasm can be a bit tempered at times. For unfathomable reasons, you also MUST enter the stadium on the exact gate printed on your ticket or you will be turned away to enter through the proper gate. It makes entering the stadium the stuff of nightmares.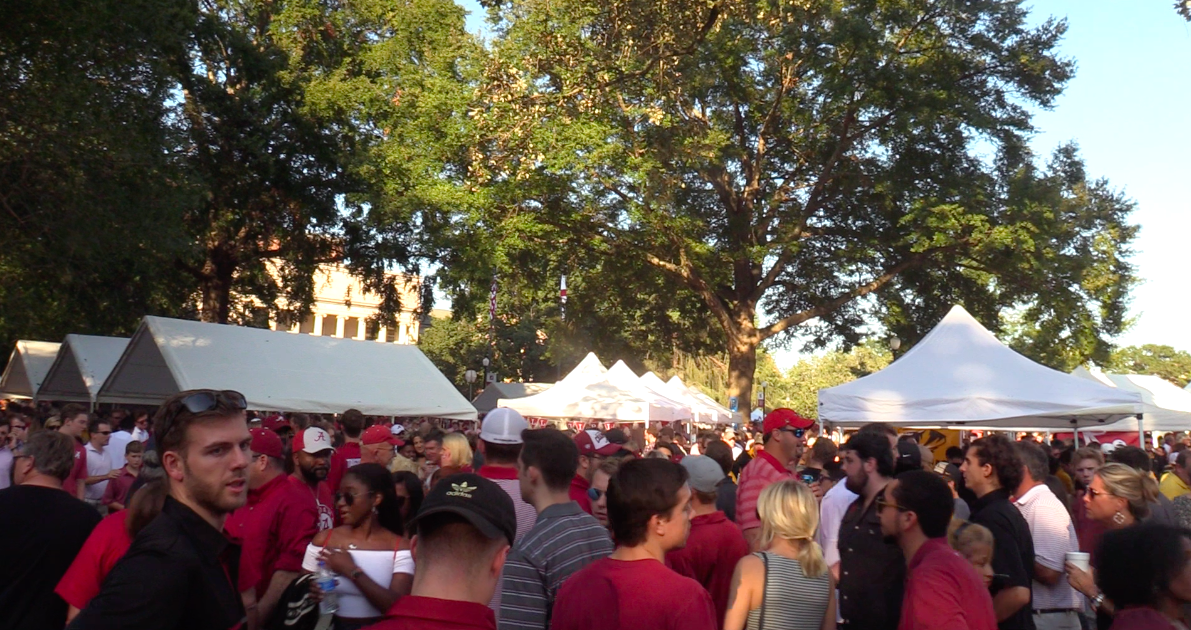 ---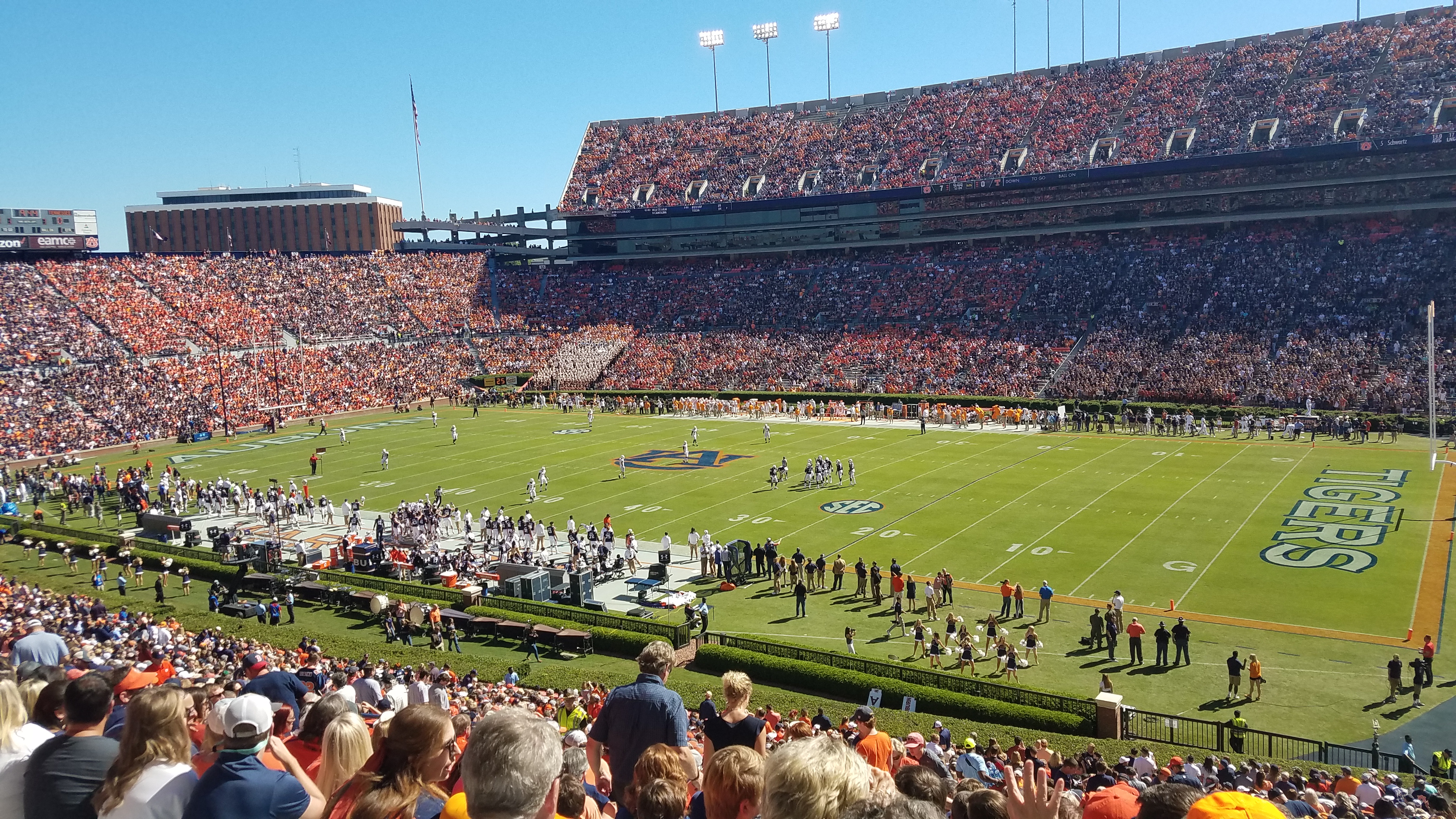 5. Auburn
Auburn, Alabama (10-13-18 Auburn vs. Tennessee)
There's nothing quite like the majesty of a wedding on a college football game day…unless it's a tailgate wedding right before the game outside the stadium. That's just the situation we found ourselves in before watching Auburn host Tennessee on a sun-drenched October morning in eastern Alabama. The small town charm is undeniable as a stop at Toomer's Drug hearkens you back to simpler days. Jordan-Hare Stadium is glorious with a packed house, Stealth bomber fly by and the traditional release of the war eagle. All of this add up to a day of near-perfection and a lasting memory despite Auburn's on-field problems which included an upset loss to the Volunteers on this day.
The Good
The town of Auburn is everything that Tuscaloosa is not: small, charming and understated. There is still plenty to do and a live 80's cover band playing Toomer's Corner the night before the game was a plus. The stadium itself filled up for a noon kickoff against an unranked team and all the pomp and circumstance was on display. Can't say enough about the people, traditions and stadium environment. The pregame wedding was an amazing cherry on top.
The Bad
The in-game atmosphere suffered because Auburn lost to Tennessee and did not play well in the process. Many Auburn fans turned their attention to basketball coach Bruce Pearl as he haplessly made his way through throngs of people kissing babies and taking pictures. The overall tailgating scene was solid if not somewhat unspectacular and parking left quite a bit to be desired (which is to be expected).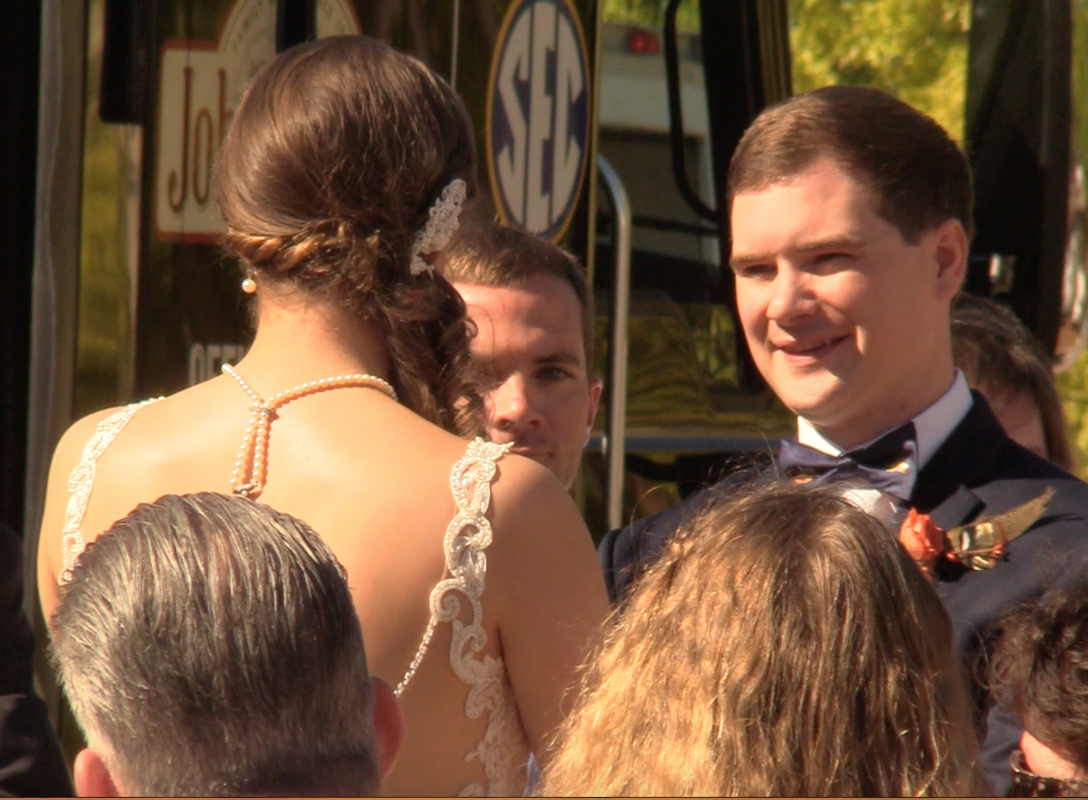 ---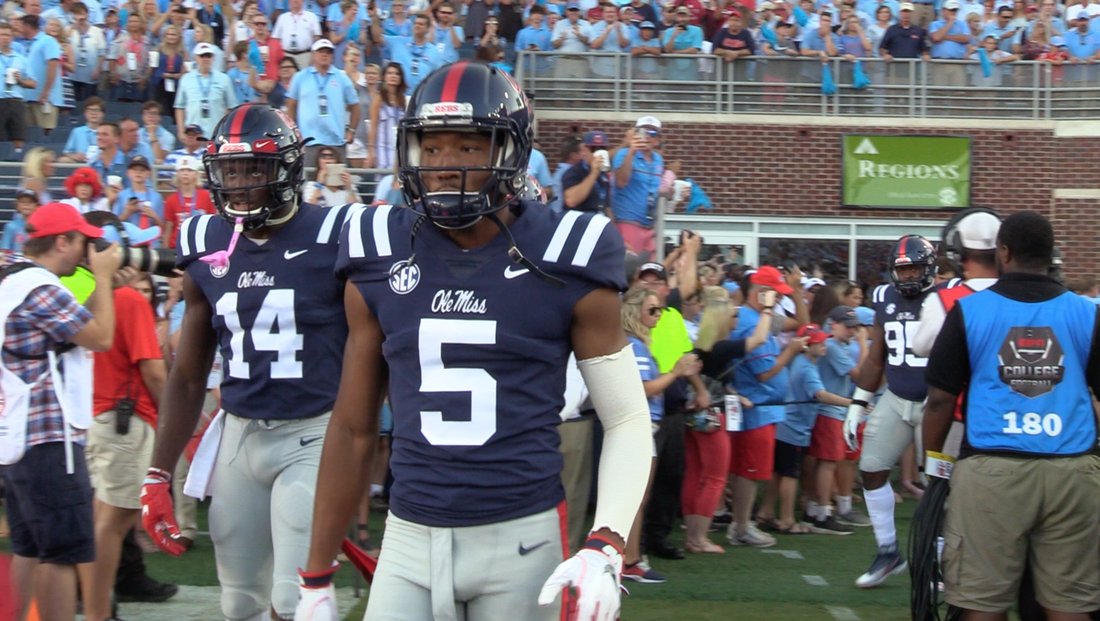 6. Ole Miss
Oxford, Mississippi (9-15-18 Ole Miss vs. Alabama)
There is nothing quite like spending a college football Saturday at the Grove, Ole Miss' famed on-campus tailgating area. It's like its own tent city that welcomes tens of thousands of fans and it is truly a special experience. Oxford itself has that small town charm with a population of just over 23,000. Sources inside the Ole Miss AD claim that over 100,000 people make their way to Oxford for games, even if many of them never make it to the game itself. Unfortunately, on this night, Ole Miss found themselves hosting the defending national champion Alabama Crimson Tide and the game was a whitewash, lessening the crowd experience exponentially.
The Good
The Grove is legendary and it's basically like a Miss America pageant out there. Vaught-Hemingway Stadium has gone through some recent renovations and has always been on the average side. As one Ole Miss official stated "it's perfect for us." which is very true. Oxford is a wonderful place and kind of goes against the grain of Mississippi cliches.
The Bad
Obviously, given that Oxford is a very small town, parking and transportation is very trying on a game day. Also, the stadium and in-game atmosphere never quite seems to live up to the legendary Grove, which hurts the rating just a little bit. Also, good luck finding somewhere to eat downtown.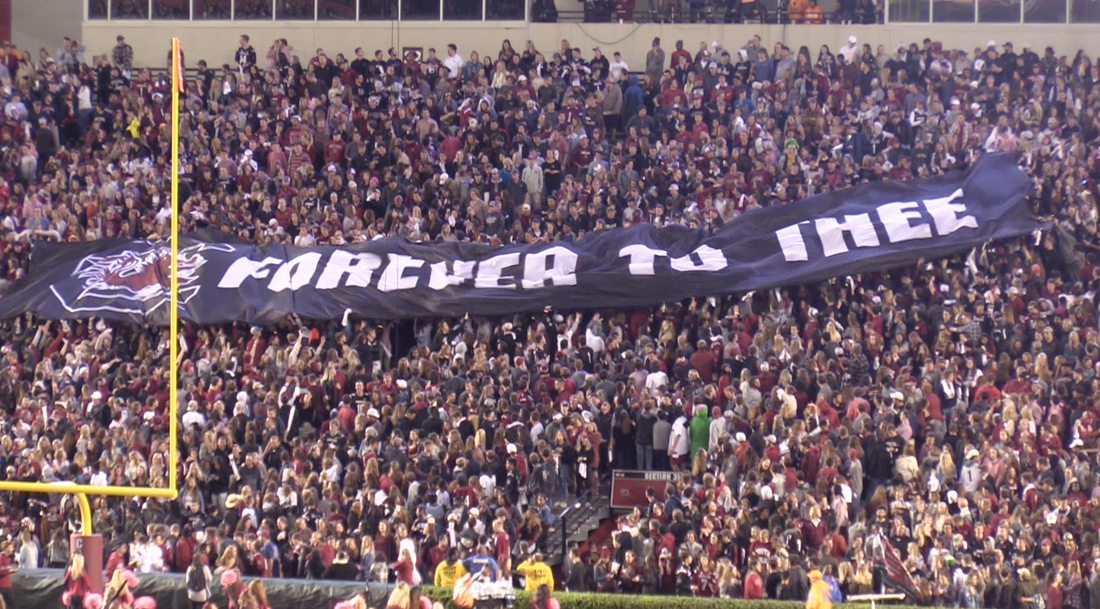 7. South Carolina
Columbia, South Carolina (10-14-18 South Carolina vs. Tennessee)
You hear stories from fellow sports fans about how impressive Williams-Brice Stadium is on a game day. There was ample tailgating space as the stadium itself is located in the state fairgrounds, which diminishes a bit of the atmosphere that you get from an on-campus stadium. However, the tailgating was tremendous with several open lots surrounding the stadium filled with gleeful fans eating and lubricating until game time. The in-game atmosphere more than met my expectations as over 80,000 fans seemed into every snap despite the defensive struggle that unfolded (The Gamecocks held on to beat Tennessee 15-9) .
The Good
The tailgating and general vibe outside the stadium was exceptional despite the location being questionable. The crowd was boisterous and loud throughout the game which is exactly the lore that you always hear about even when the Gamecocks are struggling on the field. The Cockaboose was great for high-end tailgating, although likely not for the average Natty Light drinker with seats in the upper deck .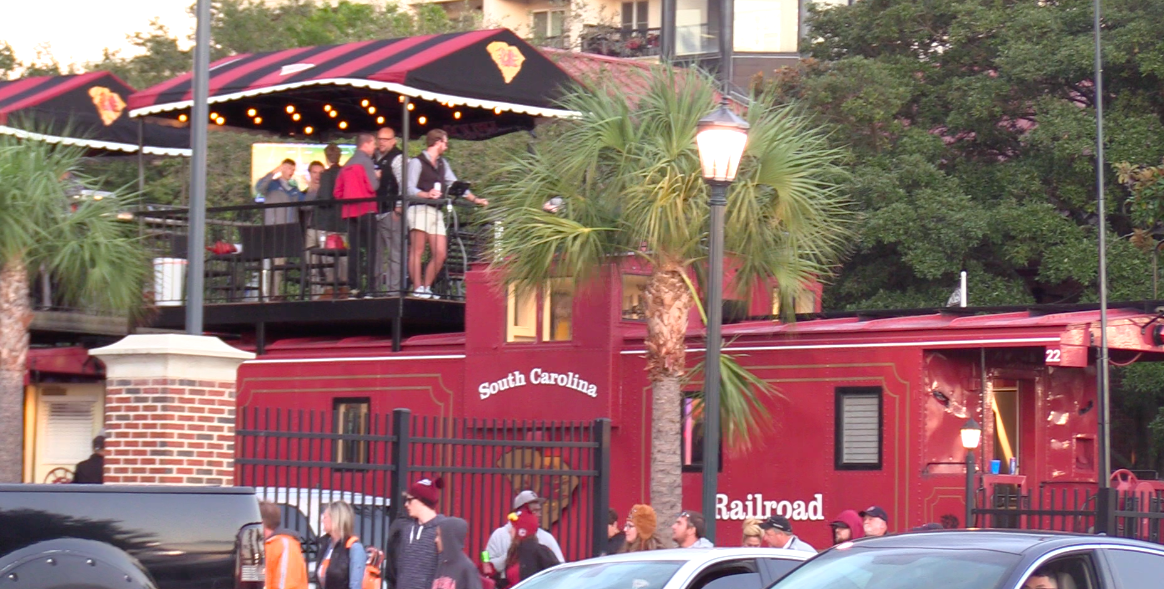 The Bad
The area around the stadium is not exactly what you think of when you conjure up images of elite college sports venues. The state fairgrounds provide a large tailgating area but a bit of a drab backdrop for a football game. Also, if you are easily triggered by the sound of a rooster crowing every five minutes and electronic dance music blasting from the speakers, then Williams-Brice may not be the place for you.
---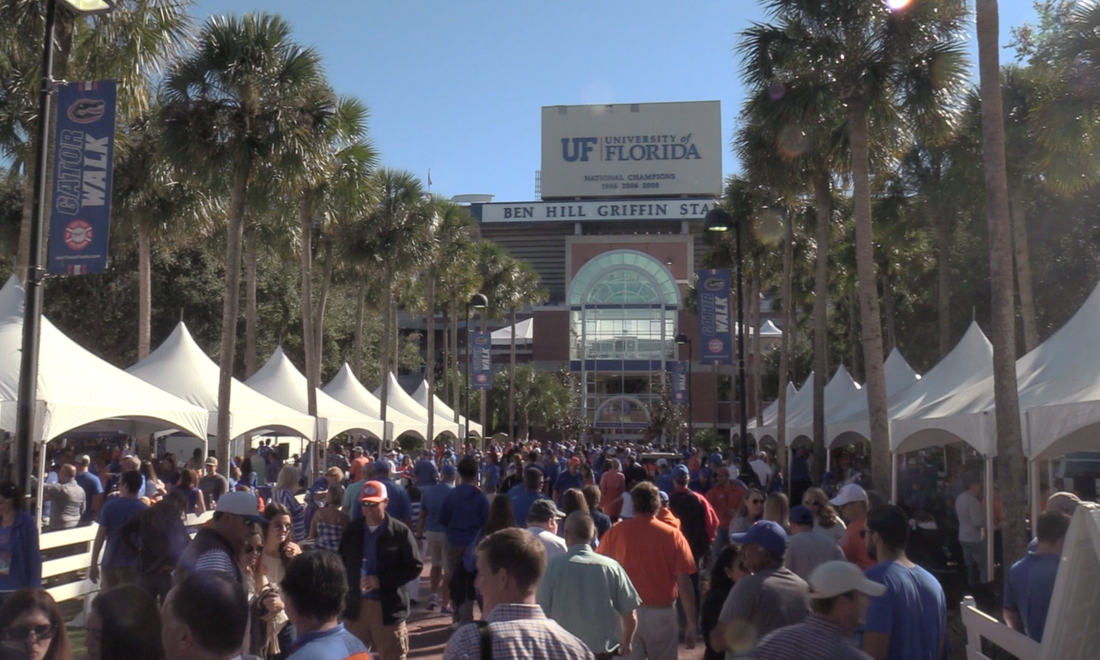 8.Florida
Gainesville, Florida (11-3-18 Florida vs. Missouri)
You can do a lot worse than spending a sun-drenched Saturday in Gainesville, especially when the Gators are good. You've got ample bars and tailgating areas outside Ben Hill Griffin Stadium and there's something about that orange and blue under the warm Autumn sun that's just glorious.
The Good
More than adequate tailgating and food/beverage options around the stadium. Ben Hill Griffin is not everyone's favorite, but when the sun is pouring in the colors and slogans really pop. Despite the poor on-field showing, the PA playing "Won't Back Down" by Tom Petty as the crowd sings along was a nice touch.
The Bad
The Swamp is not one of the better atmospheres when the Gators are losing and Missouri dominated them from bell-to-bell on this day. The attendance was already surprisingly low for a top-15 team but many sauntered out of the stadium by the third quarter. Also, there is nothing really special with regards to pre-game traditions or pageantry that moves the needle.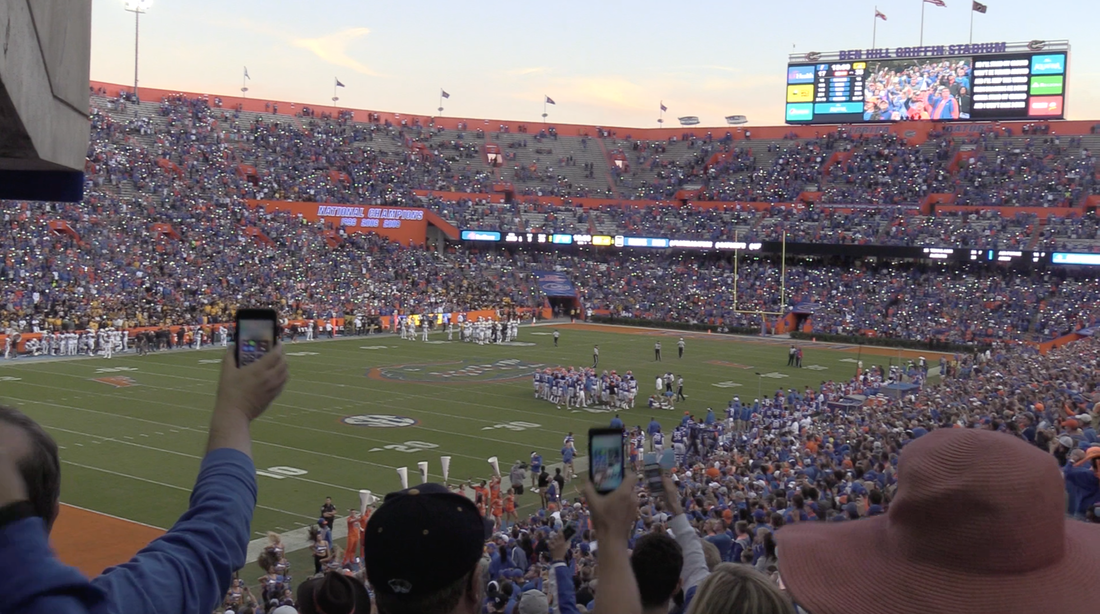 ---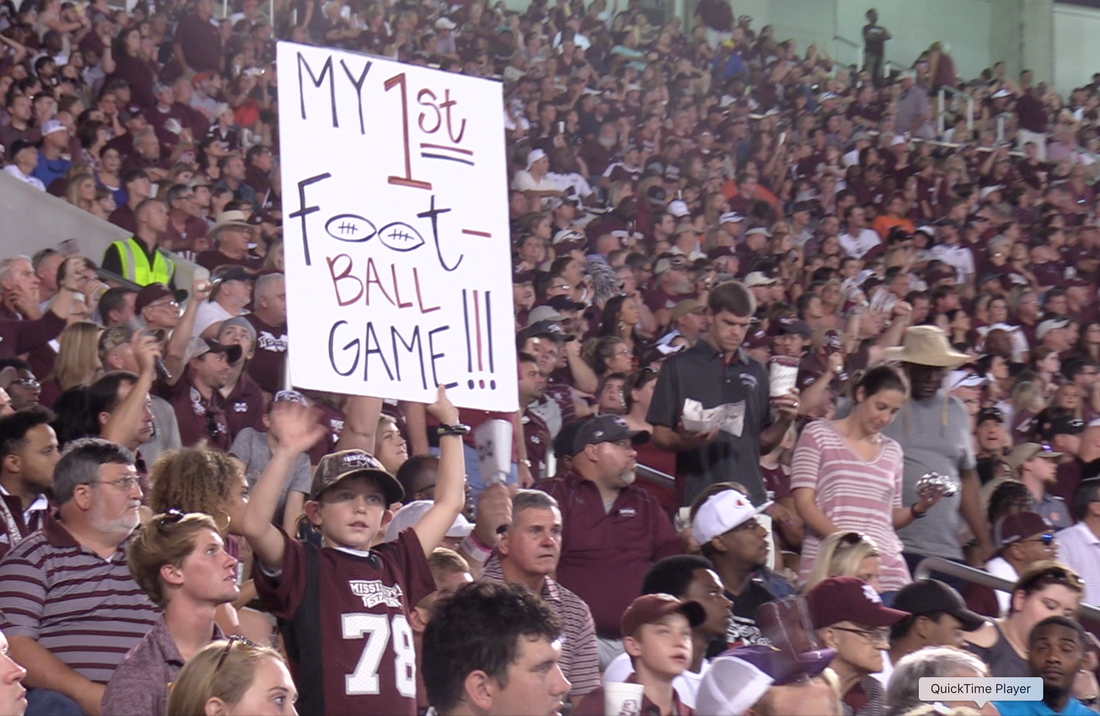 9. Mississippi State
Starkville, MS (10-6-18 Miss. State vs. Auburn)
One of the biggest pleasant surprises on our journey took place in Starkville last October as the Bulldogs pulled off a major upset over Clemson. Starkville is not exactly a town that gets a lot of national praise and it's certainly not going to be confused with Athens anytime soon. David Wade stadium was absolutely on fire for this game, however and recent rounds of renovations have brought it up to respectability.
The Good
Pregame actually exceeded expectations as tailgators ascended upon the area many hours before kickoff. Petty's BBQ is a low-key amazing BBQ pit stop and that catfish sandwich was perfection. Then you have the cowbells…a most unique display of fan approval. The first few times you hear it, it's actually kind of cool and then…
The Bad
Well… the cowbells. I swear that sound is still ringing in my ear 10 months later and it seems unfathomable that the SEC allows this. Mississippi state's campus alignment is also strange, almost like a labyrinth that you can't get out of once you drive in.
---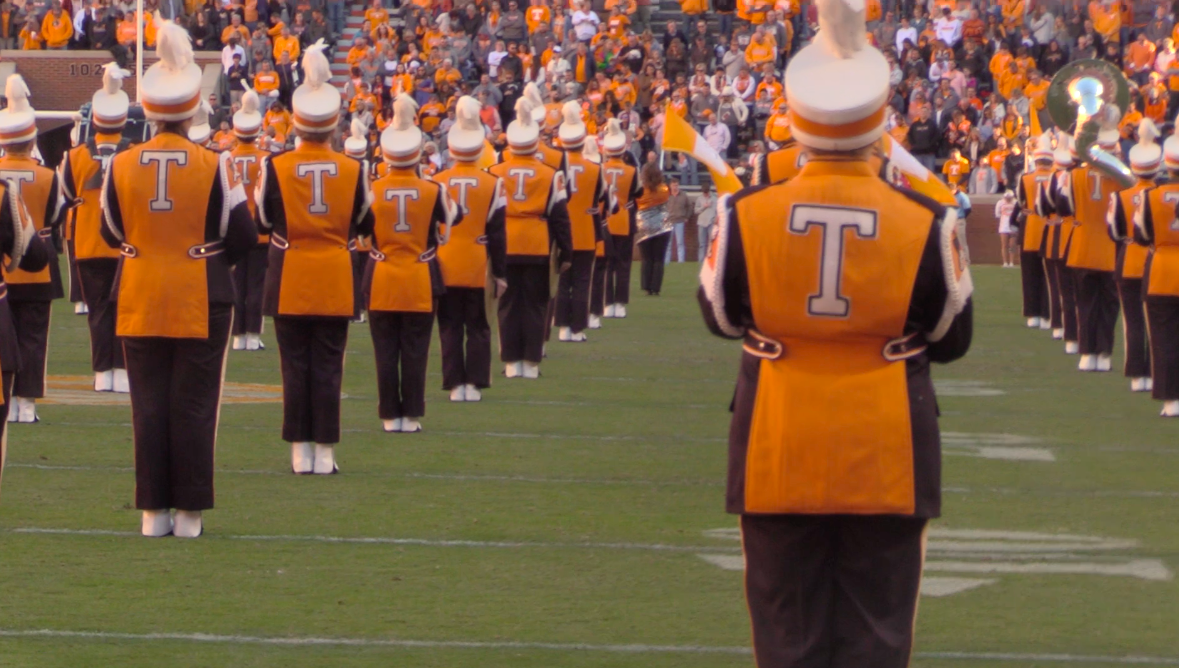 10. Tennessee
Knoxville, Tennessee (11-17-18 Tennessee vs. Missouri)
From surprise to disappointment, watching Tennessee get absolutely dominated once again by Missouri in front of a 1/3 empty stadium was not exactly how I pictured this going. Knoxville is a fine city, undoubtedly, but when you picture Neyland Stadium, you think of Peyton Manning and 105,000 people going insane and a winning tradition. That aura is kind of gone at Tennessee and Neyland itself is a bit of an erector set of a stadium with a steep upper deck usuited for any vertigo sufferer.
The Good
The Tennessee River visual along with the Vol Navy is extremely unique and wondrous. This was a case of catching a Tennessee game on the wrong day at the wrong time as the crowd passion just wasn't there. The Pride of Southland band scouring the outskirts of the stadium playing "Rocky Top" ad nauseum had its charm and Tennessee certainly has a beautiful campus to boot.
The Bad
The team, the game, the empty seats…Just not how you pictured a Tennessee home game back when Phillip Fulmer was roaming the sidelines and winning national titles.
---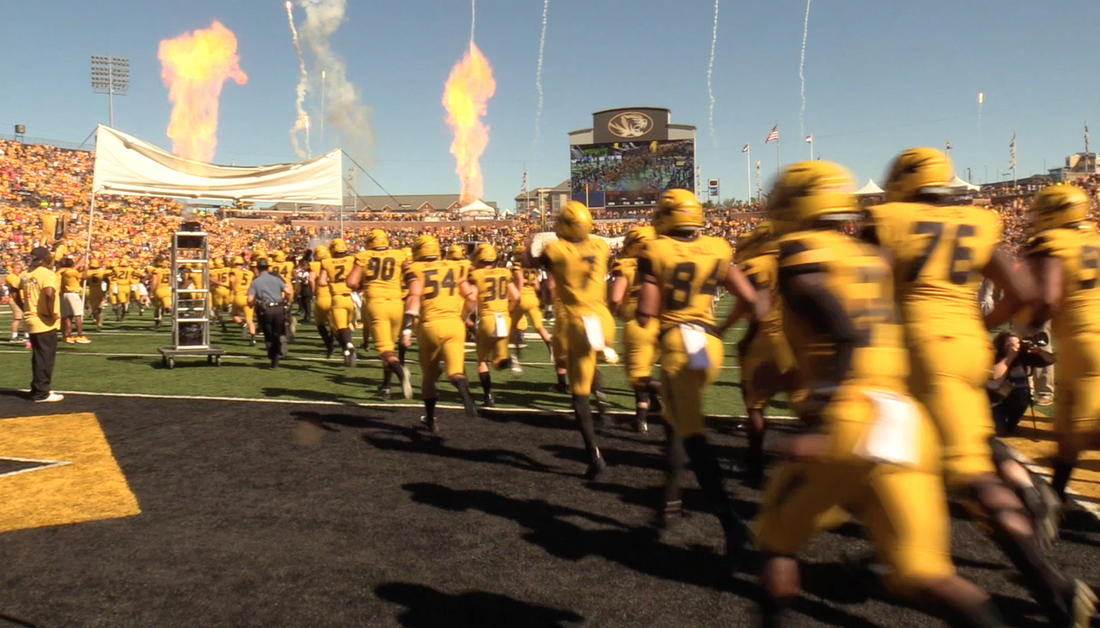 11. Missouri
Columbia, Missouri (9-22-18 Missouri vs. Georgia)
Admittedly, there is a bit of bias here as I grew up attending Missouri football games and have been a fan since the early 90's. The sample size is very large here, but sticking with the game I attended last season, Missouri displayed a good, not great environment against a loaded Georgia team. The stadium was far from a sell out as a hair over 50,000 attended. The 11 AM start time didn't help but attendance has been an issue since Gary Pinkel retired in 2015.
The Good
Columbia is a fine town and, dare I say, elite college campus. You will find more than adequate eateries and watering holes downtown, just a few miles from the stadium and Faurot Field itself was going through another round of renovations. The crowd was into the game early but as Georgia pulled away, the atmosphere certainly suffered.
The Bad
Sticking with the renovations, the entire south endzone was removed last season creating a bit of an eyesore for a big time college football game. Large patches of empty seats existed throughout despite this being a potential season-changing game for Mizzou. Barry Odom is still trying to get things moving at Missouri and we have seen Faurot field become a formidable place to play when the team is competing for division titles.
---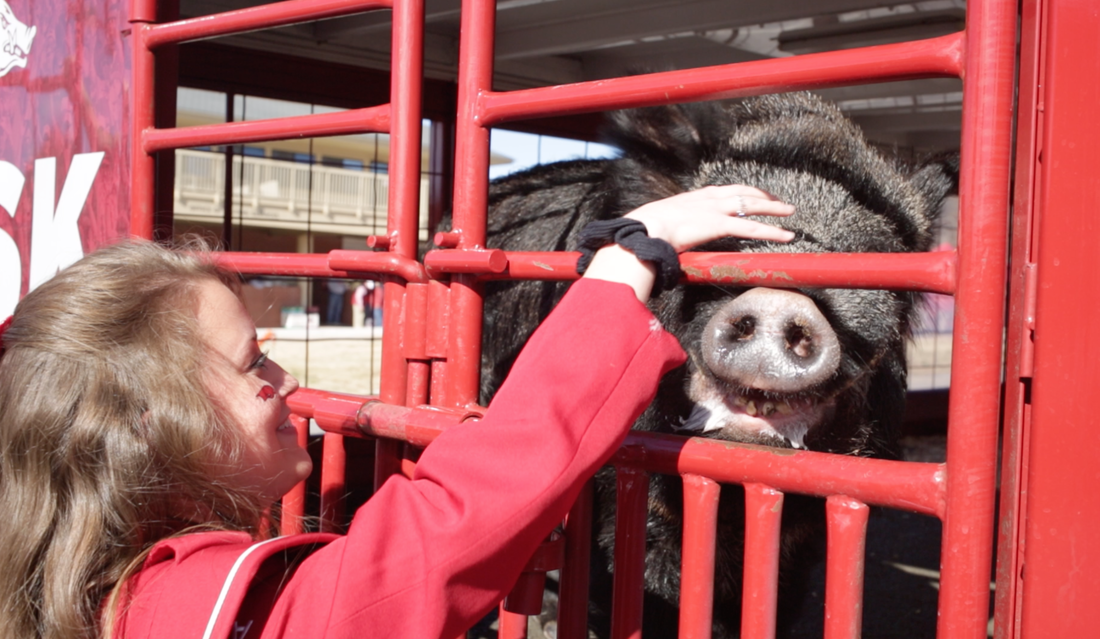 12. Arkansas
Fayetteville, Arkansas (11-24-17 Arkansas vs. Missouri)
Perhaps another wrong place, wrong time scenario, but by the time Arkansas played Missouri on Black Friday in 2017, their coach was moments away from being fired and the team was hapless. The late-arriving crowd was actually impressive although it was unseasonably warm that day, but there were virtually no tailgaters for a 1:30 kickoff. Fayetteville is one of the more underrated towns in the SEC and Dickson Street is fantastic, but you walked away longing for better days for the Arkansas program.
The Good
Despite recent struggles, this is a passionate fanbase and the work that has been done to Razorback Stadium is fantastic. There just isn't a lot to cheer about at the moment, thus it was not one of the gameday atmospheres that stuck out in any way.
The Bad
Again, there was virtually no tailgating which was disappointing on a beautiful day. Arkansas fans like to think of themselves as Nebraska-esq, however, it's clear they aren't willing to show up when the team is not winning.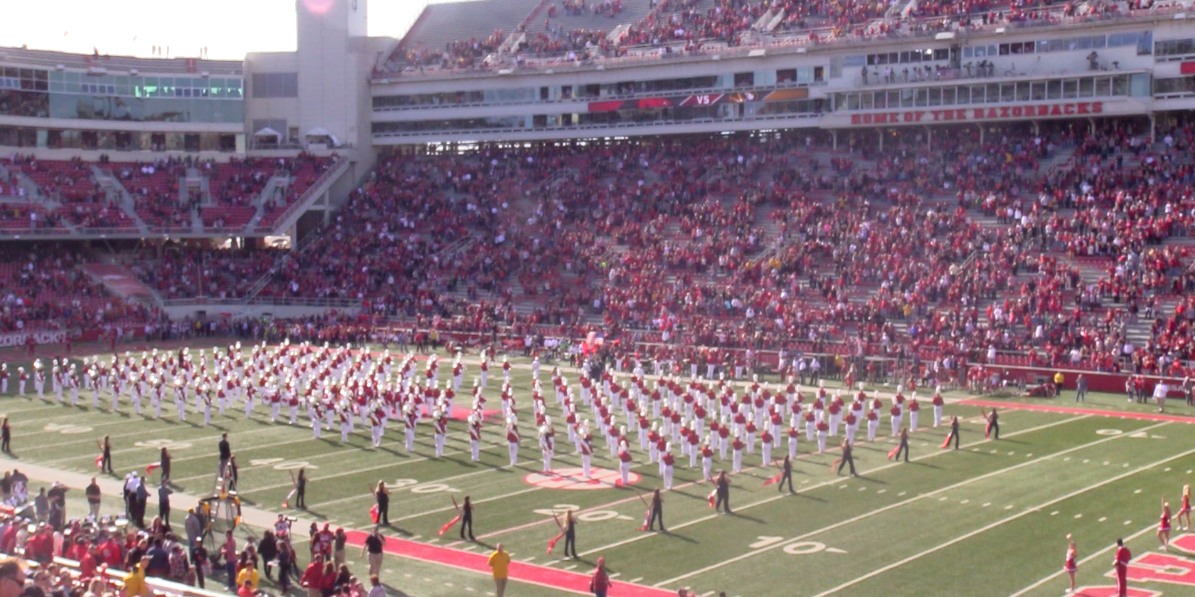 ---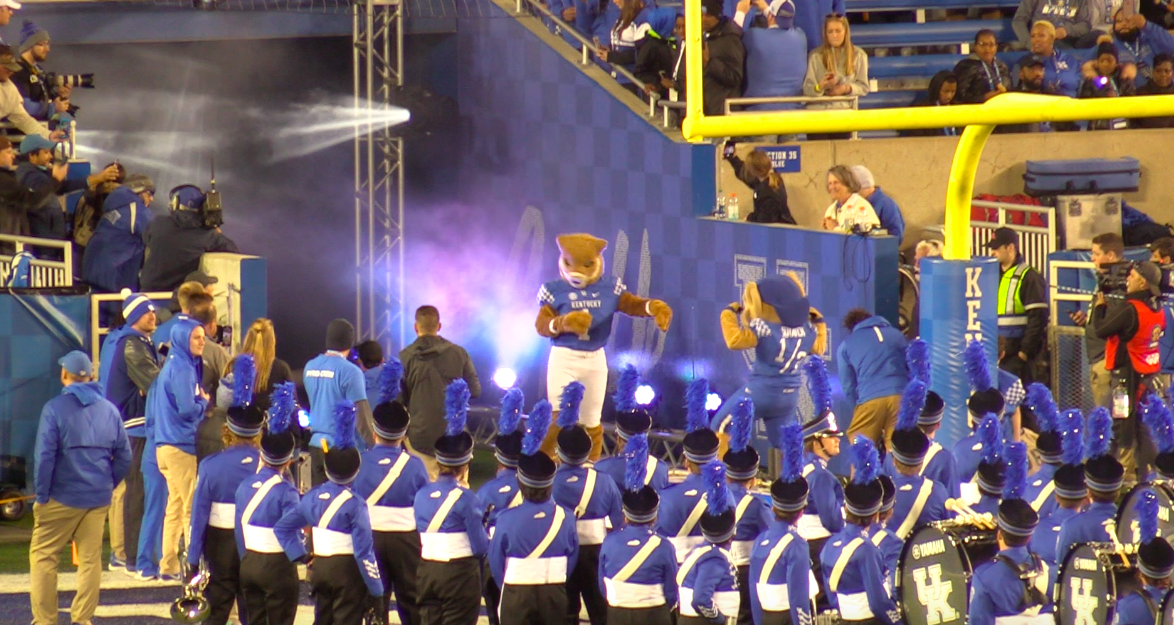 13. Kentucky
Lexington, Kentucky (10-20-18 Kentucky vs. Vanderbilt)
The Wildcats enjoyed their best season in 40 years in 2018 and it was great to see Big Blue Nation support its football program respectively. Kentucky hosted Vanderbilt on a windy, cold day in Lexington which led to more empty seats than was the norm last season. Kroger Field has risen to above average status following 2015 renovations yet there seems to be something missing when attending a game here. The crowd noise is low, the tailgating is average and the fans are doing their best to patiently wait for basketball season.
The Good
Kroger Field has been majorly improved and fans showed up to watch this team although Mark Stoops has had to build this momentum slowly. Kentucky had to hold on to beat Vanderbilt 14-7 so the game lacked big plays and excitement with many fans huddled in blankets and freezing.
The Bad
The weather was, obviously, less than ideal. Kentucky relied heavily on the running game and defense in 2018 which can be deemed as "boring" by some although this has proven to be a winning formula in the SEC. The tailgating was slightly disappointing and Lexington seems to be one of those SEC towns that is kind of just there…nothing bad about it but not special either.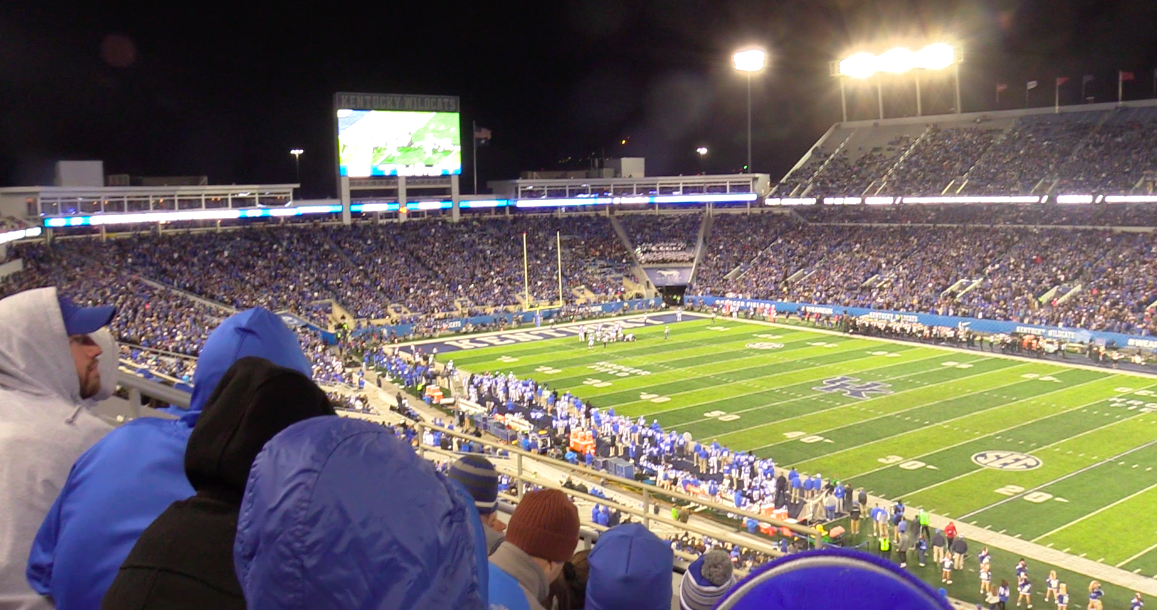 ---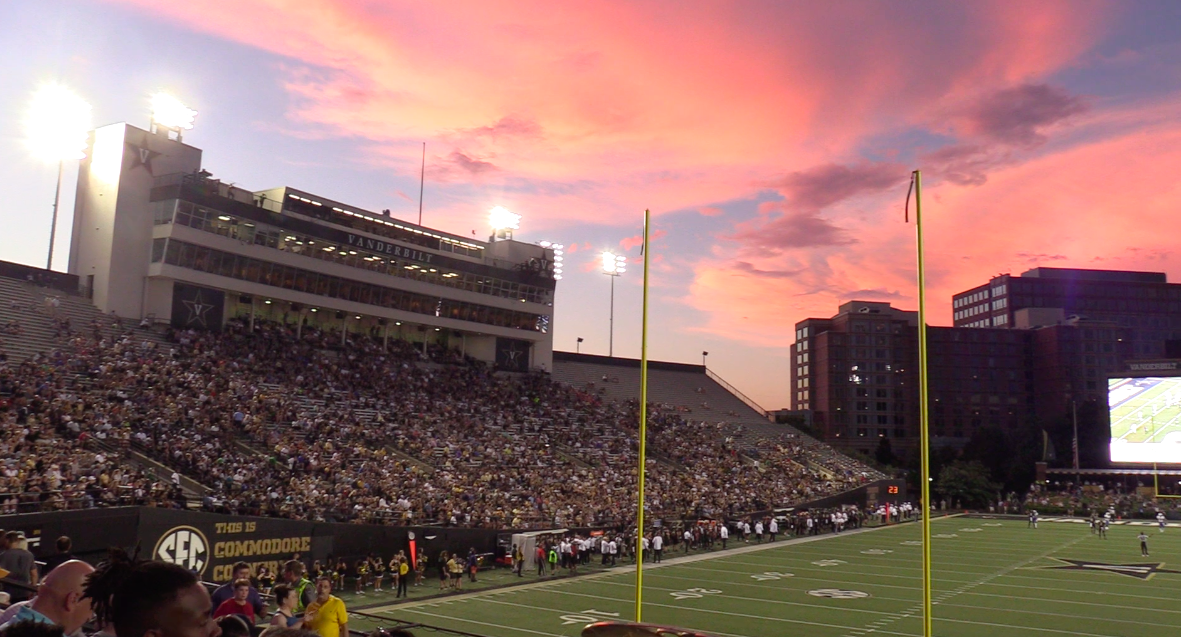 14. Vanderbilt
Nashville, TN (9-1-19 Vanderbilt vs. Middle Tennessee)
There is no doubt that Nashville is one of the best cities in the U.S. and there is literally something for everyone. A visit there likely won't include a trip to Vanderbilt Stadium, however, as the stadium is typically only full when opposing fans decide to flood in. This is no knock on Vandy, they do the best they can with what they have and the school is upper-echelon. The football program has never really provided much to cheer about and it shows with sparse crowds and little game day excitement.
The Good
Well, you're in Nashville so it can't be all bad. The Star Walk before the game actually has its moments as fans gather outside the stadium to cheer the team to their locker rooms. The campus and stadium setting are nice and you are just a few miles from the country music heaven that is Broadway St.
The Bad
Look, it's a 39,000 seat stadium at a private school that houses a football program that never wins. To say much more would just be piling on or piggybacking off things everyone has basically said of Vanderbilt's entire existence in the SEC.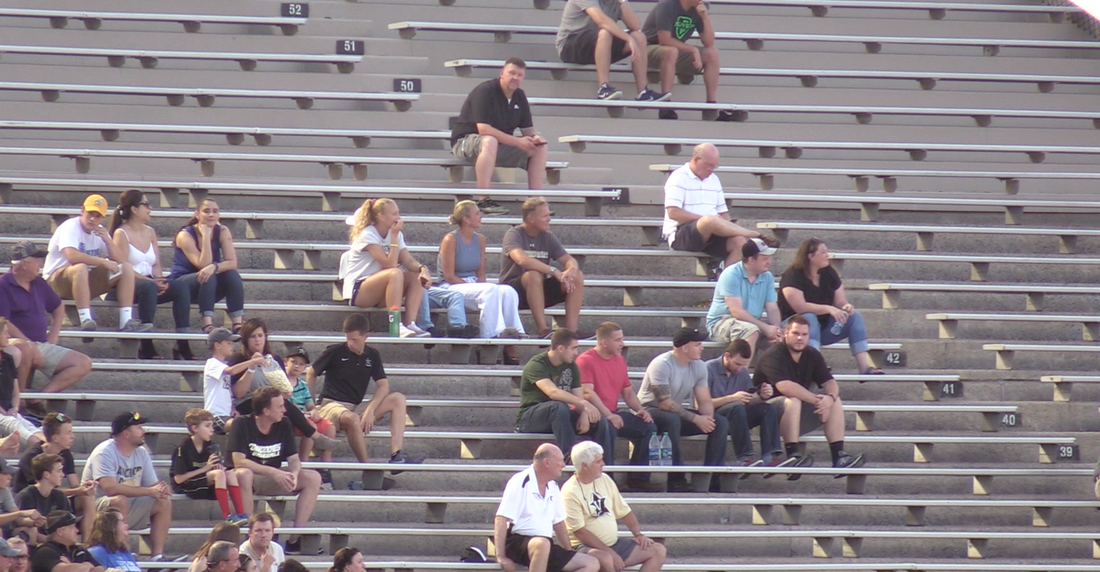 ---