The draft is the lifeblood of every NFL franchise. It is both an inexact science and the primary barometer of how each GM is judged. There is no question that Chiefs GM Brett Veach has done an impeccable job during his four years building a championship roster.

Veach, who had previously served as co-director of player personnel became the GM of the Kansas City Chiefs back in 2017 when the team decided to part ways with John Dorsey. He was instrumental in scouting Patrick Mahomes, whom the Chiefs traded for in 2017 when Dorsey was still at the helm.
Veach has now had the benefit of four draft classes. As we currently sit, the Chiefs have played in the AFC Championship game each season Veach has been at the helm. Let's take a look at how each of his classes rank heading in to his fifth NFL Draft this April.
Ranking Chiefs draft classes under Brett Veach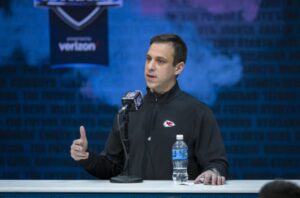 4.
2018
Round 1: No Pick, traded for Patrick Mahomes in 2017
Round 2: Breeland Speaks, DE, Ole Miss
Round 3: Derrick Nnadi, DT, Florida State
Round 3: Dorian O'Daniel, LB, Clemson
Round 4: Armani Watts, Safety, Texas A&M
Round 6: Tremon Smith, CB, Central Arkansas
Round 6: Kahlil McKenzie, DT/OG, Tennessee
Obviously, there was no first round pick in 2018 as #10 overall pick in 2017 was traded for Patrick Mahomes who would become the NFL's MVP in 2018.
Biggest Bust
Breeland Speaks. He was such a bust that he was cut following the 2019 season in which he never played a snap in due to injury.
Best Player/Biggest Surprise
Derrick Nnadi, a menial "starter" at defensive tackle that has 1 career sack.
Overall
D-. You basically have remaming from this draft a mediocre defensive tackle and two special teams players that are far down the depth chart at their respective positions. You obviously can't scoff at having Mahomes instead of a first round pick but Veach traded up to obtain Speaks which is a complete disaster of a pick.
---
3.
2019
No. 56 – Mecole Hardman, WR (Georgia)
No. 63 – Juan Thornhill, S (Virginia)
No. 84 – Khalen Saunders, DT (Western Illinois)
No. 201 – Rashad Fenton, CB (South Carolina)
No. 214 – Darwin Thompson, RB (Utah State)
No. 216 – Nick Allegretti, IOL (Illinois)
Biggest Bust
Look no further than Mecole Hardman, a player that was inexplicably drafted to be a Tyreek Hill clone. Veach actually traded up to the 56th pick to select Hardman when future NFL superstar D.K. Metcalf was sitting there for the taking. That is one move that Veach will likely never live down.
Best Player/Biggest Surprise
Rashad Fenton might fit into both categories. While Juan Thornhill has struggled to find playing time over Dan Sorenson and Hardman continues to underperform, Fenton has bee a nice addition to the secondary and he was the 201st pick with very little expectations.
Overall
D. It's almost surreal to think this class was better (even slightly) than 2018. Running back Darwin Thompson is no longer on the roster and Khalen Saunders has not really shown any promise whatsoever at defensive tackle. Nick Allegretti is currently a backup but saw a little playing time early in his career. You also have to deduct points for spending your first round pick on 100 million dollar free agent Frank Clark, who has wildly underperformed during his time in KC.
---
2.
2020
No. 32 – Clyde Edwards-Helaire, RB (LSU)
No. 63 – Willie Gay, LB (Mississippi State)
No. 96 – Lucas Niang, OT (TCU)
No. 138 – L'Jarius Sneed, DB (Louisiana Tech)
No. 177 – Mike Danna, DE (Michigan)
No. 237 – BoPete Keyes, CB (Tulane)
Biggest Bust
LInebacker Wilie Gay struggled to get on the field due to injury early in his career but became a solid contributor by late 2021. Clyde-Edwards Helaire has likely earned the dubious honors as he has yet to establish himself as anything other than an average NFL running back.
Best Player/Biggest Surprise
L'Jarius Sneed become an everyday starter at corner almost immediately and had three interceptions as a rookie. DE Mike Danna could, perhaps, challenge for the role of biggest surprise as, in limited action, he has amassed 5.5 sacks and appears to be developing into a solid defensive end.
Overall
B. Running back Clyde Edwards-Helaire has been much maligned by the Kansas City fanbase but appears to be finding his legs a bit after back to back 100 yard rushing games. Chiefs fans and coaches alike are anxiously awaiting Willie Gay's return to injury (if that ever occurs) and Lucas Niang is learning on the job as the starting right tackle. These were acceptable pieces to add to a championship roster.
---
1.
2021
Round 2, Pick 58: Missouri LB Nick Bolton
Round 2, Pick 63: Oklahoma C Creed Humphrey
Round 4, Pick 144: Florida State DE Joshua Kaindoh
Round 5, Pick 162: Duke TE Noah Gray
Round 5, Pick 181: Clemson WR Cornell Powell
Round 6, Pick 226: Tennessee G Trey Smith
Biggest Bust
It's so early in the process but right away you have to consider Cornell Powell who did not make the active roster on a team that is starved for help at the receiver position.
Best Player/Biggest Surprise
The biggest surprise, undoubtedly, is Trey Smith, a second round pick that has made an immediate impact while starting at guard. The jury is still out on who the best player will be but Nick Bolton and Creed Humphrey have both become immediate starters as well and Noah Grey looks like he could become a solid tight end down the road.
Overall
B+. Once again, Veach has no first round pick to work with and we're still not really sure about Orlando Brown being a sure-fire, dominant left tackle in the NFL. You like to see the first three picks in the starting lineup and contributing quickly and your interior line should be set for some time. You also have Nick Bolton showing all the promise in the world as a rookie starter.
---