The Pitching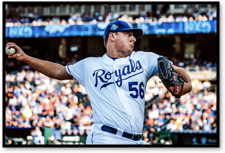 Brad Keller was the opening day starter after coming off the rule 5 draft in the offseason. Seldom does a player come from the Rule 5 draft and become the opening day starter, Keller has now achieved this twice in two years. At 23, Keller showed some amazing control over his location and wasn't afraid to challenge hitters in his 7 innings of work. He has the makings of a strong pitcher for the Royals for several years if he continues to pitch like this. Keller was up against a bad White Sox team today, so we can't get too excited yet, but it is very promising. When he pitches like this against say, the Yankee's or another strong lineup, then we will have a better idea of his grit and toughness.
The talented young pitchers we just drafted are projected to make it to the majors by 2023, Keller has the potential to be a part of a strong pitching rotation. It's hard to say how the kids we drafted will develop, but if they live up to the hype around them, Keller would be the 4th or 5th man in the rotation on that team. If that isn't a reason for optimism, then I don't know what is! Ian Kennedy looks very sharp and strong out of the pen again reminding me very much of Wade Davis from 2014 especially in that setup role. Wade failed to make the rotation because of struggles with batters the 2nd and 3rd time in the lineup, so the Royals moved him to the pen and he became one of our best pitchers for that amazing bullpen. Still early to say Kennedy will repeat that success, but the parallels are intriguing nonetheless. The rest of the bullpen struggled in the 9th inning showing me that a closer is still not determined, but there is time still to see who steps up for that role.
---
The Offense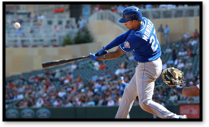 The offense was very lopsided. The top of the lineup did all the work, while the bottom half just looked overmatched the whole game. This won't always be the case with some of those guys like Schwindel and Dozier who know how to hit and will do better as the season goes, but Maldanado and Hamilton both were just terrible at the plate. We knew that those guys have a lower career average and were not expecting a lot. Neither one even looked like a pro player today, swinging at very bad pitches and taking good ones. Overall it was a good offensive performance after the 4th inning, but there were a lot of guys taking first pitch fastballs down the heart of the plate. The Royals of 2014-2015 were very aggressive hitters and wouldn't let pitches like that go by, and we better get back to that if we are going to have much success. Mondesi showed tremendous speed with his two triples, which has me very excited to watch him this season. I have been predicting a breakout year. Merrifield looked good with 2 hits, 2 stolen bases, and 2 runs scored. He is a perfect fit for that leadoff spot and is looking very likely to lead the league in stolen bases for the third year in a row.
Mondesi will be an All Star by the time the rest of the talent in the farms makes it up to the majors; of this I am pretty confident. Schwindel saved Mondesi on two throws at first base showing off his defense, which has been a concern. As for Schwindel at the plate, he had a single and an RBI, but overall his performance was a little lackluster. He looked very nervous in his first major league game with his friends and family in the stands. So hopefully now that is under his belt, his nerves will calm and he can step up. Soler looked bad at first with two strikeouts back to back. He did bounce back with a couple nice strokes, but his first couple at bats he just wasn't very aggressive at all. Not sure if he just wasn't seeing the ball well or what, but when he did hit the ball he hit it well.
---
Final Thoughts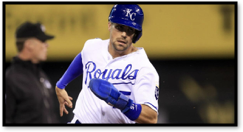 Overall, the bullpen will be a thing that Yost is going to tinker with till he gets it right. He said in the offseason it was his top priority to get it better and he has makings of a decent pen this year despite the struggles in the ninth tonight. The offense showed nice signs of life the 3rd time seeing the starter, but they need to be better at attacking pitchers early. I did like seeing how visibly frustrated the pitchers were for the Sox when our speed was on the base paths. It will most definitely lead to some mistake pitches that our hitters can take advantage of in later games. Keller was flat out great and he continued to play like he could be a staple in the rotation for years to come. When the Royals decided to drop Goodwin, which was the right decision, I had a feeling Owings and Merrifield would be doing some flip-flopping at 2nd and right field this year.
Merrifield flashed the leather in right again showing his versatility. At his age, I question if he will realistically be playing at a high level by the time our young talent come up to the majors, so I see him as a huge trade piece this year. Nicky Lopez is almost ready to move up to the majors and will take over 2nd base for the future anyways, why not trade Merrifield while his value is hot after leading the league in hits and steals? Yes it will hurt us this season, but if we get a good piece for the future out of it, it just makes sense. Watch for him to be traded to a contender this year before the trade deadline for a high draft pick or a can't miss prospect. So even though I only see 70-75 win season and I see us being sellers at the trade deadline, I am optimistic for the future. I will be even more excited when I see who we pick with the 2nd pick in the draft in June. Go Royals!
Let Your Voice Be Heard in the Comments Section Below
Do you believe Brad Keller will become a top line ace or are you in a wait and see approach since it was against the lowly White Sox?
What are your overall thoughts after opening day?
Have your expectation for the Royals changed after opening day?