Welcome into another edition of our Kansas City Chiefs Monday Mailbag as we answer your fan questions each and every Monday! The latest news with the Chiefs is that Justin Houston has signed a 2 year deal worth $24 million with the Indianapolis Colts, the Chiefs have re-signed Anthony Sherman to a 1 year deal, Eric Berry visited the Dallas Cowboys who instead chose to sign George Iloka, and although we are still awaiting word to come down about Tyreek Hill there are reports that the Chiefs were trying to trade him even before the police reports came out. We have 5 great questions today and I can't thank everyone enough who participate in this. Also, I was able to reach out to former Kansas City Chiefs WR J.J. Birden and he will be answering a question we have about Tyreek Hill. So without further ado, let's open up today's mailbag!
---
Tyreek Hill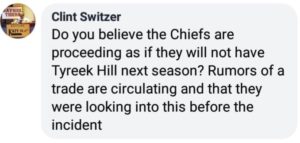 J.J. Birden Answers the Question on Tyreek Hill

"I don't see them getting rid of Hill. This is their guy, they picked him and are developing him. He's only going to get better. His particular skillset of a combination of speed, quickness, and explosion, no other wide receiver in the league has. Unless he's in some big legal trouble, he's not going anywhere. He's only played the position 3 years which still blows me away. Hill is still learning the wide receiver position at the highest level against some of the best in the world. It was about my 5th year in the NFL where I felt I truly understood what it took to play at that level, but he's a special player. I started playing wide receiver at the age of 15 and I've seen a lot of them at every level. For Tyreek to have never played the position until he got to the NFL and to improve every year, is rare. As long as he stays healthy and hungry, Hill could be one of the great ones!"

– J.J. Birden
---
Chiefs Changing Defense For Coverage
It's true that quarterbacks who can get the ball out quick can neutralize a team with a quality edge rush, but it all works together. Football truly is the greatest TEAM game in the world. If you have a secondary that can reroute receivers and stay glued to their hip that makes the quarterback hold onto the ball longer, thus, allowing time for your pass rush to get home. The New York Giants were able to do this in the two Super Bowls against the New England Patriots. However, it's not just an edge rush that is important as you also need a strong push up the middle to not allow the quarterback to step up and out of trouble. I don't believe the Chiefs are focused more on covering than rushing or vice versa, even with the ever changing rules to protect the quarterback.
Justin Houston cost too much money and didn't show up in crunch time against the Patriots. Dee Ford, before last year, bounced between being injured or being inconsistent and the Chiefs just didn't feel comfortable in giving him a mega deal. Eric Berry was a distraction and quite honestly, I'm not sure he will ever play again and if he does, never at the all-pro level. The Chiefs are changing defensive schemes for a multitude of reasons. One is simply because Bob Sutton didn't get it done and his complex defense left players on the field thinking instead of reacting. Another reason is because the man they hired for the job, Steve Spagnuolo, has always run a 4-3 so to hire him and tell him he has to keep the 3-4 would be trying to fit a square peg into a round hole. The last reason is because if you look at this roster and as Brett Veach moves to make this team younger, the talent on the roster is shifting to fit the 4-3 more and more. Tanoh Kpassagnon, Breeland Speaks, and Anthony Hitchens especially fit the 4-3 and quite simply looked out of place and lost in the 3-4.
---
Byron Pringle
The Chiefs, for now, have Tyreek Hill, Sammy Watkins, Demarcus Robinson, and then a list of question marks to become the 4th and 5th options in Wes Kemp, Gehrig Dieter, Sammie Coates, and Byron Pringle. I believe Wes Kemp will be one of those guys because of how good he is on special teams, but the remaining three are a crapshoot. Byron has the most talent and needed last season on the practice squad to polish his game. Gehrig is good friends with Patrick Mahomes, but this isn't a pickup game of basketball where Patrick is captain and gets to pick his team. Sammie Coates has bounced around the league as the Chiefs are his 4th team in 5 years and while he has talent, he hasn't lived up to his college production. Byron will get a real shot this training camp and preseason to cement himself as that 4th option and as of right now I'd be a little shocked if he didn't. Having said that, the Chiefs are looking at wide receivers in the draft and if they bring in a Hunter Renfrow or Andy Isabella then I think Byron will have to hope the Chiefs keep six wide receivers on the roster for him to make the final 53.
---
Replacement for Incompletrius Harris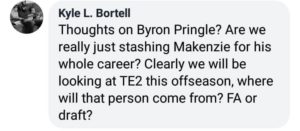 My thoughts on Byron Pringle are in the question above! The Chiefs are in need of offensive line depth so I could see Khalil McKenzie grabbing one of the final spots on the roster. I think the hopes of finding a backup tight end in free agency are pretty much gone as it's lower tier guys left on the market right now. The draft should be the place the Chiefs tap to find a backup tight end and I'd like to see them get a shifty slot wide receiver as well. I doubt the Chiefs use their first pick to select either Iowa tight end T.J. Hockenson or Noah Fant, but some other guys to keep your eye on would be UCLA's Caleb Wilson, LSU's Foster Moreau, and San Jose State's Josh Oliver. The Chiefs need to keep the pedal to the metal here for this offense to stay ahead of the defensive coordinators, so I'm all for acquiring as much talent as they can get on that side of the ball.
---
Why Don't the Chiefs Retain The Players They Draft

The Chiefs have retained the players they've drafted for the most part as they have given big deals to Justin Houston, Eric Berry, Jamaal Charles, Derrick Johnson, Travis Kelce, and Eric Fisher to name a few. However, the salary cap cannot be ignored in these situations and Dee Ford was too inconsistent and injury prone, outside of last year, to command that kind of money and commitment from the Chiefs. The Chiefs were in talks with Tyreek Hill before the incident and are trying to get a deal with Chris Jones so I don't think they just let everyone walk out the door. John Dorsey really messed up the Chiefs salary cap situation and it's not fun, but the Chiefs have to make some hard decisions to dig themselves out of it. They are off to a great start by cutting some older and unproven talent to make way for younger talent that fits what Steve Spagnuolo likes to do on defense. Let's hope the Chiefs hit on this draft in April and have a lot more tough decisions in the future because of such a stellar draft.
---
Thank You!
That's it for another edition of our Chiefs Monday Mailbag! Thank you to Clint Switzer, Rick Campbell, Owen Long, Kyle Bortell, and Donald Andrews for the great questions! Also, a big thank you to J.J. Birden for answering one of the questions in today's mailbag about Tyreek Hill. Last, but certainly not least, I'd like to thank everyone who took time out of their day to read this! If you want to submit a question just comment below and I'll answer it for next week's mailbag! Until next time, take care of yourself and each other!
---
Let Your Voice Be Heard in the Comments Section Below
What are your thoughts on all the Tyreek Hill rumors?
Are the Chiefs really changing defenses to focus more on the secondary?
Do you think Byron Pringle makes the team next season?
Where and who should the Chiefs get their backup Tight End?
Why don't the Chiefs retain the players they draft?
Have a question for next week's mailbag? Comment with it below!
---
Stay Tuned
Make sure to stay tuned to all of our social medias (search GASN Sports on Facebook, Twitter, and Instagram) as we will have a podcast coming out this week with former Chiefs defensive back, Kevin Ross! Kevin coached Tyrann Mathieu his whole time in Arizona so we will be getting the inside scoop on the Honey Badger.
We were also at Mizzou's pro day covering the event and were able to catch up with former Chiefs center Mitch Morse, ESPN's draft expert Todd McShay and Mizzou quarterback Drew Lock and Drew's dad Andy. We will have videos and more from that coming out so be on the lookout for those as Mitch talks about his time in Kansas City and the decision to join Buffalo.