NBC Sports analyst an former Texas Longhorn Chris Simms is ready to see his Horns leave the Big 12 in the dust. The "Unbuttoned" host was recently joined Clint Switzer and Noah Gronniger at Radio Row in Phoenix to talk about Texas' Big 12 exit and Simms pulled no punches when it comes to his thoughts on the league.
"The Big 12 stinks," Simms stated emphatically. "There are 50 guys in the NFL from the Big 12, there's 360 from the SEC. The Big 12 is flag football, 7-on-7 football, whatever you want to call it."

Chris Simms- Starcade Media Interview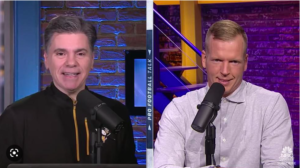 Simms has gained notoriety since joining NBC Sports full time and his Pro Football Talk show has become nationally renowned. Starcade Media proprietors Noah Gronniger and Clint Switzer also discussed Super Bowl LVII with Simms during the interview and the former Bucs QB stated that he leaned towards KC winning (which proved to be correct).
Chris Simms (Starcade Sports Podcast Interview)
Both Texas and Oklahoma will now reportedly join the SEC in 2024 after completing one final season as members of a 14-team Big 12 in 2023.
---