Let's take a trip back to March 19th of 2010 shall we. I was 26-years old, had not yet heard the term Netflix and recall hearing Kesha songs on the radio in my car. It was also the date of Mizzou basketball's last NCAA Tournament win. It was a team led by J.T. Tiller, Lawrence Bowers, Kim English, Marcus Denmon etc. They were a 10-seed that knocked off Clemson before falling to #2 seed West Virginia two days later.
Missouri basketball sinks to unthinkable lows
In the next 12 years, four different coaches would find themselves in the NCAA Tournament just five times with nary a victory to be found. Slowly but surely, Missouri hoops devolved into an afterthought, a mid-August Royals game when the team is twenty games below .500. You might take the time to learn a few players' names and might even have a game on while you are doing laundry, but you stopped really caring.
Tiger fans would watch former rival Kansas steamroll to one Big 12 title after another and even a national championship in 2022. You had to sit back and take it programs like South Carolina and Texas Tech made Final Four's.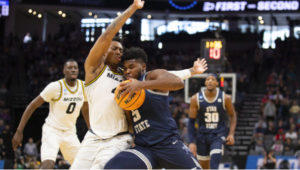 Mizzou hoops resurgence
In 2023, however, you can dare to dream once again. Mizzou basketball has been resurrected from the dead by head coach Dennis Gates and a Hollywood sports movie level of cast-offs. The team showed poise down the stretch by knocking off a favored Utah State team on Thursday and now are a victory over 15-seed Princeton away from the program's first Sweet 16 since 2009.
It's a feeling that I, a long-time obsessor of college basketball, had forgotten. As a defense mechanism, I believe my feeble brain locked Mizzou basketball away in some far, dark nether region of my mind. I couldn't be hurt by it anymore. Not after Mike Anderson left in the middle of the night and Norfolk State broke my soul in two and Kim Anderson happened and Cuonzo ball resembled watching paint dry.
Well, I'm ready to be hurt again. Perhaps it all ends on Saturday as a scrappy Princeton team proves to be a puzzle too difficult to solve or maybe it takes Tiger fans on a journey all the way to its first Final Four in school history. Regardless, there is no bonus or contract extension that can accurately symbolize what Dennis Gates has done at Mizzou in just one season.
A fan base that has been beaten, knocked down and then kicked repeatedly for over a decade is now on the precipice of a special season that no one could have predicted. The Tigers are currently a 6.5-point favorite over Princeton, a team that will look to muddy it up against Mizzou and win a game in the 50's. Will it be heroics from Kobe Brown, a battle-tested warrior that carries the day, or perhaps the no-fear attitude of D'Moi Hodge that sends Mizzou to Louisville?
The important thing to do is revel in the moment and appreciate the opportunity at hand as March, once again, has meaning.
---