It all started innocently enough. I happened to be going through Lawrence, KS on a scorching hot August afternoon when I realized that I had never "crashed" Memorial Stadium before. Stadium crashing has become an obsession of mine and any time I find myself in a town that houses a large sports venue, I typically will find a way to get inside for a photo at least.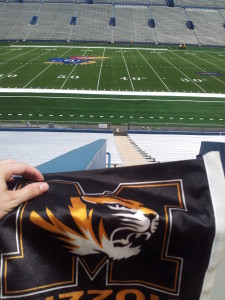 There is an art form to stadium crashing. If confronted by grounds keepers or stadium personnel, it is always best to play dumb and tell them that you were just trying to get a picture of the stadium. After thirty plus crashes, I have been hassled very few times (with Notre Dame being the exception).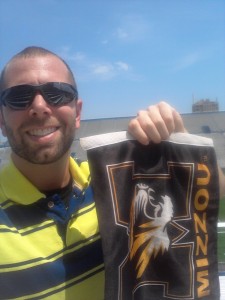 As a die-hard Mizzou fan, I try very hard to be unbiased when writing for this website, and I tend to think of myself as a fan who can look at almost any situation objectively. Well, with one exception. I will always hate the Kansas Jayhawks. I don't care if the two teams never play against each other on a sports field ever again, that hatred just will not subside. So while walking around the Kansas University campus, I decided to stop inside the legendary Allen Fieldhouse before trying my luck at the football stadium.
The last time I was in Lawrence for a football game was in September of 1997. I was in 7th grade and my Tigers finally had a decent football team for the first time in over a decade. My dad, sister and I made the short trek from KC to Lawrence hoping to watch Mizzou rout the over matched Jayhawks. The rivalry between the two teams should have told us never to count our chickens before they hatched, and somehow Kansas defeated us that day 15-7 in front of about 38,000 fans.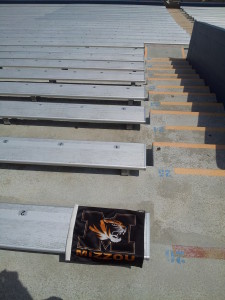 Fast forward 17 years and I am standing outside the less-than-impressive football stadium once again. I remembered that I had a little Mizzou flag in the trunk of my car so I decided that it was time to crash this stadium with a little ammo in my picket. This time, I casually stroll in without so much as a greeting by a construction worker. Seeing the field and 50,000 seats brought back memories of that day in September all those years ago. I took a seat in the bleachers and decided that I would leave my Mizzou flag right there in the seat I had been sitting in (sec. 10 row 26, seat 1). I certainly was not intending to desecrate the stadium, or go all Harvey Updike on anyone, but I thought that someone might find that little gift and hopefully it would remind them that this rivalry does not have to die off just yet.