It's now official- The Missouri Tigers (6-6) will take on Army (8-3) in the Lockheed Martin Armed Forces Bowl on Saturday, December 22nd at Amon G. Carter Stadium in Fort Worth, TX.
Kickoff is set for 7 p.m. CT on ESPN and tickets are available on ArmedForcesBowl.com.
The Golden Knights are certainly no stranger to playing in the game as this marks the fourth time in 19 years that they will make the trip to Ft. Worth.
For Tiger fans disappointed they were "left out" of an SEC-affiliated Bowl, both Mizzou AD Desiree Reed-Francois and head coach Eli Drinkwitz gushed with excitement about the opportunity. Reed-Francois noted the amount of Mizzou alumni in the Dallas/Ft. Worth area as well as the military tie-in as reasons to why this was a positive for the school.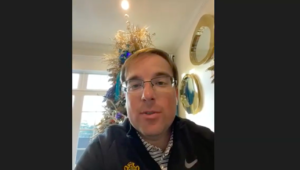 Drinkwitz called the Armed Forces Bowl "a win-win" for Mizzou and claims it doesn't matter to him that the bowl isn't an SEC affiliated bowl.
"For us it's an opportunity to play in a place where 17 student athletes are from, it's a large alumni base and it's a great recruiting ground for us."

-Eli Drinkwitz during media Zoom Sunday evening
The Tigers finished its season with a 34-17 loss to rival Arkansas, but won three of its final five SEC games to end the season. Missouri will also be looking for its first bowl win since the 2015 Citrus Bowl, a 33-17 win over Minnesota in Orlando.