It's my honor to be creating some original content for Starcade Media.
After spending a little time getting to know Clint and Noah, this should be fun and I hope you enjoy it. Hey, they promised me a pair of Super Bowl tickets, a year's supply of ribs from any place in KC and a round of golf with Tiger, Phil and Trump. How could I say no?
   More seriously, these are a couple of guys that love sports, understand a changing media landscape and they work 5 times harder than I do.  So I'm in!  And the best part is Clint just sent me an email and asked if I could write about the Chiefs/Broncos rivalry and matchup and I kind of like being given a story idea.  So here we go.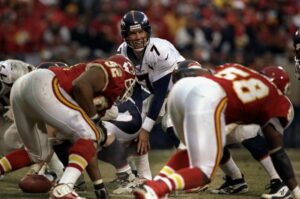 Chiefs/Broncos evoke a nightmarish past
   I just cannot get used to the Chiefs owning the Broncos as KC has won 11 in a row dating back to 2015.  This is really foreign for a guy that covered the Chiefs on a daily basis for 34 years and was often times standing on the sideline when disaster struck.  John Elway, 3rd and 17 or   4th and 9 and you just knew something bad was going to happen.  Marty would be sucking down a Diet Coke in despair right afterwards, at a loss for words for how it happened and I would always think, "uhh, you don't value the quarterback position enough?"
   Sure, Joe Montana had the Mile High Miracle,  but it didn't really scratch the itch as we just sat back and watched the Broncos win all the games that mattered.   I'm pretty sure Tim Tebow's only td pass in history was the prayer to beat the Chiefs in a game that he only completed TWO passes and Denver ran it 55 times. 
   Then there was the year I had GM Scott Pioli on my radio show and I asked him why he didn't offer the Colts all seven of his draft picks for either 1) Andrew Luck in the draft or 2) Peyton Manning.  His response was, "I sure wish you were a GM in our division."   Of course, Manning went to Denver as the Chiefs didn't even really try to get him and the rest is Super Bowl history.  I just got a chill down my spine by punching S-C-O-T-T P-I-O-L-I on my keyboard.  Ewww.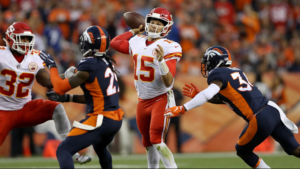 The rivalry takes a turn
    But here we are with Patrick Mahomes, 7-0 against Denver with 10 TD's and a 68% completion percentage and the tables are completely turned.  Broncos fans have been eating Chiefs dust and watching their team in turmoil now for years as John Elway can't seem to find a quarterback. Alex Smith went out with a great run against them, too.  Maybe this was all just a matter of time and percentages, who knows?  I mean, even the Bengals have a quarterback now that's just abusing the Steelers.  So times change.  Even so, this is a crazy run of success and the next game up for the lonesome losers is facing Andy Reid off a bye week where he's 19-3.
This looks so easy, we must be missing something. The Broncos list 6 of 22 starters missing practice this week from injuries last weekend while the Chiefs had their toes in the sand. Two defensive linemen (Shelby Harris and Bobby Massie) are out and the other injuries are on the offensive line (Dalton Risner is one of my favorite players and people in the NFL) and in the backfield. Yes, Teddy Bridgewater is limited this week and so is runningback Melvin Gordon. So how did NBC flex into this game Sunday night? The Chiefs are at home, favored by 9.5 points over an injured team they've beaten 11 times in a row.
Count me in as skeptical… something doesn't add up here.
Are the Broncos capable of an upset?
The Broncos are pissed, make no mistake about it. And they're fired up and hungry and energized after beating the Chargers and pulling within a game of first place. They are capable, for sure. Linebacker Bradley Chubb said this week, "the hatred runs deep," but I can assure you it only runs one way. When you are beaten by a quarterback throwing the ball left handed to win a game and it gets played a million times over three years, you pretty much hate the guy. The Chiefs used to hate the Broncos when Elway or Manning (even Tebow) called the shots, but how do you get fired up for this Denver game? I'm thrilled it was flexed to Sunday night, it's a stage the Chiefs know and love.
Prediction time
All that said, I will be surprised if the Chiefs lose this game. The calendar turned to December and in a marathon season with an extra game and probably and extra playoff game, the Chiefs know it's go time. It's barely past the half way mark if the Chiefs have a couple playoff games or more and they know it's time to play with a different purpose. Chiefs 27, Denver 20.
---
Check out the latest episode of Kevin Kietzman Has Issues and hit the subscribe button!