It's the NFL offseason, time to have a little fun. We know the worlds of pro wrestling and football often collide. Whether it be over-the-top characters, flamboyant personalities or flat out look-alikes. We took it upon ourselves to find some wrestling comps for Chiefs players, past and present.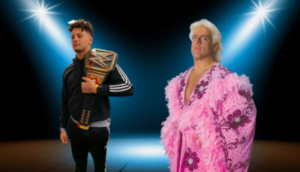 Patrick Mahomes/Ric Flair
They say "to be the man, you gotta beat the man" and Patrick Mahomes has embraced his role as the best in the business like Flair did many years ago in the NWA. Mahomes is on his way to becoming the NFL's first billionaire and, although he lacks the arrogance of Flair, he's got that same championship swagger.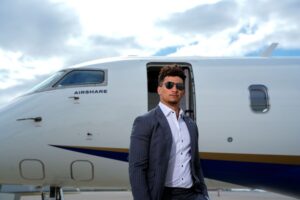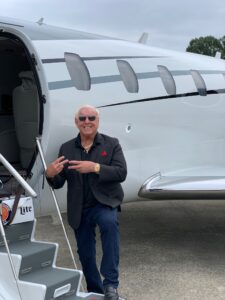 ---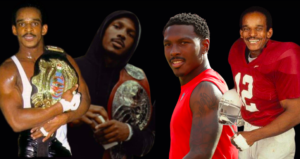 Norman Smiley/Mecole Hardman
Ok, we have a slight look-alike situation here. Also, Smiley wrestled for years and was largely "just a guy," never making it to the top of the hill in wrestling while Hardman has struggled to exert himself in the Chiefs offense as more than a #3 receiver.
---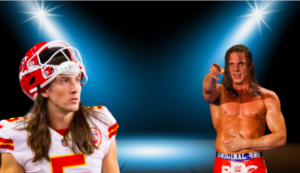 Tommy Townsend/Matt Riddle
We don't really think there are many similarities between the two beyond the looks, but it's pretty striking. Riddle is known to wrestle barefoot and we would like to advise Mr. Townsend against doing so unless he's planning on channeling his inner Rich Karlis.
---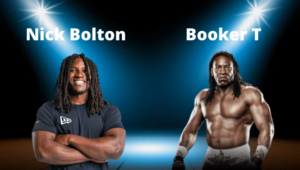 We aren't sure if Bolton has been working on his spinaroonie, but he and Booker T are both tremendous athletes with infectious personalities. Booker has been linked to football in the past and would have clearly made a dominant middle linebacker.
---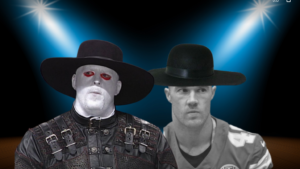 Seven/Dan Sorenson
Poor Dustin Runnels, saddled with yet another bad gimmick in WCW, he finally snapped and gave the company a what for. Lest we forget that "dirty" Dan was also asked to do things by his employer that he was not capable of doing, like covering NFL receivers.
---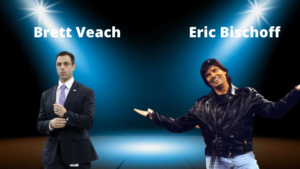 Brett Veach/Eric Bischoff
The parallels are pretty obvious. Veach took over as GM of the Chiefs before his 40th birthday while Eric Bischoff was hired to run WCW as a 38-year-old C team announcer. Clearly, Veach is a little less outlandish behind the scenes in KC than Bischoff was with his on-screen character/nWo leader.
---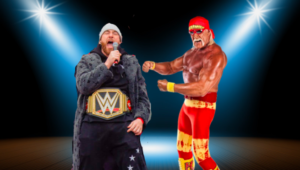 Travis Kelce/Hulk Hogan
These are two larger-than-life, comic book type personalities. Hogan has been known as the pro wrestling GOAT for many years while Kelce has earned similar distinctions as (arguably) the greatest tight end in history. They both bleed for the red and yellow too, one the Chiefs red and yellow and the other the hulkamania red and yellow!
---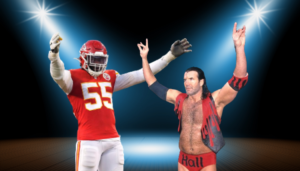 Frank Clark/Scott Hall
Frank Clark told the media in 2020 that he wasn't scared of Titans' RB Derrick Henry! He said he's not hard to hit or tackle so that was Frank essentially saying, don't sing it, bring it. Well, Scott Hall used that line often telling his next opponent, "Don't sing it, bring it!"
---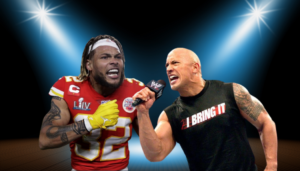 Tyrann Mathieu/The Rock
Although this tweet from Tyrann Mathieu is apparently photoshopped we can see him saying that. Tyrann is a good dude, but doesnt put up with disrespect towards him or those he cares about. The Rock also said those words from Tyrann's photoshopped tweet and they are both electryifing personalities and great on the mic!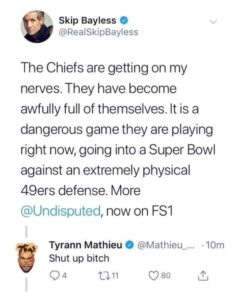 ---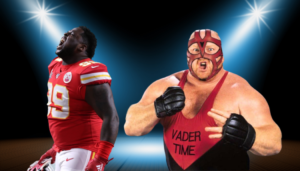 Khalen Saunders/Big Van Vader
The comp here is all about athleticism. Saunders turned heads at the NFL Combine with his athletic feats and has even been seen doing backflips. We all remember Vader being an impressively athletic big man in WCW/WWE and his top tope moonsault was a sight to behold.
---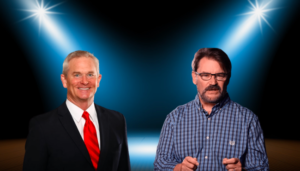 Mitch Holthus/Tony Schiavone
Two broadcasting legends. Holthus has been known as the "voice of the Chiefs" since 1994 while Schiavone was WCW's lead broadcaster during the glory days of Monday Nitro on TNT. They both have enthusiastic calls during broadcast such as Mitch's "TOUCHDOWN KAN-SAS CITY!" and Tony's "IT'S STIIIIIING!"
---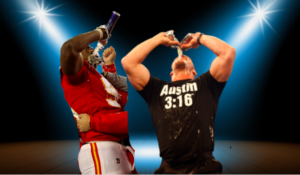 Chris Jones/"Stone Cold" Steve Austin
It's widely known that Jones is an avid "Stone Cold" fan hence taking on the moniker of "Stone Cold Jones." Not only have we seen Jones guzzle a beer Steve Austin style but his Twitter handle even reads @StoneColdJones. Still waiting Chris delivering a Stunner to an unsuspecting quarterback.
---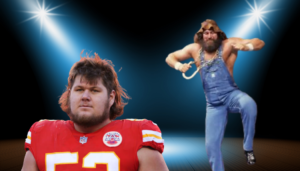 Creed Humphrey/Hillbilly Jim
Creed Humphrey is from Oklahoma and Hillbilly Jim is from Kentucky. They both have that brute country strength and it serves Creed well in the trenches!
---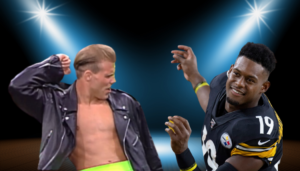 JuJu Smith-Schuster/Alex Wright
These two love to dance maybe even more than there chosen professions of professional wrestling and football. Okay, maybe not that much as JuJu has sworn of doing TikToks on gameday. But if TikTok was a thing back in Alex Wright's days of WCW, he may have gotten a bigger push!
---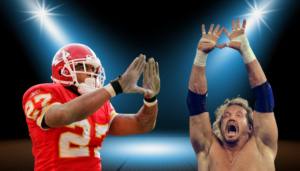 Larry Johnson/Diamond Dallas Page
Okay so Larry Johnson's diamond hand symbol was for Jay-Z's Roc Nation, not DDP's Diamond Cutter. The symbols are very similar as the only difference is the fingers together or apart. However, if Larry Johnson was going to be a wrestler he's got the Diamond Cutter symbol down so he'd definitely be DDP!
---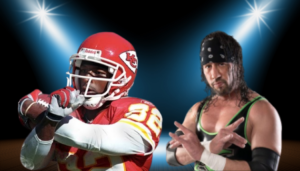 Dante Hall/X-Pac
The X-Factor Dante Hall was quite possibly the most electric return man in NFL history! X-Pac was also diminutive for his sport and his finishing move was called the X-Factor!
---