Last week we witnessed one of the wildest offseason weeks in NFL history. While quarterbacks were swapping teams and blockbuster trades went down, the Chiefs sat idly by waiting. By the end of the day on Monday, the Chiefs made the first big move of their offseason, signing Texans safety Justin Reid to three-year, $31 million dollar deal.
Obviously, this maneuver signals the official end of Tyrann Mathieu's career in Kansas City. Mathieu was an integral part of the 2019 Chiefs Super Bowl team and an unabashed leader of the defense for three years. For months, the Honey Badger has been Tweeting about this magical "extension" that he felt was coming from KC and then when it looked like that would no longer take place the Tweets became negative and almost became a self-fulfilling prophecy.
Brett Veach learned from previous Chiefs mistakes
Tyrann Mathieu is soon-to-be 30 years old and is, candidly, a diminishing player in this league. That's the harsh reality. Chiefs GM Brett Veach knows this and refused to embark on the ultimate deja vu mistake of signing a 30 year old safety to a long term deal. The Chiefs were burned by this back in 2017 when Pro Bowler Eric Berry signed a massive extension at age 30 and played in a total of four more football games before stepping away as a mysterious foot injury claimed his career.
Having lost corner Charvarious Ward to the 49ers on Monday, Veach pulled off the move that likely saved the Chiefs secondary in 2022. The Justin Reid signing is every bit as important as Mathieu's was back in 2019 as KC is clearly looking to employ a balanced, quicker defense led by a young linebacking corps/secondary. Reid is 25 and entering the prime of his NFL career. His 6'1 frame makes him the ideal size to captain the back end of this Chiefs defense.
The Chiefs also managed to restructure Frank Clark's bloated contract which also leaves open the possibility of the team going after another edge rusher in free agency or via the draft.
As Reid enters his fifth NFL season, expect the interception numbers to rise and for him to become a consistent force in the Chiefs defensive backfield.
Justin Reid career stats
| | | | |
| --- | --- | --- | --- |
| 2018 | INTS 3 | Tackles 70 | Games Played 16 |
| 2019 | INTS 2 | Tackles 57 | Games Played 15 |
| 2020 | INTS 0 | Tackles 62 | Games Played 13 |
| 2021 | INTS 2 | Tackles 41 | Games Played 13 |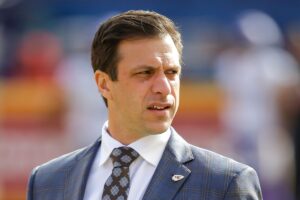 Veach's approach shows winning organizational attitude
For the first time in its storied history, the Chiefs have become an elite NFL organization and are the gold standard in the AFC. While Chiefs fans spent the last 30 years latching onto great players like Derrick Thomas, Jamaal Charles, Eric Berry etc, the truth is that winning organizations have one player that is not expendable: the QB. The NFL is a ruthless business in which tough decisions have to be made year after year and while extending a player like Mathieu would be popular amongst the fanbase, a move like that could hamstring an organization for years to come.
A capable GM of a winning franchise is always aware that it could be time to move on from high-end talent at any moment. There is a foresight and a cunning nature that is required to properly build a Super Bowl roster year in and year out and while Veach has had his draft hits and misses, a move like this signal the Chiefs are in good hands for years to come.
---