Johnny Manziel, after running for his life and going 5-13, had a quick error in judgement deep in the 3rd quarter of a sloppy game versus Washington. Twitter immediately took note, exploding with buzz about the new 'SIGNAL-caller' and his new signal.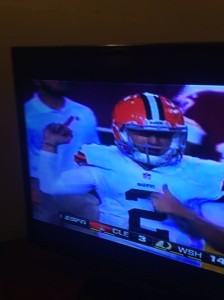 We will see if the team or even the league office take kindly to this gesture. Similar noticed circumstances drew hefty fines, but it is highly unlikely the first year QB will be suspended for a first offense such as this.
The Cleveland offensive line seemed to be having communication errors and the effort level of the receivers and tight ends were A.W.O.L. Kyle Shanahan couldn't get either of his quarterbacks going smoothly until the 4th quarter, when Johnny threw a touchdown to Dion Lewis. Brian Hoyer went 2-6 at the start of the 4th quarter.