Mizzou head football coach Eli Drinkwitz met with the media on Tuesday to discuss Missouri's upcoming homecoming matchup with North Texas (1-3). His thoughts were short and sweet and clearly, this past Saturday's debacle against Tennessee was not something Drinkwitz saw coming.
"Obviously Saturday was not what we expected and was a step back for us." Drinkwitz stated. "I am disappointed with how Saturday was played, performed but I am not discouraged."
Despite that particular sentiment, Drinkwitz was clearly frustrated following Mizzou's 62-24 blowout loss to Tennessee on Saturday. It was a game in which the Tigers gave up nearly 700 yards of offense and saw their bowl hopes begin to dissipate after losing for a third time this season.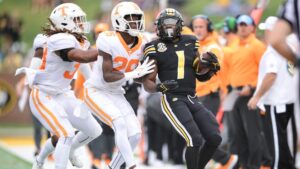 On Sunday, defensive line coach Jethro Franklin was fired as Drinkwitz believes a lot of the defense's problems began at the line of scrimmage.
"It starts with me and what I can control. After reviewing the tape, it was clear there was a disconnect at the line of scrimmage and I believe the change was needed. Jethro is a good coach, he is a man of character but for whateve reason it didn't work out and wasn't the right fit."
The Tigers will try to get back in the win column against 1-3 North Texas as the Mean Green will visit Faurot Field at 3:00 PM for homecoming. Any hopes of turning the season around begin with taking care of business against North Texas but a difficult slate of SEC games will soon follow.
Watch Eli Drinkwitz's Tuesday Press Conference