Despite the SEC West's failure to produce national champion for the first time since 2008, there is no doubt that the hard-nosed division is once against the toughest in all of college football heading into 2014.
Teams like Alabama and LSU may be replacing mounds of talent that was lost to the NFL, but if there is anything we have learned in the past, it is the top SEC schools are able to reload at key positions year after year. In 2013, each SEC West team qualified for a bowl game except for the Arkansas Razorbacks and the stage appears to be set for at least six west teams to earn bowl eligibility in 2014.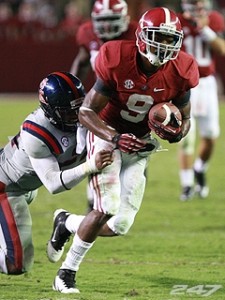 1. Alabama Crimson Tide. Despite a disappointing loss to Oklahoma in the 2014 Sugar Bowl, all things are once again looking rosy in Tuscaloosa as they load up for another championship run. The team's main question mark heading into the season is at the quarterback position where a starter has still yet to be named by coach Nick Saban. Expect Florida State transfer Jacob Coker to figure heavily into the mix as well as duel-thread senior Blake Sims. Regardless of who is taking the steps, the Tide are once again loaded on offense. Junior receiver Amari Cooper has a chance to be an All-American and running back T.J. Yeldon has already rushed for over 2,300 yards in his first two years in the Alabama offense. Linebacker C.J. Mosley was the teams' biggest loss on defense but look for senior Trey DePriest to pick up the slack. Despite losing a signifant amount of talent (once again) to the NFL, Alabama appears loaded for bear as they figure to find themselves in the College Football Playoff at seasons end.
2014 Outlook:
11-1 (7-1) 1st place SEC West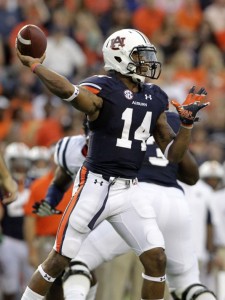 2. Auburn Tigers. War Eagle went from rags to riches in 2013 as they shocked the college football universe in route to an SEC Championship. Head coach Gus Malzahn brought Auburn to within seconds of an 8th straight BCS Championship for the SEC and there is reason to be optimistic once again on the storied planes of Auburn, Alabama. Quarterback Nick Marshall returns to orchestrate Malzahn's run-heavy offense although he will have to do it without Heisman candidate Tre Mason. Two seniors, Cameron Artis-Payne and Corey Grant will have to help carry the rushing load in his absence. JUCO transfer D'haquille Williams might be just what the doctor ordered to help ignite Auburn's passing game which struggled with consistency at times in 2013. Clearly, everything bounced Auburn's way a season ago so it will be interesting to see how Malzahn keeps his team focused should something go wrong this year and with 13 starters returning, the Tigers will have every opportunity to compete for another SEC crown.
2014 Outlook:
10-2 (6-2) 2nd place SEC West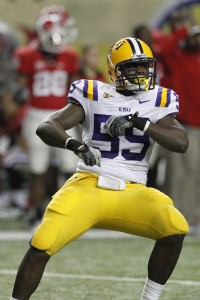 3. LSU Tigers. The Bayou Bengals are in search of their fifth consecutive 10-win season although many media outlets are predicting them to fall short of that win total. There is ample amount of uncertainty in many key areas down in Baton Rouge, not the least of which being the quarterback position. Sophomore Anthony Jennings appears to be the guy although look for true freshman Brandon Harris to have a say in the matter. Under coach Les Miles, LSU has proven time and again that they are fully capable of re-loading year in and year out. This year, that theory will be put to a major test as the Tigers attempt to replace several key offensive cogs including their top three receivers and leading rusher Jeremy Hill. LSU's heralded recruiting class should yield some immediate results, specifically with running back Leonard Fortnette, who could start right out of the gate in LSU's backfield. Defensively, the Tigers should be very strong up front and also boast a young, talented secondary. Linebacker could be the weak link and could be a major factor if LSU is unable to eclipse the 10-win total.
2014 Outlook:
9-3 (6-2) 3rd place SEC West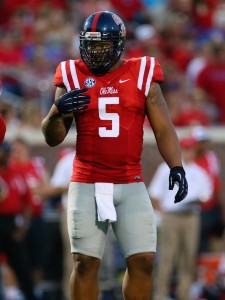 4. Ole Miss Rebels. Coach Hugh Freeze has delivered a couple top-10 recruiting classes since arriving in Oxford in 2012. The Rebels finished 2013 with a disappointing 3-5 conference record but all signs are pointing up for Ole Miss in 2014. Nine defensive starters return, including the freakishly talented defensive tackle Robert Nkemdiche and ball hawking safety Cody Prewitt. The Rebels also return the SEC's most experience quarterback in Bo Wallace who threw for a very respectable 3,346 yards and 18 touchdowns a year ago. Receiver Laquon Treadwell will likely be Wallace's best friend this fall as he looks to replace the production of Donte Moncrief who bolted for the NFL this past spring. There is undoubtedly at plethora of young talent residing in Oxford, and it looks like this is the year that it could all come together as the Rebels should push for a 10-win season. Many skeptics are taking the wait-and-see approach with Ole Miss as they have not proven to be a consistent winner since the days of Eli Manning.
2014 Outlook:
9-3 (5-3) 4th place SEC West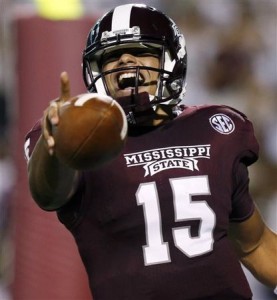 5. Mississippi State Bulldogs. There is certainly a quite a bit of optimism for the Bulldogs entering this season. Mississippi State will return quarterback Dak Prescott, a junior who is one of the most dangerous running quarterbacks in the SEC. The expectations are also high at the running back position as Josh Robinson appears to be a rising star at that position. The Bulldogs return 16 starters in all from a team that won its final three games in 2013, a stretch in which the defense held opponents to 17 points or less. Linebacker Benardrick McKinney and defensive tackle Chris Jones are stars at their respective positions and will help anchor the Bulldog defense yet again. The schedule will also play a key role as State will get Kentucky and Vanderbilt from the east.
2014 Outlook:
8-4 (4-4) 5th place SEC West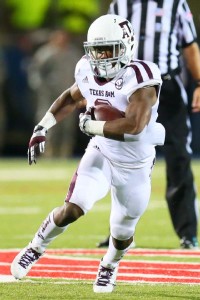 6. Texas A&M Aggies. With the departure of much-ballyhooed quarterback Johnny Manziel, the Texas A&M Aggies will be searching for a new identity in 2014. Without Johnny Football leading the offense, there is no doubt that running backs Tra Carson and Trey Williams will play pivotal roles especially if true freshman Kyle Allen becomes the starter at Quarterback. The Aggie defense ranked 109 nationally a year ago which was a major reason why the team wilted down the stretch. The secondary was especially deplorable in 2013 and they will need someone besides cornerback Deshazor Everette to step up at that position. Depth at defensive line will be a huge strength for Texas A&M this season as they will welcome back all four starters and backups from last year. Coach Kevin Sumlin has been cleaning up on the recruiting front, specifically in his own state as Texas A&M raked in the sixth-ranked class in 2014. There is a lot of talent in College Station, but unless the defense improves by leaps and bounds, the Aggies will be unable to finish much higher than fifth in the division.
2014 Outlook:
7-5 (3-5) 6th place SEC West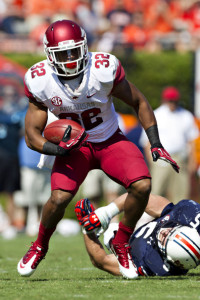 7. Arkansas Razorbacks. There is no doubt that coach Bret Bielema is improving Arkansas on both sides of the ball and the team should be improved from a dismal 0-8 2013 conference campaign. Despite the improvement, it is going to be very difficult for the Hogs to escape the west division cellar this season. The strength of the team certainly lies in the ground game as Alex Collins and Jonathan Williams combined for nearly 2,000 yards last year. Quarterback Brandon Allen must improve his game if Arkansas is going to get close to bowl contention as he threw for only 1,552 yars and 13 touchdowns a year ago. Defensively, the Razorbacks return only four starters on a defense that gave up nearly 7 yards a play during the SEC in 2013. Senior Trey Flowers is a standout at defensive end and adds a lot of experience to a defense which is most devoid of it. The good news for Arkansas fans is that the team appears to be improving and Bret Bielema has proven to be a very good coach. The bad news is that it looks like the team is at least another year away from seriously competing in the SEC West. We are going to give them a conference win somewhere simply because going 0-16 over two seasons in conference play is really difficult to do…Unless you are Kansas.
2014 Outlook:
4-8 (1-7) 7th place SEC West.
SEC West Tidbits
Most devoted fans: Alabama
Best Color Combination: Auburn
Most annoying tradition: Miss. State's cowbells
Best tailgating: Ole Miss
Prettiest co-eds: Auburn
Nicest fans: Texas A&M
Best home field advantage: LSU