Mizzou football will attempt to jump off that proverbial .500 merry-go-round in 2022 and with a starting quarterback named, the crystal ball gets a little clearer. Less than a week ago, Missouri head coach Eli Drinkwitz announced sophomore quarterback Brady Cook would start week one when the team takes on Louisiana Tech on September 1st.
Despite recent recruiting success, the Tigers have merely existed in the college football universe for the past three seasons. Former head coach Barry Odom was fired following a disappointing 2019 campaign and Eli Drinkwitz has attempted to steady the ship since that time and turned in back-to-back .500 seasons (bowl loss to Army last season not withstanding).
So how does Mizzou football reach the "next level?" With a quarterback now identified and in place, it's easy to see a wealth of young talent at the receiver position. While incumbents Tauskie Dove and Barrett Banister remain on the roster and could play important roles, it's the young guns that really have people talking.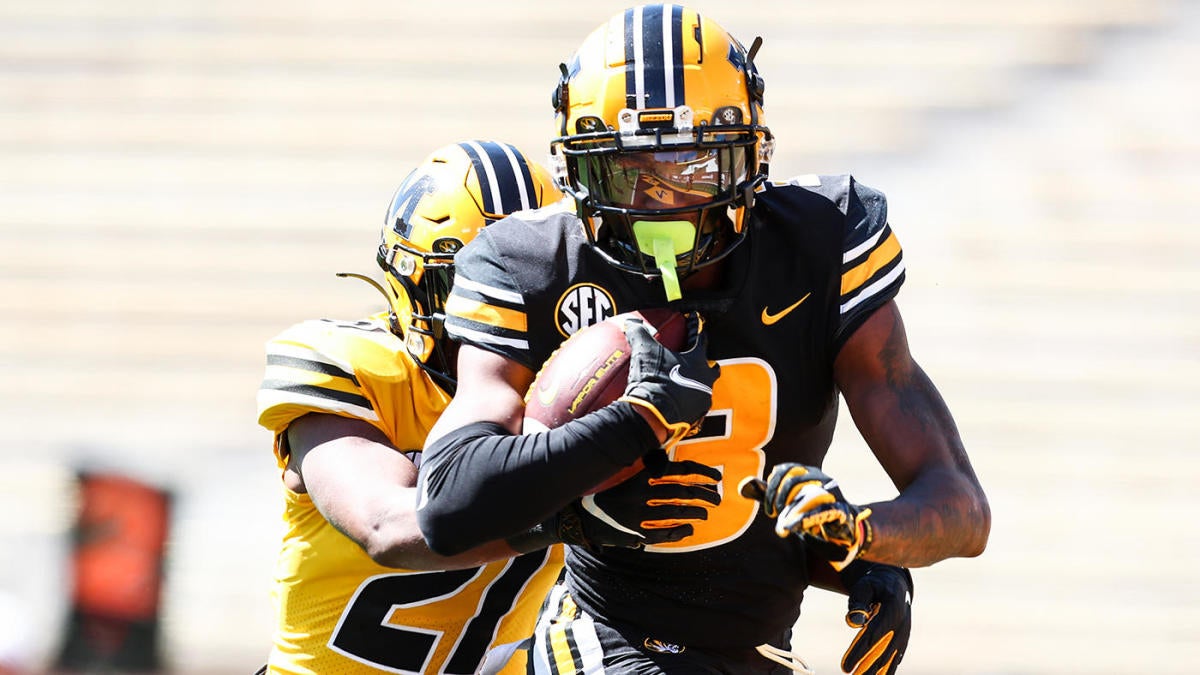 If Mizzou is going to navigate the choppy waters that is the 2022 schedule, it's going to need players like Mookie Cooper, Chance Luper, Dominic Lovett and 5-star true freshman Luther Burden to become major factors. Burden, the former #1 ranked player in the state of Missouri, could inject an electricity into this offense likes of which that hasn't been seen in quite some time.
The team is also tasked with replacing running back Tyler Badie and his 1,600 rushing yards from a year ago. His consistency and tenacity helped keep the Tigers in games and his versatility will be greatly missed. 2022 will likely see a large committee of backs taking over Badie's duties as Stanford transfer Nathaniel Peat, Elijah Young, Michael Cox etc could all see substantial reps this season.
To the next step
There's certainly something to be said for merely keeping your head above water in today's college football landscape. Mizzou has done just that over the past three years but fans absolutely crave more. 2022 could be a pivotal year for Drinkwitz and this program as they look to break free of that Armed Forced Bowl barrier. The Tigers will play three key road games before October that could decide the fate of the season.
A week two battle with former Big 12 rival Kansas State could help set the course as Drinkwitz has managed just two road wins at Missouri over the past two seasons. A win there could go a long way to steering the ship in the right direction as the team will be faced with playing Auburn, Georgia and Florida in weeks following that game.
---
2022 Mizzou football predictions
September 1 vs. Louisiana Tech. The Bulldogs finished last in Conference USA's western division a season ago but will come to Columbia with nothing to lose with a national stage before them. This is a game Missouri should win but will certainly have to show up and play well to do so.
Prediction: W Missouri 27- Louisiana Tech 16
September 10 @ Kansas State. Tough early road test for the Tigers against a legitimate Big 12 foe. The Wildcats will be sound, focused and could prove to be too much for Mizzou early in the season.
Prediction: L Kansas State 31- Missouri 20
September 17 vs. Abilene Christian. Not much analysis necessary here. This should be a Mizzou win or we have major problems on our hands.
Prediction: W A lot to a little
September 24 @ Auburn. This is a game that could really turn the season in a most fortuitous direction. The Auburn Tigers were disappointing this season and expectations are not exactly through the roof in 2022. Huge opportunity for an upset and we will see if Mizzou can rise to the challenge.
Prediction: W Missouri 31- Auburn 28
October 1 vs. Georgia. Mizzou hosts the defending national champions the first Saturday in October and beating the juggernaut that is the Georgia Bulldogs is not expected nor plausible in 2022.
Prediction: L Georgia 41- Missouri 16
October 8 @ Florida. The Tigers were able to knock off the struggling Gators in Columbia last season and will travel to Gainesville taking on a program trying to hit the restart button. Missouri is a surprising 5-5 against the Gators since joining the SEC including two wins at the Swamp.
Prediction: W Missouri 23- Florida 20
October 22 vs. Vanderbilt. Games with Vandy aren't always a walk in the park but Clark Lea still has a long way to go to get the Commodores rolling. Drinkwitz has won the last two and should keep the momentum going with a key home win.
Prediction: W Missouri 38- Vanderbilt 22
October 29 @ South Carolina. Drinkwitz's first road win at Mizzou took place in 2020 at South Carolina. As both of these programs try to raise their level of play, the winner of this should be in good shape for bowl eligibility.
Prediction: W Missouri 34- South Carolina 31
November 5 vs. Kentucky. The Wildcats have won seven of the last eight in this series and are armed and ready for what should be another solid season.
Prediction: L Kentucky 35 Missouri 24
November 12 @ Tennessee. The Volunteers have had Mizzou's number over the past three seasons and the Tigers have not been competitive in the two games under Drinkwitz.
Prediction: L Tennessee 42- Missouri 29
November 19 vs. New Mexico State. Not bad to have a tune-up game late in the season before going in to the Arkansas game.
Prediction: W Missouri 44 -NM State 19
November 25 vs. Arkansas. Missouri had owned the Battle Line until last year's game in Fayetteville. Coach Sam Pittman has turned around the Hogs in short order and they are going to be a tough out for anyone they play in 2022.
Prediction: L Arkansas 30 Missouri 22
---
Overall Prediction: 7-5 (4-4 SEC, 4th place SEC east)