Mizzou head football coach Eliah Drinkwitz was able to keep the recruiting momentum going full steam ahead when ESL QB Tyler Macon committed yesterday via Twitter.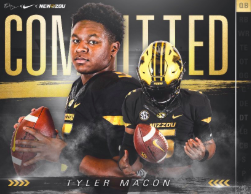 The 6'0, 180 LB Macon is the 16th ranked player in Illinois for the 2021 class and the 14th overall QB in the nation according to Rivlas.com
When asked by GASN Sports to give some insight to his commitment, Tyler said the following:
"The vibe of the coaches all are down to earth guys and the future of the program" Macon stated. "Coach Drink and I have an everyday relationship I trust in him and he trusts in me"
When asked about the possibility of recruiting a fellow ESL teammate or two Mizzou: "Definitely, I will try to get my brother with me."
Macon, clearly knowledgeable about the rich two-decade history of QB's at Mizzou is ready to follow in those footsteps.
"I'm very excited, I feel as long as I come in a do my part and (hopefully) I'll be the next great one."
Clearly, the timing of his decision made it clear that Macon wanted to go into his senior year with little distraction. "All I have to worry about now is grades and being back-to-back state champs.."
Interact with fellow Tiger fans on Tigerboard

---