The term "Mizzou Made" has taken on a new meaning over the past several years as more Tigers find their names being called every year during the NFL Draft. This year, Mizzou failed to produce a first round pick for the first time since 2009 but for Evan Boehm, Connor McGovern and Kentrell Brothers, today was likely the culmination of life-long dreams being realized.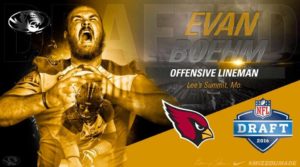 Center Evan Boehm was taken with the 128th overall pick and in the 4th round by the Arizona Cardinals after being a 4-year starter at Mizzou. Boehm is Missouri's all-time "iron man" having started 52 consecutive games for the Tigers during his career and clearly he is a fan of the restaurant Jimmy Johns.
HUGE shout out to @jimmyjohns for the draft part food!! Huge fan of JJs. Thank you guys so much

— Evan Boehm 7⃣7⃣ (@BIGboehmTHEORY) April 29, 2016

---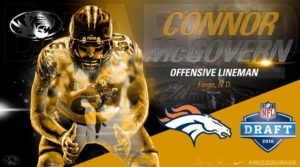 With the 144th pick in the 5th round, the defending Superbowl Champions Denver Broncos selected guard Connor McGovern, a player who displayed infinite toughness and grit during his time at Missouri. McGovern could likely play tackle with the Broncos and he took little time to tweet about his excitement after being drafted.
Can't say how excited and blessed I am to be a @Broncos. The grind starts and I am ready to start playing some football.

— Connor McGovern (@McGovenator60) April 30, 2016

---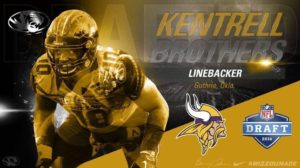 Brothers was the 160th overall pick of the draft and as a 6th round pick, could be a huge steal for the Minnesota Vikings. Brothers led the nation in tackles in 2015 and was a 1st-Team All-SEC selection. Brothers was Missouri's 2015 team MVP and hopes to continue this positive momentum into a career in the NFL.
Thank you to the Wilf family, Mr. Spielman, Coach Zimmer & the @Vikings organization for this opportunity!! Blessed to be with the #Vikings!

— Kentrell Brothers (@Kentrell_Mizzou) April 30, 2016