Since the original trailer for "Top Gun: Maverick" first aired during Super Bowl LIV in February of 2020, the world seemingly changed and attempted to leave the film in its dire wake.
Two years and five release dates later, Tom Cruise, errr, Paramount Pictures finally liberated its hungry audience with a two hour and twenty minute love letter to aviation, nostalgia and American exceptionalism. Like theaters around the country this Memorial Day Weekend, mine was packed with freedom loving Americans that longed for a return of stories that both entertain and hit just the right emotional cords.
While the original Top Gun (1986) is a classic time-period piece dripping with 80's magic and excess, "Maverick" showcases never-before-seen (yet surprisingly easy to follow) flight sequences which have you on the edge of your seat indefinitely. The call backs to the original are perfectly placed and never completely take over and are wonderfully intertwined into a very powerful story about overcoming the past and sticking to your guns.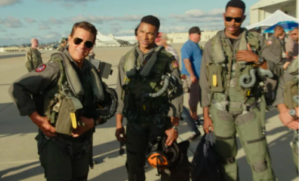 For the entirety of the film, Tom Cruise is no longer the Scientology obsessed polarizing figure that many know him as. You completely buy in to the Maverick character just as you did in 1986. He is rebellious, gifted and attempting to fly against the ghosts of his past. Maverick's importance to the plot is matched by a crew of newcomers that were so strong it seems inevitable that a spinoff franchise will soon be announced. Miles Teller's role as "Rooster" managed to feel natural and unforced which is no small task.
Is Top Gun: Maverick a turning point in American filmmaking?
For the better part of two decades, the American movie-going audience has been bashed over the head with unending Marvel universes, needless Transformers sequels and poor attempts at rebooting or remaking successful franchises from the past. It's a formula that brings in big bucks at the box office but leaves many movie fans feeling empty and frustrated.

Could "Top Gun: Maverick" be a real turning point? The film's budge of almost $200 million is very likely to return close to a billion when it's all said and done, a sure sign that move goers want more. No green screens, talk of masks, COVID or how much America sucks. Instead, you have jaw dropping flight sequences with the actors taking on a substantial role in the action. As a former huge fan of the film industry, I want more of this, less of "Thor."
The quintessential Summer blockbuster
At its heart, this film is the perfect, all encompassing Summer blockbuster. A throwback to a time where American heroes were prominent in film. This is a souring triumph of American exceptionalism and, quite honestly, one of the best films in decades. How often have you gone to the movies lately where you simultaneously laugh, cry and cheer? "Top Gun: Maverick" flawlessly hits every dramatic and sensory note. Your Memorial Weekend won't be the same without it.
---