There is just something captivating about fictional coaches from sports films. Some prove to be worthwhile and kind-hearted mentors and yet others will make the audience incensed with anger as a result of their ruthlessness and/or cheating ways.
There are so many things to look for in a great sports movie coach: success, teaching methods, how they handle adversity, and most importantly, how they relate to the main character(s) in the film. With that in mind, let's take a look at the top-15 sports movie coaches of all time: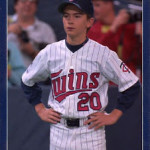 15. Billy Haywood (Little Big League). Haywood became the owner of the Minnesota Twins at the age of 12 after his grandfather passed away. His first move as owner of the team was certainly a gutsy one as he made himself the manager of the club. Despite the player's initial rejection of Haywood, they soon find themselves in a pennant race under his tutelage. Down four games in the wild-card race late in the season, the Twins make one final surge towards post season glory although it comes up just short thanks to the Seattle Mariners. Haywood removed himself as manager following the season but likely enjoyed many seasons of success as the club's youthful owner.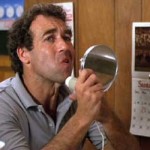 14. Bobby Finstock (Teen Wolf). Coach Finstock squeaks onto the list despite being a pitiful coach (Beacontown was apparently in the midst of a 3 year losing streak) and handling every situation with his players extremely poorly. He even attempts to forfeit a game early in the film while his team is getting bludgeoned. Finstock makes this list simply for the most random advice ever given during a film as he tells Michael J. Fox's character that "There are three rules that I live by: never get less than twelve hours sleep; never play cards with a guy who has the same first name as a city; and never get involved with a woman with a tattoo of a dagger on her body. Now you stick to that, and everything else is cream cheese." His coaching prowess even seems to improve once Michael J. Fox turns into a wolf and they start winning.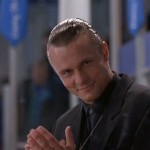 13. Wolf "The Dentist" Stansonn (D2: The Mighty Ducks). Wolf was an extremely cold and calculating human being as he attempted to lead the Vikings from Iceland to hockey triumph during the 1994 Junior Goodwill Games. His team was big, strong, fast and extremely physical as they eventually reached the finals against the outmatched Americans. Stansson was clearly became distracted by Gordon Bombay and the American team as he became obsessed with showing up Bombay. Wolf snapped during a one-on-one game with Gordon and attempted to re-injure his knee with a cheap shot. All this became too much for Stansonn, whose team faltered in the gold-medal game against team USA but Stansonn's legend lives on as one of the great movie coaches of all time.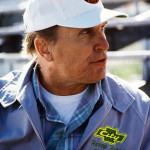 12. Harry Hogge (Days of Thunder). After a year away from the car racing business, Hary Hogge is roped in to taking on the role as crew chief for a hot, young NASCAR driver in Cole Trickle. Things get off to a rocky start, but soon Harry's guidance takes hold and Trickle is winning races and is on his way to glory when disaster strikes. Trickle is badly injured in an accident but wants one more shot at Daytona after healing. Hogge agrees and is able to confront past demons in the process of guiding Trickle to a huge upset win at the Daytona 500.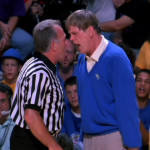 11. Pete Bell (Blue Chips). The basketball coach of the fictional Western University Dolphins, Bell is a veteran coach who is facing tremendous pressure to return the program to its previous winning ways. As the pressure mounts, Bell decides to engage in some dirty recruiting tactics to land several "blue chip" players. Coach Bell finds that his recruiting tactics are unsatisfying and outs the entire program and main booster during a heated press conference at the end of the film. Major points to Bell for creating what would have been unprecedented media soundbytes, however you have to think that the program would have suffered insurmountable NCAA sanctions following his diatribe.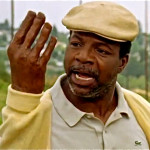 10. Chubbs Peterson (Happy Gilmore). His mother would never sign the permission slips to allow him to play football, so all Mr. Peterson did was become one of the great golfers of his generation. Sadly, his career was cut short when an alligator bit off his right hand, but Chubbs managed to overcome this obstacle when he came face to face with an off-the-cuff former hockey player named Happy Gilmore. Gilmore was extremely rough around the edges, but under Peterson's guidance, Happy wound up winning the Waterbury open and found himself on the pro tour following the victory. Chubbs' services were once again called on as Happy desperately needed a victory over Shooter McGavin at the tour championship to re-gain control of his grandma's house. Ironically, Peterson passed away after a multi-story fall but Gilmore was able to avenge his death in route to a green jacket.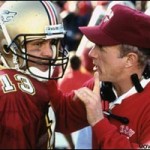 9. Sam Winters (The Program). Has there ever been a coach in any film (or real life for that matter) that had to deal with the dumpster fire that Winters had at Eastern State University? The one proud program had slipped in recent years and Winters knew it was time to deliver another winning season. With Heisman candidate Joe Kane at quarterback and All-American Alvin Mack at linebacker, the Wolves seemed to be in great position to do just that. Sadly, the wheels completely fall off and Joe Kane goes to rehab, Alvin Mack gets hurt, the Wolves two running backs are fighting over a girl and star defensive end Steve Lattimer is on steroids and physically assaults a female. Against all odds, coach Winters is able to rally the troops as the Wolves defeated Georgia Tech in the final game of the season to win the conference and return to a "major bowl."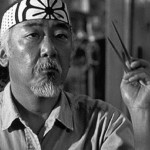 8. Mr. Miyagi (The Karate Kid). Mr. Miyagi became the surrogate father and sensei to Daniel Larusso, an awkward kid who was having quite a bit of trouble with local bullies. In a very short time span, Miyagi is able to instill his old-school karate values in Daniel through a series of muscle-training tasks. Daniel is able to successfully confront his enemies at the All-Valley Karate Tournament and reaches the finals after several rigorous matches. He defeats defending champion Johnny Lawrence of the Cobra Kai with a pulse-pounding crane kick which Miyagi taught him throughout the course of their training.
7. Lou Brown (Major League). The former minor league manager/car mechanic was specifically chosen for the daunting task of managing the rag-tag Cleveland Indians by team owner Rachel Phelps. Phelps was hoping to put together a team so horrible that she could eventually move the team to Miami. However, Lou Brown and the Indians were having none of it. Brown was able to rally the team together despite a severe lack of talent and the Indians won their division in dramatic fashion.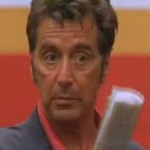 6. Tony D'Mato (Any Given Sunday). The Miami Sharks had fallen from glory despite Tony D'Mato's previous success as coach of the team. The guy had won multiple Pantheon Cups (a ridiculous word for Superbowl) but had to deal with the realization that the game may have passed him by. The Sharks are an absolute mess as there is infighting, corrupt trainers, quarterback controversies and meddling from the owner. Against all odds, D'Mato's Sharks find themselves in the playoffs where D'Mato delivers one of the great sports movie speeches of all time. I think we can all relate to the fact that "life, like football, is this game of inches…"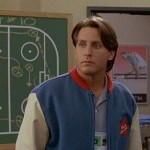 5. Gordon Bombay (Mighty Ducks, D2: The Mighty Ducks). Nicknamed "The Minnesota Miracle Man," Bombay is nothing short of a sports movie coaching legend. Not only did he lead a miscreant group of pee wee hockey players to a league title, he also became the highly paid coach of Team USA hockey in the Junior Goodwill Games. Apparently, America was starved for youth hockey in the summer of '94 as the USA Ducks captivated a nation in route to a gold medal victory over highly-favored Iceland.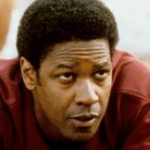 4. Herman Boone (Remember the Titans). Battling racial tension in 1970's Virginia, coach Boone was able to show an entire community that there is way more to a man than his skin color. Boone led the T.C. Williams Titans to a perfect season and a State Championship all the while uniting the entire town in so doing. His simple, six-play offense was "Like Novocain, just give it time and it always works." And it certainly did work as the Titan offense failed to miss a beat even when starting QB Rev Harris went down with injury.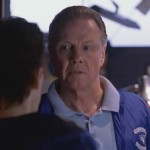 3. Bud Kilmer (Varsity Blues). Forget Kilmer's shortcomings for just a moment; the guy was a winner. He had already brought the West Caanan Coyotes 22 district champions and two state titles. I mean, the guy was an absolute legend and certainly had to be a bit ruthless in the process. After his star quarterback Lance Harbor goes down, Kilmer finds himself in a power struggle with the free spirited Jonathan Moxon, a player who is attempting to run a spread offense in the middle of practice and changes plays during games. Unfortunately, things unravel for coach Kilmer as his team turns on him for trying to force running back Wendell Brown to continue playing despite a serious injury. Kilmer may never have been seen again after attacking and choking quarterback Jonathan Moxon, but his legacy in Texas high school football lives forever.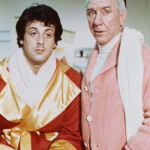 2. Mickey Goldmill (Rocky). Has there ever been a coach or manager that made such a lasting impact on the movie-going audience as well as the main character? Mick was able to whip Rocky Balboa, a ham and egg fighter, into shape in the first film and nearly guided him to a mammoth upset against heavyweight champion Apollo Creed. Not to be outdone, Mick helped propel a down-and-out Rocky back into top form in Rocky II where Rocky actually defeated Creed in a re-match. 10 title defenses and a victory over Hulk Hogan later, an aging Mick had had enough and sadly died due to heart failure after being knocked around by the vicious Clubber Lang as Rocky was preparing for another title defense.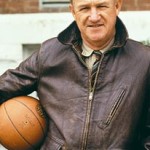 1. Norman Dale (Hoosiers). Dale was able to come in to the small, basketball-crazed town of Hickory, Indiana and instill team work and defense to a selfish team that was 15-10 the year before. It was a rough beginning as the town and players revolted against Dale's teachings and the team struggled out of the gate. Once Jimmy Chitwood joined the fray, Hickory was off and running as Dale was able to lead them all the way to the state championship game against South Bend Central. The Huskers defeated South Bend Central in dramatic fashion and Hickory became the smallest town in Indiana to win a state championship.
Honorable Mentions
Jimmy Duggan (A Leage of Their Own), Phil Brikma (Rookie of the Year), Ken Carter (Coach Carter), Danny and Kevin O'Shea (Little Giants), Jimmy McGinty (The Replacements).