If you thought the oldest college football rivalry west of the Mississippi River was dead and gone as a result of realignment; think again. "Tigers vs. Jayhawks: From the Civil War to the Battle for No.1" is a must read for any Mizzou football fan.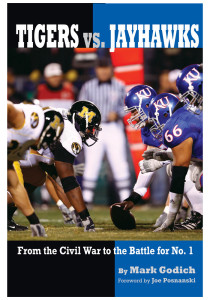 Author Mark Godich takes us on a whirlwind tour of the Mizzou/Kansas "Border War," a rivalry that dates back to the Civil War and continued on the gridiron for 120 years. Obviously, the 2007 "Armageddon at Arrowhead" game was the pinnacle of this rivalry as Missouri and Kansas would play in front of 80,000 fans for the right to become number one in the nation on the final Saturday of the regular season. Godich does a tremendous job chronicling the events leading up to that game and nostalgia washes over you like an awesome wave as he sets the scene at Arrowhead Stadium that night.
The book is told, primarily, from a Mizzou perspective as Godich guides you through storied events from the historic rivalry including: border skirmishes during the Civil War, the first ever "homecoming," the 1960 debacle, Dan Devine's infamous middle finger and much more. Follow, in great detail, the 2007 Missouri Tigers and Kansas Jayhawks and their collision course to the biggest athletic event ever played between the two schools.
To Order "Tigers vs. Jayhawks"
Click Here
Interview With Author Mark Godich