I have been very hard on Dayton Moore, and while I continue to disagree with a large portion of his decision making, he has proved me wrong so far this season. I piled on the Kansas City Royals when the team was struggling.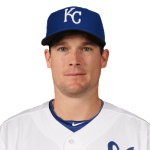 I disagreed with sending Danny Valencia to the Blue Jays, and I was pounding my fist on my cheaply made desk when Moore saw the trade deadline come and go. I did all of this prior to mid-July, and since then the Kansas City Royals have posted a 22-10 record, going 15-4 in the month of August alone.
I could sit and nitpick decisions, individual performances, or a bad games here or there, but I simply can't bring myself to do it. Josh Willingham has been a steal for the Royals. As a Royal he is hitting .348 with 2 homeruns. He has been doing it all with the bat, and while I thought the move was simply "okay" at the time, Willingham has turned into a gift from the Baseball Gods.
Currently the Royals are in first place, about to be 16 games above .500, continue to have the best back-end bullpen in Baseball, have one of the best starting 5 in Baseball, and the offense is finally coming together. When I say "coming together" I mean the offense is top 5 in nearly every offensive category since the All-Star break. I truly am at a loss of words on what to say, and while this may not be my best work, it has been the most enjoyable. The Kansas City Royals are primed to make the playoffs for the first time in 29 years. The Royals haven't been in first place in the central since 1994, haven't won eight series' in a row since 1990, haven't been this many games above .500 since 1989… these are the dates an entire generation of fans have only been able to read about, myself included, that is about to change.