Rocklahoma is back once again and has revealed its lineup for 2023. This year could prove to be the festival's most diverse lineup since its inception back in 2007 as the event is set to take place Labor Day Weekend in Pryor, OK.
While the daily lineup won't be announced for months, it's clear that Rocklahoma will boast festival headliners Godsmack, Pantera and Limp Bizkit with artists like Bush, Corey Taylor, Chevelle and Daughtry mixed in throughout the annual three-day event.
Rocklahoma has become one of America's preeminent music festivals after bursting onto the scene back in 2007 with a heavy emphasis on bands from the 80's rock genre. Since then, Rocklahoma has continued to grow and evolve and now sees record crowds attending every year as the festival organizers continue to bring in top-name acts from all sides of the rock spectrum.
Rocklahoma Lineup 2023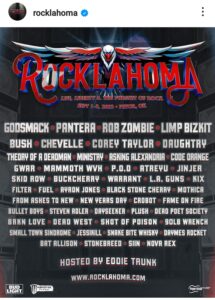 To purchase weekend passes or VIP tickets visit Rocklahoma.com