The transformation of the AFC West this offseason alone has been eye opening. While the Chiefs have owned the division since 2016, the Chargers, Raiders and now Broncos are loading up for a hostile takeover.
There are a plethora of capable young quarterbacks now in the AFC. We saw Joe Burrow and the Bengals break through and get to the Super Bowl last season and the likes of Josh Allen, Justin Herbert etc are all chomping at the bit.
In NFL history, you would be hard pressed to find a division so stacked with quarterback talent than the 2022 AFC West. Focusing on the west alone, here's how the rankings play out currently:
1. Patrick Mahomes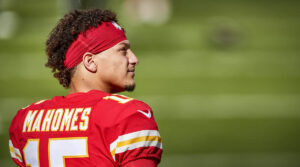 Learn to live it, learn to love it. Patrick Mahomes is the gold standard amongst current AFC quarterbacks. Mahomes has already amassed an NFL MVP, Super Bowl MVP and has played in two Super Bowls in just four years as a starting quarterback in the NFL. Until we see visible evidence to the contrary, Mahomes shall remain in this position (likely for years to come).
2. Russell Wilson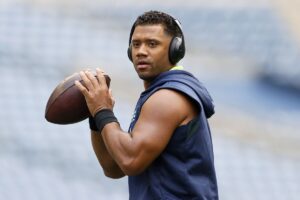 The Broncos (at the very least) submitted their name into the AFC West fight for 2022. The blockbuster trade for Russell Wilson makes the Broncos an instant contender. The nine-time Pro Bowler and former Super Bowl champion gives Denver stability at a position that has been anything but stable since Peyton Manning retired in 2016.
3. Justin Herbert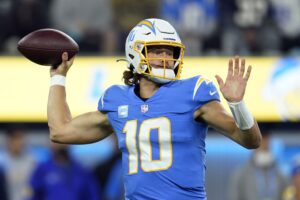 We see the arm, the inflated stats and the potential. What we have yet to see with Justin Herbert is a playoff appearance. The Chargers roster is far too talented to be missing the playoffs (especially with seven teams involved). That said, his needle is moving upward but, as Patrick Mahomes once said, "we'll see it when we believe it."
4. Derek Carr
The quarterback that has thrown for over 31,000 career yards is the worst quarterback in his division. That's how talented this group is. Carr just signed a massive $120 million dollar extension but it's appropriate to ask just how far the Raiders can fly with Carr at the helm. Just one playoff appearance and zero playoff wins in eight seasons is a bit subpar but Las Vegas is loading up with offensive talent to offset this QB situation.
---