47,000 fans filed into Columbia's Faurot Field on Thursday night to witness the Mizzou football season opener against Louisiana Tech, many uncertain as to what they would see. After a sluggish offensive start, the Tigers rallied and rolled past Louisiana Tech 52-24 and were able to showcase some shiny new toys in the process.
Ask all 47,000 fans who they came to see on this night and many would likely mention Luther Burden. The former 5-star prized recruit did not disappoint in his debut, scoring two scores and dazzling the crowd with one of the more athletic and shifty 5-yard TD's you might see all season.
"I just wanted to touch the zone, real bad." Burden said with a smile after the game. " I did anything possible to get in there."
Luther Burden post-game press conference
Sophomore Brady Cook was solid on the night as well going 18-27 for 201 yards and a touchdown. The first few drives may have been a little shaky, but you could see the comfort level improve throughout the game for Cook and the rest of the offense.
And for those that lost sleep over Tyler Badie's departure, the Tigers rushed for 320 yards on the night a feat hasn't been accomplished since 2017. Coach Drinkwitz spoke about trying to find the right amount of carries for his stable of backs and said that it's "a good problem to have." Nathaniel Peat, Cody Schrader and Elijah Young carried the bulk of the load but Drinkwitz has other capable backs on this roster like Michael Cox and B.J. Harris.
Mizzou defense has a night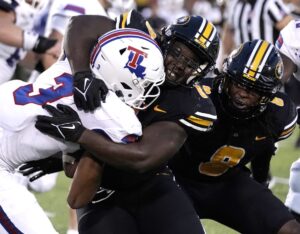 Despite playing a lesser opponent, the Missouri defense looked like a completely different animal as compared to last year. The Tigers showcased a much-maligned run defense a season ago, flew to the ball and looked much faster and more athletic as a unit.
"What a difference a year makes." Coach Drinkwitz said during his post-game interview.
That difference included three first half turnovers including a 29-yard pick six from incoming transfer Joseph Charleston. Florida transfer Ty'Ron hopper also stood out with six tackles, a sack and an INT on the night.
A look ahead
Missouri did what it needed to do on Thursday night. The Tigers manhandled an inferior opponent in front of a decent crowd. It's not a win that's going to electrify the fan base but that could change a week from Saturday when Mizzou heads to Manhattan to play K-State. The Wildcats will be favored but a huge opportunity awaits should Missouri be able to pull the upset. With the schedule being as front-loaded as it is, every win is important early on.
This program has failed time and again in recent years getting the fanbase engaged early in seasons. Beating a solid Big 12 team on the road would go a long way towards gaining much-needed momentum.
---