Those who were fretting over the current state of Missouri football recruiting can now breath just a little easier. The Tigers landed seven new recruits to its 2024 recruiting class between June 30th and July 4th.
Mizzou sat as an SEC-low 3 commits prior to this impressive surge although the class still ranks just 60th nationally. The influx of talent came at just the right time with SEC Media Days just around the corner (Missouri will be featured on July 16th in Nashville). Head coach Eli Drinkwitz is already going to have to answer a bunch of questions about getting off the proverbial .500 schneid.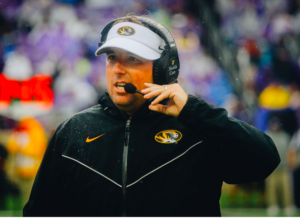 A look at the latest Mizzou recruits (star rankings according to Rivals.com)
Jude James (*** ATH, St. Charles, MO)
Jackson Hancock (*** Safety, Canton, GA)
Cam Dooley (*** Ath, Valley, AL)
Justin Bodford (*** DT, Ft. Lauderdale, FL)
Nicholas Rodriguez (**** LB, Ft. Lauderdale, FL)
Cameron Keys (*** CB, Lynn Haven, FL)
James Madison (**** WR, Ft. Lauderdale, FL)
The St. Thomas Aquinas, FL pipeline is proving to be a valuable one for the Tigers as teammates Justin Bodford, Nicholas Rodriguez and WR James Madison all came on board within days of each other. Madison is clearly the star of this new wave as he is currently a top 250 player nationally chose Mizzou over powerhouse programs like Alabama, Georgia, Florida State and many more.
For Mizzou, recruiting must translate to winning
Missouri's 2023 class ranked just 33rd nationally and its current class sits at 60th. Is recruiting momentum from early in the Drinkwitz era fading just a bit? Regardless of recruiting rankings, Mizzou needs to win in 2023. With uncertainty abound at the quarterback position, the Tigers are a difficult team to handicap.
The defense should be stellar once again, but Drinkwitz and new offensive coordinator Kirby Moore must be ready to get the offense to the next level this season.
---