Trying to formulate meaningful analysis from Mizzou's 59-28 victory over the SEMO Redhawks on Saturday is the definition of a fools errand. The Tigers jumped out to an insurmountable 45-0 halftime lead before limping to the finish line a bit in the fourth quarter of a game that saw over 46,000 file into Faurot Field to bath in endless sunlight.
Missouri coach Eli Drinkwitz was pleased with much of the dominance he saw in the first half and brushed off some of the defensive issues from the backups in the second.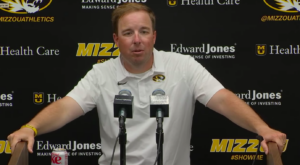 "Obviously in the second half we had a lot of different people with an opportunity to play, which is good but it's also a reality for some of these guys that they have to put in a lot work and attention to detail in and continue to develop." Drinkwitz said after the victory.
Boston College game could help define Mizzou's season
For the Tigers, now 2-1 on the young season, it will be a non-conference matchup in Chestnut Hill next Saturday against the Boston College Eagles that could go a long way towards defining the success of the 2021 campaign.
The Eagles are 3-0 on the season and will present a formidable challenge next week as Drinkwitz will be in search of his second road win as coach of the Tigers. Despite the unblemished record, it's difficult to discern much from Boston College's hot start. Wins over Colgate, UMASS and Temple haven't told us a lot about what the Eagles are capable of this season.
Backup quarterback Dennis Grosel went just 5/13 for 34 yards in the team's 28-3 win over Temple Saturday which would mean Mizzou should expect a healthy dose of BC's crowded backfield on Saturday.
Meeting expectations
After a 5-5 SEC-only season in 2020, the expectations were higher in year two for Eli Drinkwitz. While the talent level is slowly elevating, Missouri is still dealing with depth issues left over from the Barry Odom era.
For Boston College, this will mark its first game against an SEC opponent since a 16-14 loss to Vanderbilt in the 2008 Music City Bowl so it should be a great setting for college football at Alumni Stadium next week. Following its week 2 loss to SEC East rival Kentucky, Mizzou will need to find their way to victory in key swing games starting with Saturday.
A win at Boston College would nearly ensure Mizzou of Bowl eligibility while a loss makes the path much more difficult. You have two games remaining that are almost 100% sure wins: North Texas and Vanderbilt. The Tigers would have to win two out of the three remaining swing games on the schedule (Tennessee, Arkansas, South Carolina) unless the team can pull an upset against Georgia, Florida or Texas A&M.
Eli Drinkwitz SEMO post game press conference