The Missouri Tigers emerged from the ashes of an abnormal 2020 season as a potential program on the rise in the SEC. Picked by many to finish 3-7 against an all-SEC schedule, Mizzou finished 5-5. It wasn't exactly a masterpiece, but the on-field play coupled with the recruiting prowess of coach Eli Drinkwitz has Tiger fans bursting with fervor.
Despite key losses like RB Larry Rountree III, LB Nick Bolton and RT Larry Borom, the team should benefit from some major new contributors, specifically, at the receiver position. Missouri benefited greatly from the transfer portal, landing former 4-star and Ohio State Buckeye Mookie Cooper. In addition, Drinkwitz was able to flip East STL star Dominic Lovett from Arizona State, bolstering position depth even further.
Reasons for hope
Quarterback stability. RS freshman Connor Bazelak emerged early in the 2020 season to steal the job away from Shawn Robinson and never looked back. Bazelak appears to be a poised leader of the offense, although you would like to see the TD (7) and downfield passing numbers improve going forward. Waiting in the wings is former Elite 11 prospect Tyler Macon with another 4-star in Sam Horn coming next season.
Recruiting momentum. Missouri is enjoying what can only be described as unprecedented recruiting success under Eli Drinkwitz. The 2021 class was ranked 20th by Rivals.com and 2022 could end up even more fortuitous. Out of Mizzou's 12 current commitments, six are 4-stars. Clearly, recruits both locally and nationally are starting to turn their heads at what coach Drinkwitz is putting together.
A workable schedule. 2020 saw Missouri add LSU and Alabama to its schedule at the last minute. The Tigers will now have the full benefit of a non-conference slate that features Central Michigan, North Texas, Boston College and SEMO. While three of these games are not going to move the needle much for fans, they will be invaluable for a team trying to gain confidence and put together a bowl season.
---
Causes for concern
The running game. Mizzou loses its heart and soul from the past few seasons in RB Larry Rountree III who finished his career 1st in rushing among running backs in school history. We know senior Tyler Badie looks ready to be the featured back, but who will be there to spell him? Sophomore Elijah Young will need to step up and you may see a little more of incumbent Dawson Downing than you would realistically like.
A new defense. Steve Wilks has returned to the college game for the first time in 17 years after several stops in the NFL as a defensive coordinator and position coach. The back end of the defense is a huge question mark after the losses of Joshuah Bledsoe and Tyree Gillespie although Sophomore Ennis Rakestraw is a star in the making. Up front, the hope is that Jr. Trajan Jeffcoat meets expectations and spends most of his time in opposing backfields. This defense will also need to take the ball away more than last year as they ranked dead last in the SEC averaging only one takeaway every 74 snaps.
Dealing with expectations. Last year Missouri was a nice little story. There were no real expectations aside from competing and keeping the program's head above water. Mission accomplished. Now, you want to see a progression from year one to year two. If you went 5-5 last year against an SEC-only schedule, you want to see 7-9 wins if you really believe the program is tending upward.
---
Missouri Football schedule predictions
| | |
| --- | --- |
| Central Michigan | W |
| @Kentucky | W |
| SEMO | W |
| @Boston College | L |
| Tennessee | W |
| North Texas | W |
| Teas A&M | L |
| @Vanderbilt | W |
| @Georgia | L |
| South Carolina | W |
| Florida | L |
| @Arkansas | W |
Final record: 8-4, 3rd place SEC East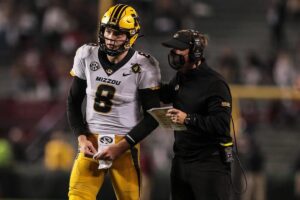 As is the case most years, Missouri's season will be a success or failure depending on swing games against Kentucky, South Carolina and Arkansas. Although Arkansas is improving, they have just one win over Missouri since the Tigers joined the SEC in 2012. South Carolina, Tennessee and Vanderbilt all have new coaches and Missouri needs to take advantage of this.
Early on, games against Kentucky and Boston College will be telling. It's very likely that you will split these games as Kentucky (until last season) has been a major boogeyman for Mizzou. Boston College is certainly no pushover and a rare trip to the northeast could be problematic. No one is going to expect wins over conference juggernauts like Texas A&M, Florida or Georgia but if the Tigers can find an upset here then the season could go from good to special.
---